In the world of baseball, Memorial Day is considered a milestone. The season is no longer 'young,' and teams are beginning to position themselves for a run through the 'dog days' of summer. Officially beginning this stretch is a full, thirty-team slate of games on Monday.
Currently, we are using xFIP and wOBA simply to compare one pitcher's performance against another – especially against opposite-handed hitters. We aren't using these numbers for calculation. To help with some calculations, we have assumed that each hitter and pitcher has played at least one game. Each pitcher was assigned an innings total relative to his average projection.

Check the starting lineups and weather reports prior to making any plays, as these change without notice.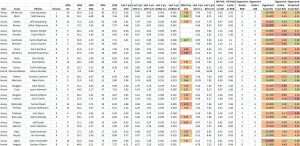 Projected Low-Scoring Games
Chicago White Sox at New York Mets – The struggles of Matt Harvey have been an on-going, newsworthy storyline. However, instead of giving up on the Mets' starting pitcher, we need to acknowledge that this poor performance cannot continue forever. Conversely, Jose Quintana had been pitching at an extremely high level, but has allowed seven combined earned runs over his last two starts. The two pitchers are poised to get back on track on Monday, where Quintana gets the edge for strikeouts, but Harvey has another opportunity to lower his ERA.
Targets: Jose Quintana and Matt Harvey
Detroit Tigers at Los Angeles Angels – At the risk of leaning on a pitcher with a matchup that appears 'too easy,' Justin Verlander draws the weak-hitting Angels on Monday night. That is, the Angels that were weak-hitting. Suddenly, the team that rarely strikes out has also been able to put runs on the scoreboard at a more reasonable pace. With that, Verlander is a decent, but not great option, carried by his always-high personal strikeout rate. Jhoulys Chacin stands as an incredibly high risk-reward pitcher as he faces a Tigers offense that strikes out a high pace, but also averages nearly four-and-a-half runs-per-game.
Target: Justin Verlander, then Jhoulys Chacin for high risk-reward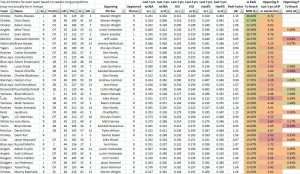 Projected High-Scoring Games
Pittsburgh Pirates at Miami Marlins – In a matchup driven largely by perception, the Pirates and Marlins are poised for a high-scoring contest. Miami had largely been considered a pitcher's park in the past, but revised dimensions to the fences have yielded a slow transition towards the hitters. Surprisingly, the left-handed bats of Miami have a solid opportunity, as Pittsburgh's starting pitcher – southpaw Jeff Locke – actually has worse peripherals against left-handed hitters. Justin Nicolino's dip in production is against right-handed bats, as expected, but both teams' hitters are projected to thrive on Monday.
Targets: Pittsburgh Pirates and Miami Marlins Hitters
Texas Rangers at Cleveland Indians – Like the Pirates and Marlins, the host ballpark typically leaning towards pitchers is usually not a target for too many hitters. Again, the opportunity to buy some bats comes from the overall matchup, as Texas' Derek Holland has a massive drop-off in peripheral production against right-handed hitters. Cleveland's Josh Tomlin has skated on thin ice to the tune of a 7-0 campaign despite a 3.43 ERA – in itself, the ERA is good, but not worthy of a perfect record. More importantly, Tomlin has posted a 3.83 ERA over his last six starts. Texas' offense ranks eighth in the league in runs-scored-per-game and is prone to explode on any given day.
Targets: Texas Rangers and Right-handed Cleveland Indians Hitters
Undervalued Plays
Ian Kennedy – By now, the trend is clear: buy Ian Kennedy at home. The Royals' right-handed pitcher is certainly capable of throwing a gem in most situations, but he specifically thrives in Kansas City's pitcher-friendly ballpark – a 1.93 ERA. Against the strikeout-prone Rays, and coming off a rain-shortened outing – his arm should be rested – Kennedy stands as one of the best pitching options of the day.
Nate Karns – The Padres' strikeout-happy, low-scoring offense continue to be a gift to opposing pitchers, and Seattle's Nate Karns is the next to receive such benefits. Specifically after a series in hitter-friendly Arizona, San Diego's shift to Seattle should cripple the offense's already-low run-scoring potential. Karns is in position to thrive.
Cincinnati Reds Hitters – Cincinnati continues to gain advantages from the ballparks in which it has played, and Monday begins a series in the hitter-haven of Colorado. A high run total is almost guaranteed for the game, as a whole, but Cincinnati's Dan Straily has limited runs at such an impressive rate – 2.98 ERA – that Chad Bettis is actually the better target for hitters. The Reds' hitters should enjoy their time in Colorado.
Featured Image Credit: Keith Allison/Flickr C.C. 2.0