Another doubleheader yields sixteen games throughout Saturday, with at least one being left off an all-day slate. Surprisingly, only a handful of games are during the early afternoon, with a somewhat large night slate.
Currently, we are using xFIP and wOBA simply to compare one pitcher's performance against another – especially against opposite-handed hitters. We aren't using these numbers for calculation. To help with some calculations, we have assumed that each hitter and pitcher has played at least one game. Each pitcher was assigned an innings total relative to his average projection.
Check the starting lineups and weather reports prior to making any plays, as these change without notice.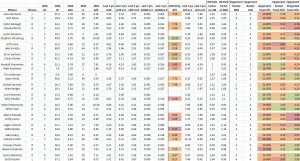 Corey Kluber – It is almost disrespectful to Jake Arrieta to consider any other pitcher as the 'top choice' on days when he takes the mound, but Corey Kluber's matchup puts him in the most ideal position possible. Facing the completely inept Minnesota Twins – that also strike out at a high rate – Kluber, not Arrieta, is the best pitching option of the day. Most importantly, Kluber continues to pitch deep into games, completing at least seven innings in three of his last four starts. His one misstep was his last outing, in which he failed to finish three innings. This sets him up as a prime 'bounceback' candidate on top of the already perfect setup.
Jake Arrieta – Following closely behind Kluber in Saturday's pecking order is the always-reliable, aforementioned Jake Arrieta. The Cubs' pitcher has been slightly more hittable of late, allowing three earned runs with two outings of only five innings pitched over his last three contests. The fact that an ERA of 1.59 over his last three starts constitutes a more 'hittable' Arrieta should be proof enough of how dominant he is on a normal basis. Start Arrieta with the usual level of confidence, but it is worth noting that Pittsburgh's offense is solid in both the strikeout and scoring departments.
Aaron Nola – It is hard to not be impressed with Aaron Nola. The Phillies' young 'ace' is developing perfectly, and his high strikeout rate and solid ERA are inspiring. Saturday provides the next opportunity for another gem by Nola, as he hosts the strikeout-prone Reds. Cincinnati has shown signs of offensive life in the past, but they remain relatively average in scoring runs, and are actually more likely to slow down than increase production. Nola will help aid Cincinnati in this downward trend.
Carlos Martinez – Lost in the shuffle of the other young arms producing throughout the league is Carlos Martinez, a potential future star in his own right. Martinez picked up right where he left off in 2015, and is currently pitching to an ERA below last year's impressive final of 3.01. The Dodgers offense he will face is a far cry from the explosive threats that some of their names suggest, and Martinez should deliver another solid outing.
Ervin Santana – It is not uncommon for us to suggest a pitcher going against one of the top 'aces' of the day, and Ervin Santana becomes Saturday's target for this reason. Opposing Corey Kluber, Santana's win potential is obviously low, but the rest of his numbers should benefit. Specifically, he has an excellent strikeout rate despite a slightly elevated ERA and the Indians are one of the most strikeout-prone teams in the league. With the assumption that Saturday yields a pitcher's duel, Santana is a high upside play with a fairly high basement.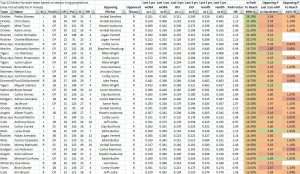 Kansas City Royals Hitters – Mike Foltynewicz besting the Diamondbacks for seven innings in his last start – thus bringing his ERA back into the stratosphere – might suggest a sign of improvement. It might also be a simple reset before the next explosion. The latter appears more likely, and the Royals – difficult to strike out – reap the rewards. All Kansas City bats are on radar, with left-handed hitters gaining an extra edge – Foltynewicz's peripherals are horrific against left-handed hitters.
Left-handed Mets Hitters – The Mets have a tendency to live-and-die based on their matchups. Specifically, left-handed pitchers often neutralize the left-handed-heavy lineup of New York. Thankfully, the Mets draw right-handed Eddie Butler – whose peripherals against left-handed bats are actually worse than that of the aforementioned Mike Folynewicz. What's even better for Mets' hitters is that the team will play in the extreme hitter's park of Colorado one day after scoring only two runs in the same setting.
Carlos Gonzalez/Nolan Arenado/Charlie Blackmon – While the Mets were left with only a pair of runs on Friday, the Rockies were not exactly lighting up the scoreboard, themselves. This stands to change on Saturday, as Mets' pitcher Logan Verrett is thrust back into the starting rotation temporarily. Verrett has fared well in 2016, but there is only so long that he can pitch to an ERA under 1.50. His hot streak will end in Colorado, and the usual suspects of Carlos Gonzalez, Nolan Arenado, and Charlie Blackmon will be the catalyst for such a setback.
Buster Posey – Simply by mentioning Buster Posey's name, one could likely assume that he is facing a left-handed pitcher – Posey is almost always targeted against southpaws. Indeed, the right-handed hitting catcher will be opposed by southpaw Patrick Corbin, but the real boost comes from the hitter-friendly ballpark, as Posey typically plays his game in the pitcher's park of San Francisco.
Wil Myers/Matt Kemp/Jon Jay – Like Posey, the Padres play their home games in a pitcher-friendly park – although San Diego has slowly changed into a more neutral setting. When traveling to Milwaukee, however, the Padres' hitters should be thrilled. Instead, the team has managed a total of three runs in two games. With Wily Peralta and his 6.75 ERA on the mound on Saturday, San Diego's hitters will not be held down any longer. Wil Myers – returning from an off-day – Matt Kemp, and Jon Jay figure to be part of the run-scoring action.
Detroit Tigers Hitters – The hot-and-cold Tigers have now lost back-to-back games against the Orioles due to a shutout on Friday night, and move to a dismal 1-10 record over their last eleven games. The noteworthy part of this skid is that Detroit has scored at least four runs five times in the eleven-game span. Susceptible to pitchers like Max Scherzer and Chris Tillman – while they are not in the same class by any stretch, Tillman is having an excellent season – the Tigers do take advantage of weaker pitching. Seeking a 'bounceback' performance, Detroit gets Baltimore's Mike Wright on Saturday. Runs will be plentiful.
Bargains
Be sure to check the above chart for more of the expensive hitters – and the statistics of their matchups. Below, we focus on some of the best upside plays for their price.
Aaron Hicks – The Yankees' switch-hitter is finally coming along after a cold start, and he will attempt to slow down the equally-hot Jose Quintana. Hicks' peripheral numbers jump up considerably when facing a southpaw, and was even tasked with leading off against Chris Sale on Friday. Hicks can now be trusted for his reasonable price.
Adam Lind – Adam Lind only gets mentioned when facing a right-handed pitcher – his hard hit percentage against right-handed pitchers is one of the highest of the day – but he specifically draws one that conveniently allows an incredibly high level of hard-hit contact to left-handed bats. Jhoulys Chacin will make his debut with the Angels on Saturday, and Lind will welcome him with open arms.
Kendrys Morales – Simply put, the switch-hitting pair of Kendrys Morales and Jarrod Saltalamacchia cannot be ignored if targeting Mike Foltynewicz and Mike Wright, respectively, on Saturday. Both the Royals and Tigers are expected to have high-scoring outings, and both hitters have better power peripherals from the left side of the plate.
Featured Image Credit: By Keith Allison on Flickr (Original version)UCinternational (Crop) [CC BY-SA 2.0], via Wikimedia Commons