The final day of the week brings its usual afternoon-heavy slate of games, concluding with the standalone nationally televised primetime event. Without too many top 'aces' taking the mound, hitting options are rather abundant, but more for team targets than specific players.
Currently, we are using xFIP and wOBA simply to compare one pitcher's performance against another – especially against opposite-handed hitters. We aren't using these numbers for calculation. To help with some calculations, we have assumed that each hitter and pitcher has played at least one game. Each pitcher was assigned an innings total relative to his average projection.
Check the starting lineups and weather reports prior to making any plays, as these change without notice.
Jose Fernandez – Jose Fernandez avoided any type of a 'trap' when dominating the Brewers in his last start, and his season numbers are suddenly back on track. Unfortunately for Fernandez, the shift from Milwaukee's offense to Washington's yields a much higher risk for allowing runs. The Nationals do, however, strike out at a decent pace, and Fernandez will be able to take advantage.
Alex Wood – Alex Wood has no secrets when it comes to his success. That is, he thrives against left-handed hitters. Conveniently, the Cardinals are rather left-handed-heavy in their lineup, and Wood should see his high strikeout rate continue. Wood is, indeed, a risky play due to the Cardinals' extremely high run total, but they are also trending well above a reasonable pace and are prime candidates for a regression.
Felix Hernandez – Felix Hernandez deserves every ounce of consideration for use on Sunday. He also deserves to be approached with hesitation. Hernandez has not struck out more than four batters in any of his last five starts, and the Angels are one of the most difficult teams to strike out. They are, however, among the lowest-scoring teams in the league. Ultimately, Hernandez sports a high floor and low ceiling that might not be worth the high price tag.
Danny Duffy – Daily fantasy tournaments inherently feature some level of risk. Sunday presents one of the highest risk-reward plays of the past few weeks, as former starter-turned-reliever Danny Duffy is thrust back into the rotation. Duffy thrived out of Kansas City's bullpen, so far, and the southpaw is given an ideal matchup against the left-handed-heavy, low-scoring Braves. Duffy's innings total will likely be low, so expectations should be somewhat tempered, but his high strikeout rate should carry over to a degree for Sunday's start.
Trevor Bauer – Trevor Bauer has become a favorable target, of late, and it is likely due to Bauer completing the transition that we expect from the aforementioned Danny Duffy. Bauer has experienced success as a starter, and he should see it continue against the low-scoring, strikeout-prone Twins on Sunday.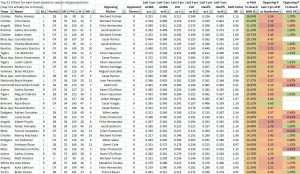 Houston Astros Hitters – The Astros were finally ready to make a dent in Boston's recent hot stretch, only to fall in extra innings on Saturday. Now simply hoping for a series split, Houston will face Sean O'Sullivan in his second start of the year. O'Sullivan avoided an all-out disaster in his first start of 2016, but Houston is explosive enough to push him over the edge. Specifically, left-handed bats have historically great success against O'Sullivan, and Colby Rasmus is possibly the must-play of hitter for Sunday.
Right-handed Blue Jays Hitters – While the Blue Jays have managed five runs in each of their last two games, only one earned run was charged to Friday's left-handed Texas starter. Typically, the power-hitting right-handed-heavy lineup of Toronto would feast on southpaws, and the second opportunity should go more according to plan. Edwin Encarnacion, Jose Bautista, Troy Tulowitzki, and, of course, Josh Donaldson, are all in play against the left-handed Cesar Ramos in a hitter's ballpark.
Brian McCann – The same warning is issued every Sunday regarding the potential of a catcher sitting out, but Brian McCann stands above the rest at his position. After the White Sox threw back-to-back southpaws at McCann and the Yankees, right-handed Miguel Gonzalez takes the mound. McCann will gladly welcome this shift.
Right-handed Reds Hitters – Not surprisingly, left-handed Adam Morgan has poor peripherals against right-handed bats. His success against southpaws might result in one of the Reds' better hitters starting on the bench – which shortens the lineup and removes some protection – but the right-handed starters should be on the radar. Specifically, Brandon Phillips was on a tear before hitting a 3-for-18 skid, and should rebound nicely against Morgan.
San Diego Padres Hitters – As noted in Saturday's column, the Padres will regret not taking advantage of Milwaukee's hitter-friendly ballpark if the team doesn't start exploding. Saturday was a step in the right direction, but Sunday marks the end of the series – and, possibly, missed opportunities. Against Zach Davies, the Padres should build on Saturday's success and deliver fantasy points throughout the lineup.
Bargains
Be sure to check the above chart for more of the expensive hitters – and the statistics of their matchups. Below, we focus on some of the best upside plays for their price.
Marwin Gonzalez – Of all the power bats that pepper the Astros' lineup, Marwin Gonzalez is not the household name. However, he should not be forgotten. With seven hits in his last five games, Gonzalez is carrying the back half of the Astros' batting order, and is an inexpensive option if targeting Houston's hitters.
Aaron Hicks – Aaron Hicks was one of Saturday's top 'bargain bin' recommendations, and he delivered nicely – a double that drove in a run. He remains a solid cheap buy, especially for his recent hot streak – eight hits in his last six games – and he figures to be a part of the run-scoring action as the Yankees welcome Miguel Gonzalez to the stadium after Chris Sale and Jose Quintana.
Victor Martinez – While not necessarily a 'bargain' due to an particularly low price, Victor Martinez is arguably the most undervalued first baseman of the day. In his last seven games, Martinez has a ridiculous 13 hits, but only one – on Saturday – has gone for extra bases. Martinez is clearly seeing the ball well, and his production should only increase.
Featured Image Credit: By Corn Farmer on Flickr  [CC BY-SA 2.0], via Flickr