After the typical Friday afternoon contest at Wrigley Field, the rest of the league helps fill a night slate of fourteen games. Unfortunately, there might be some weather concerns leading into the night, but enough options exist to find values elsewhere.
Currently, we are using xFIP and wOBA simply to compare one pitcher's performance against another – especially against opposite-handed hitters. We aren't using these numbers for calculation. To help with some calculations, we have assumed that each hitter and pitcher has played at least one game. Each pitcher was assigned an innings total relative to his average projection.
Get the latest MLB Odds on XN Sports
Check the starting lineups and weather reports prior to making any plays, as these change without notice.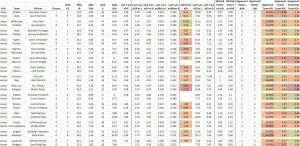 Chris Sale – It is going to be difficult to follow Max Scherzer and Clayton Kershaw on back-to-back nights, but Chris Sale stands alone as Friday's top ace. After a four-game series against the Royals in which the Yankees scored 26 runs, New York will face a much tougher task when left-handed Chris Sale takes the mound. Sale is generally a strikeout machine, although his 2016 rates are a bit below his normal production. Conversely, the Yankees are rather difficult to strike out, but remain on the lower end of the spectrum for runs scored – even after the aforementioned outburst. Chris Sale's upside is unlimited if either his or the Yankees' strikeout rates normalize.
Julio Teheran – Perhaps because his team rarely wins a game, Julio Teheran's solid season is flying under-the-radar. With an ERA in the mid-3.00's and an excellent strikeout rate, Teheran is quietly one of the better pitchers of the day. When factoring his win potential – which actually does exist as Kansas City is nowhere near the version of itself than won back-to-back American League pennants – and the pitcher's ballpark, Teheran becomes a top pitching target on Friday.
Gio Gonzalez – Add Gio Gonzalez to the list of pitchers off to a fantastic start in 2016 but hardly gaining recognition. Unlike Teheran, Gonzalez's win potential is typically high, and is further elevated on Friday by opposing starter Tom Koehler – and his 5.40 ERA. The Marlins are somewhat stingy in allowing strikeouts, but Gio Gonzalez has only had one bad start – against the Cubs' ridiculous lineup. Gonzalez has allowed a total of four earned runs and struck out 26 batters in his other five starts.
Rich Hill – Rich Hill is now in a position where either his ERA or strikeout rate could regress and he would still yield value. Entering Friday with the second-highest strikeout rate among the day's starters and facing the most strikeout-prone offense in the league, Hill's floor is as high as ever. Even if he allows runs, his point total should remain high. If he shuts down a Rays' offense that is averaging a mere 3.53 runs-per-game, the sky is the limit.
Luis Severino – While Chris Sale will likely dominate the attention for Friday's matchup between the White Sox and Yankees, Luis Severino is a solid head-to-head option. A contrarian play, of sorts, Severino is simply blowing up at an unsustainable pace. Thankfully, even with an ERA over 6.00, Severino's strikeout rate is solid enough to consider an overall improvement is not far away. Against one of the game's better pitchers, Severino should gain a boost that makes him deserving of a 'sleeper' tag for Friday.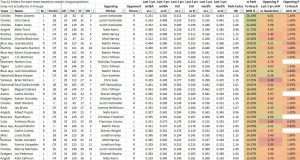 Arizona Diamondbacks Hitters – The typically powerful bats of Arizona were somewhat quieted on Thursday, as the Diamondbacks managed only two runs against Johnny Cueto and the Giants. In their own hitter's ballpark, such low-scoring affairs are unlikely to continue one day after another. Friday, against Jeff Samardzija, the Diamondbacks are poised to rebound. Samardzija's ERA sits just above 3.00, despite a career mark of 4.05. He is as prone as any of Friday's starters to give up hits in bunches – he has allowed at least six hits in five of his seven starts – and he is working off back-to-back gems. His previous opponents in his last two outings? The strikeout-prone Reds and the Rockies shifting from Denver to pitcher-friendly San Francisco. The Diamondbacks will be ready to pop.
Houston Astros Hitters – Assuming the weather holds off and the Astros get to take the field on Friday, they will be seeking revenge against Boston's Steven Wright. Wright has been nothing short of impressive in the early stages of 2016, but much of his success has stemmed from his opponents' lack of familiarity with his knuckleball. This is not the case for the Astros, who were victimized by Wright to the tune of one unearned run, four hits, and six strikeouts in six-and-two-third innings a few weeks earlier. Wright will not have the same weapon of surprise the second time around, and all Houston hitters should benefit.
Ryan Braun/Chris Carter/Jonathan Lucroy –
It is almost impossible to avoid the Brewers in home games against pitchers with bad peripherals. Ryan Braun, Chris Carter, and Jonathan Lucroy again top the chart as right-handed bats to target against the left-handed Christian Friedrich.
Right-handed Blue Jays Hitters – Thanks to their ever-present power potential, Blue Jays hitters, as a whole, tend to be easy to buy on a given night. When facing a left-handed pitcher in a hitter's park, however, the decision is made easier. Martin Perez has a surprisingly low hard hit percentage against right-handed bats, making the Blue Jays' hitters a bit less likely to leave the yard, but his overall peripherals are high enough to warrant the use of Edwin Encarnacion, Josh Donaldson, Jose Bautista, and Troy Tulowitzki.
Wil Myers/Matt Kemp/Jon Jay – The Padres were undoubtedly pleased with securing a win in Thursday's series opener against the Brewers, but the offense might regret missing opportunities to explode in a hitter's ballpark. After a 3-0 contest in Milwaukee – started by Jimmy Nelson and James Shields – the likelihood of another pitcher's duel is incredibly small. Wil Myers and Matt Kemp gain the edge thanks to opposing pitcher Junior Guerra's high hard hit percentage against right-handed bats, while Jon Jay makes the list thanks to a scorching hot week of nine hits in seven games.
Bargains
Be sure to check the above chart for more of the expensive hitters – and the statistics of their matchups. Below, we focus on some of the best upside plays for their price.
Aaron Hill – Piggybacking off the projection that right-handed Brewers should dominate Christian Friedrich, the constantly under-valued Aaron Hill becomes a premier bargain. Hill is currently one of the hottest hitters in the game, with three home runs, two doubles, eight total hits, and nine runs batted in his last seven games.
Randal Grichuk/Matt Holliday – After Matt Holliday delivered on Thursday as one of our bargain plays, how can we ask him for an encore? In reality, how can we not? Ross Stripling has surprisingly bad peripheral numbers against right-handed bats, and the duo of Holliday and Randal Grichuk deserve consideration, yet again.
Nomar Mazara – It is the same story for Nomar Mazara each time he makes the list of targets – his performance at the front of a productive batting order rarely inflates his salary. Once again, his value is much higher than his price, and he stands to benefit the most from what could develop into a high-scoring affair between the Blue Jays and Rangers.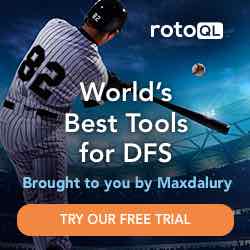 Featured Image Credit: By Steve Paluch on Flickr (Originally posted to Flickr as "ryan-braun") [CC BY 2.0], via Wikimedia Commons