After Wednesday's packed schedule – sixteen games throughout the afternoon and night – Thursday cuts the slate in half with only eight. Thankfully, there is a pitcher that stands well above the rest – unfortunately, in price, as well as expected performance – leaving fewer decisions to be made.
Currently, we are using xFIP and wOBA simply to compare one pitcher's performance against another – especially against opposite-handed hitters. We aren't using these numbers for calculation. To help with some calculations, we have assumed that each hitter and pitcher has played at least one game. Each pitcher was assigned an innings total relative to his average projection.
Check the starting lineups and weather reports prior to making any plays, as these change without notice.
Get the latest MLB Odds on XN Sports

Clayton Kershaw – With only eight games on the schedule and without other top 'aces' like Bumgarner, Arrieta, or Scherzer throwing, the conversation about the day's top pitcher begins and ends with Clayton Kershaw. Arguably the best pitcher in the game on any day, Kershaw faces a left-handed-heavy Mets lineup that strikes out at a slightly above average pace. In addition, New York has cooled off of late, scoring four runs or fewer in each of its last four games. In fact, six of the Mets' runs over the last five games were driven in by the team's pitchers. Clayton Kershaw will put together another masterpiece on Thursday night.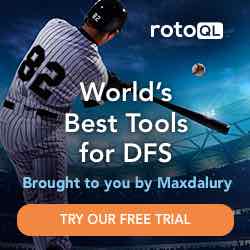 Dallas Keuchel – While it is often easier to envision trends continuing in the same direction when faced with little resistance, the best opportunities for a reversal occasionally come when an enhanced focus is needed. Such is the case for Dallas Keuchel, on the heels of a three-game losing streak – his team has actually lost the last four consecutive games that Keuchel started – facing a Red Sox team that scored no fewer than thirteen runs in each of its last three games. Both Keuchel and the Red Sox are so far off any reasonable path that both will snap back to the mean in violent fashion. For Keuchel – at an embarrassingly low salary – this will result in the typical dominant performance that we've come to expect.
Vincent Velasquez – There will be no discounts when Vincent Velasquez takes the mound against a weaker offense, and the Phillies' starter is gifted the Atlanta Braves and their inept lineup. The Braves are simply incapable of blasting a starting pitcher – prior to Wednesday's five run-outburst, Atlanta had scored more than three runs in a game only once in its previous nine contests. Velasquez has as high a floor as any pitcher throwing on Thursday, with his ceiling dependent upon Atlanta's relatively decent strikeout rate. The only limitation on Velasquez is the left-handed nature of the Braves lineup, where Velasquez typically thrives against right-handed bats.
Ian Kennedy – Like Velasquez, Ian Kennedy has an elevated floor for Thursday's matchup with his former team in New York. The Yankees simply don't explode for runs, but they are also incredibly resistant to striking out. Kennedy doesn't have the advantage of his typically expansive outfield, which does bring some risk, but he should produce a respectable fantasy output against a weaker offense, nonetheless.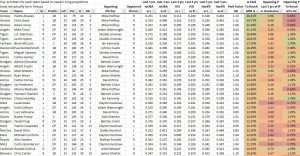 Baltimore Orioles Hitters – There is no secret as to why the Orioles include high-priced hitters on Thursday. Basically, Baltimore is poised to explode. Mike Pelfrey is slightly better against right-handed hitters than left-handed bats, but the peripherals are so poor that it hardly matters. The usual suspects of Chris Davis, Manny Machado, and Mark Trumbo make the list of targets, but Adam Jones has been scorching the ball lately.
Detroit Tigers Hitters – The other side of the game between the Orioles and Tigers offers a significantly better deal on what should develop into a high-scoring affair. Detroit was just dominated by Max Scherzer's 20-strikeout performance and the team, as a whole, is expected to rebound. The catalyst is Ian Kinsler atop the lineup, with Miguel Cabrera, J.D. Martinez, and Justin Upton sitting in the power positions. Finally, Jarrod Saltalamacchia – with a nice boost against right-handed pitching – is one of the top catcher plays of the day.
Brian McCann/Aaron Hicks – The only rival to Saltalamacchia behind the plate on Thursday is left-handed hitting Brian McCann in Yankee Stadium. Ian Kennedy – despite his target as a pitching option for Thursday – allows an incredibly high amount of hard hit contact to left-handed bats, and McCann and Aaron Hicks – a switch-hitter – gain a nice edge. Hicks, specifically, has been on fire – in his last seven games, Hicks has two home runs, a double, and nine total hits for a .429 batting average – and his success should continue against Kennedy.
Mike Trout – Not only is Mike Trout a mainstay on the list of targets, but he rises to the top whenever he has a stretch without an extra-base hit. In his last 21 plate appearances, Trout has only four singles, yet has an exceptionally high percentage of hard hit contact. Conveniently, Adam Wainwright is allowing the highest percentage of hard hit contact to opposing batters for any one season in his career. The two combine for an ideal matchup in Trout's favor.
Chris Carter/Ryan Braun – The usual duo of Chris Carter and Ryan Braun are top options, again, as they return home to their hitter-friendly ballpark – especially after playing in Miami. James Shields is no pushover on the mound, but he is certainly prone to allow runs. Carter and Braun are Milwaukee's obvious home run threats, but Aaron Hill is currently one of the hottest hitters in baseball. Hill belongs in the 'bargain bin,' but cannot be ignored if using Milwaukee hitters.
Bargains
Be sure to check the above chart for more of the expensive hitters – and the statistics of their matchups. Below, we focus on some of the best upside plays for their price.
Randall Grichuk/Matt Holliday – Randall Grichuk and Matt Holliday continue to be under-priced and present another buying opportunity on Thursday. Against Jered Weaver – whose up-and-down performance in 2016 is only delaying the inevitable decline – runs will be plentiful. Grichuck and Holliday will benefit.
Alex Gordon – Despite Nathan Eovaldi's stellar performance in his last outing, he is still prone to allowing home runs – he has averaged one-per-start in 2016. The game may not get as high-scoring as some of the last few between the Royals and Yankees, but Gordon is a solid buy with a high level of hard hit contact against right-handed pitching.
Jon Jay – Like the aforementioned Aaron Hill, Jon Jay is red-hot and playing in the hitter's ballpark of Milwaukee. Unlike Hill, Jay has the added benefit of leading off. In a game that should include no shortage of runs, Jay is an incredible steal at his price.
Feature Photo Credit: Keith Allison/Flickr C.C 2.0