Another sixteen-game day is upon us thanks to a doubleheader, although, this time, the early game will be counted in most daily fantasy sports' websites. There will be no shortage of slates, however, as there are games throughout Wednesday.
[On FantasyDraft 25% of entries win in all guaranteed contests. Sign up now! ]
Currently, we are using xFIP and wOBA simply to compare one pitcher's performance against another – especially against opposite-handed hitters. We aren't using these numbers for calculation. To help with some calculations, we have assumed that each hitter and pitcher has played at least one game. Each pitcher was assigned an innings total relative to his average projection.
Check the starting lineups and weather reports prior to making any plays, as these change without notice.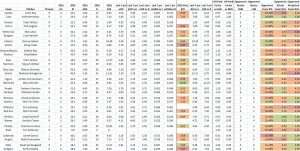 Madison Bumgarner – It has been the usual handful of days since Madison Bumgarner last took the mound, which means it has been the usual handful of days since we last recommended using him in a daily fantasy lineup. The Giants' 'ace' continues to deliver strikeout totals high enough to offset any runs he may allow, and he faces a Blue Jays' lineup that has remained one of the most strikeout-prone in the league. The trend for both Bumgarner and the Blue Jays' offense should continue in the extremely pitcher-friendly ballpark of San Francisco.
Noah Syndergaard – Like Bumgarner, Syndergaard is a frequent target of ours thanks to a phenomenal strikeout rate – that he has been able to maintain – and low ERA. Most opponents won't threaten Syndergaard, as the right-handed pitcher is so dominant that he always deserves consideration, but the Dodgers are relatively average across the board. Syndergaard has actually seen his recent performance dip, as he has two games in May with a combined eleven strikeouts after four April starts included no fewer than eight strikeouts in each game.
Max Scherzer – If Max Scherzer has figured out anything since the start of the season, it appears to be the ability to tally strikeouts despite how 'off' he may appear on a given day. Now with an ERA in the mid-4.00's after allowing seven earned runs to the Cubs, Scherzer faces his former franchise – and teammate – from Detroit. Thankfully for Scherzer, the Tigers do strike out at a high enough rate to warrant the use of the Nationals' starter, but his risk – along with the ability of the Tigers' offense – is worth hesitation. Regardless, the boost that Scherzer gains from facing his former team, coupled with the high floor from his strikeout ability, makes him one of Wednesday's better plays.
Taijuan Walker – Taijuan Walker continues to impress. The Mariners' starter is clearly working on a breakout campaign, and the only question entering Wednesday regards Walker's neck – as he left his last start after only two innings of work. In 2016, Walker has yet to allow more than two earned runs in any one start, and his current strikeout pace is perfectly aligned with preseason expectations. It should only increase against the strikeout-happy Rays. 
Danny Salazar – It is no longer scary to start an opposing pitcher in Houston. The power-laden lineup of the Astros may always be a threat for a big night, but the team strikes out so much that any opponent can still find some level of success. Danny Salazar has the makeup to exploit Houston's weakness. Unfortunately, he comes with a high price tag on Wednesday.
Wei-Yin Chen – Wei-Yin Chen is the atypical pitching recommendation of the day, as he boasts a high floor, but low ceiling. Chen is nowhere near the strikeout threat of most pitchers throwing on Wednesday, but he has a fantastic matchup against the Brewers in a pitcher-friendly ballpark. Milwaukee played their part on Tuesday by scoring ten runs, and they are almost certainly ready to regress. Chen stands to benefit, with the upside of a decent strikeout total if the Brewers continue on their current pace.
Kyle Hendricks – At the rate that the Cubs keep winning games, any starting pitcher from Chicago has an elevated win potential. Kyle Hendricks is the next to toe the rubber, and he has the bonus of facing a poor Padres' offense that managed to score seven runs one day prior. It is unlikely that San Diego can repeat the performance, and Hendricks can reap the rewards.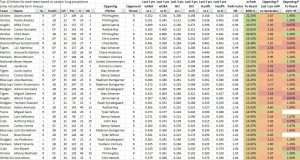 click to enlarge
Boston Red Sox Hitters – Stop us if you've heard this one before: the Red Sox are poised for a big day. Specifically, the left-handed hitters from Boston – yet again – have a massive advantage as the team tries to sweep the Athletics. With a whopping 27 runs in their last two games – a missed extra-point away from a four-touchdown output – the threat of a regression by the Red Sox has to be considered. Regardless, the Athletics appear to be sacrificing Eric Surkamp, whose numbers – specifically his peripherals against left-handed hitters – are horrific.
Miguel Sano/Brian Dozier – The often-targeted duo of Miguel Sano and Brian Dozier again find themselves on the list, as they will face Tyler Wilson in their own right-handed-power-hitting ballpark. The Twins have slowly shown signs of offensive life recently, and can take advantage of weaker opposing pitchers. Wilson fits the bill as a target for Minnesota's power hitters.
Prince Fielder/Rougned Odor/Nomar Mazara – Like the Red Sox, the White Sox and Rangers continue to outpace any reasonable expectations. Wednesday presents the next opportunity for buying into Texas as the high-flying Mat Latos should be descending. Not surprisingly, Latos' hard hit percentage against left-handed bats is high, making Prince Fielder, Rougned Odor, and Nomar Mazara top choices.
Nolan Arenado/Trevor Story/Mark Reynolds – There is simply no way to avoid Nolan Arenado against a left-handed pitcher in Colorado. What's even more tantalizing is that Robbie Ray allows the hardest-hit contact to an opposite-handed batter of any pitcher throwing on Wednesday. The prices will be high, but the investment in one of Nolan Arenado, Trevor Story, and Mark Reynolds should be worth it.
Bryce Harper – After an explosive start to the season, Bryce Harper has remained relatively quiet lately. Of course, the incredible twelve walks in his last five games does not help produce high totals of fantasy points, but it does accrue enough to warrant consideration – in fact, if Harper starts attempting steals, the trips to first base are welcomed. Harper cannot be held down forever, and his basement is incredibly elevated with how carefully pitchers are throwing around him.
Denard Span – The Giants have now scored a total of one run in their last two games, and are on the verge of getting swept by the visiting Blue Jays. With Bumgarner on the mound, San Francisco is in position to limit Toronto, but the offense needs a spark. The typical leadoff hitter, Denard Span, followed by inexpensive options such as Joe Panik and Matt Duffy, should all see a better fantasy output on Wednesday.
Bargains
Be sure to check the above chart for more of the expensive hitters – and the statistics of their matchups. Below, we focus on some of the best upside plays for their price.
Ryan Howard – Jhoulys Chacin will likely never rid himself of his reputation of being awful against left-handed bats. With that, Ryan Howard is probably counting down the minutes until the two meet, as Howard has made a career of feasting on right-handed pitchers.
Nelson Cruz – Let's not be so quick to dismiss a power hitter against Chris Archer in 2016. The Rays' starter has clearly failed to repeat last year's performance, so far, and he has allowed an average of one home-run-per-start. Cruz is possibly at the most discounted price he will see, all season, presenting a great buying opportunity.
Matt Wieters – Matt Wieters continues to draw favorable matchups, but few materialize as expected. Wednesday brings the next opportunity to deliver, as Wieters draws Phil Hughes and his ERA just below 6.00. Baltimore's offense should deliver on Wednesday, and Wieters should certainly grab a piece of the action.
Parkerjh at the English language Wikipedia [CC BY 3.0], via Wikimedia Commons