A full slate of baseball games is ahead of us on Tuesday night, although another day of risky weather arrives, as well. After two rainouts on Monday, a few pitchers gain an extra day of rest, and some positive matchups shift into Tuesday.
[On FantasyDraft, 25% of entries win in all guaranteed contests. Sign up today!]
Currently, we are using xFIP and wOBA simply to compare one pitcher's performance against another – especially against opposite-handed hitters. We aren't using these numbers for calculation. To help with some calculations, we have assumed that each hitter and pitcher has played at least one game. Each pitcher was assigned an innings total relative to his average projection.
Check the starting lineups and weather reports prior to making any plays, as these change without notice.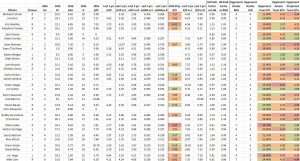 Jacob deGrom – Arguably the two best pitching options of Tuesday square off against one another in nearly identical situations as their teammates one day prior. Jacob deGrom stands as the top choice against a Dodgers team that has somewhat limited upside in scoring runs, yet strikes out at a decent pace. deGrom's personal strikeout rate is surprisingly low, but an early season injury may have lingered into his past few starts. Assuming he is finally healthy, an outstanding performance is on the horizon. Most importantly, his ERA has remained low despite his lack of strikeouts, leaving deGrom nowhere to go but up.
Alex Wood – Opposing deGrom is southpaw Alex Wood, a headache for left-handed hitters. Conveniently, the Mets have a few. Like Kazmir on Monday, Wood is poised for one of his better games, as the Mets are especially susceptible to left-handed pitching, and the head-to-head matchup with deGrom should result in a pitcher's duel. In addition, Wood's ERA suggests a regression is in the works, and it should begin against the Mets' lineup.
Jon Lester – It is going to be difficult to find a pitcher with more in his favor than Jon Lester against the Padres. The only two risks with using Lester are the park factors – specifically, right-handed batters fare well in Wrigley Field – and the extreme one-sided nature of the matchup. There should always be a slight level of restraint used when the numbers are so far on one side of the scale, but Lester needs to be considered universally for his elevated win potential and strikeout upside.
Juan Nicasio – Juan Nicasio continues to trend along the line that was established during Spring Training. The Pirates' starter has enjoyed a top-notch strikeout rate with an impressive ERA, and he faces the Reds' strikeout-prone offense on Tuesday. Cincinnati is capable of big offensive outings – and their ballpark is especially conducive for such outbursts – leaving Nicasio's floor somewhat unstable. However, his strikeout totals should carry the bulk of the value, with his high win potential putting him over-the-edge as a viable pitching option for Tuesday.
Hector Santiago – Hector Santiago is finally being accepted as one of the games better pitchers. With a decent ERA and strikeout rate, Santiago will certainly be tested on Tuesday night against the high-scoring Cardinals. What gives Santiago an edge is the left-handed-heavy lineup of St. Louis, against which the southpaw should thrive. What's even more noteworthy is that Santiago's personal strikeout rates improve against right-handed bats, making him an all-around sneaky play.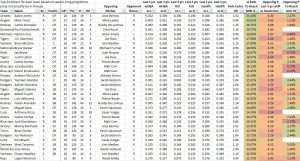 Left-handed Athletics Hitters – One glance at Sean O'Sullivan's peripheral statistics against left-handed hitting will induce shock. The seven-year veteran has a recent history that is downright horrible against left-handed bats, putting all of Oakland's on the radar for Tuesday. Stephen Vogt is easily the best catching option of the day, with at least one of Josh Reddick and Billy Burns sitting as must-plays. Even the switch-hitting Jed Lowrie – who occasionally bats as Oakland's cleanup hitter – should be targeted.
Left-handed Red Sox Hitters – After one start, we were relatively quick to dismiss Sean Manaea's struggles against left-handed bats due to small sample size. Again, we need to take into consideration how risky it is to fully buy into anything after only two starts, but Manaea might be tipping his hand. Most importantly, with the attractive prices of Boston's left-handed hitters, the risk is somewhat mitigated.
Paul Goldschmidt/Carlos Gonzalez – After Monday's fifteen-run outburst – combined – by the Rockies and Diamondbacks, Tuesday might be a tad calmer. Of course, Colorado is known to produce high-scoring games, but it cannot be taken for granted. Specifically, Tuesday presents a cooldown period for both offenses, with only two exceptions. Arizona's Paul Goldschmidt will face left-handed Chris Rusin, while Colorado's Carlos Gonzalez will be opposed by right-handed Rubby De La Rosa.
Ryan Braun/Chris Carter – The baseball world might finally be coming around to accept Adam Conley, but the southpaw is in a dangerous position. That is, Conley is tasked with following up Jose Fernandez's outstanding performance from Monday. In addition, Ryan Braun and Chris Carter anchor the right-handed power of Milwaukee, the Brewers' offense began showing signs of life in the ninth inning of Monday's game. Milwaukee will welcome the shift from Fernandez to Conley.
Adrian Beltre – A favorite target of the past week makes the list, yet again, as Adrian Beltre draws the left-handed Carlos Rodon on Tuesday. Beltre and the Rangers' offense had been heating up before losing on Monday, and the opportunity for a quick rebound – in their own hitter-friendly ballpark – is ideal. Beltre will keep hitting. We will keep buying.
Jose Abreu – The opposite side of the game between the White Sox and Rangers offers another buying opportunity in the form of Jose Abreu. Chicago's first baseman has been relatively quiet in the power department – only five home runs just under 150 plate appearances – but faces left-handed Derek Holland in a hitter's ballpark on Tuesday. The White Sox have had their own offensive outbursts recently – Chicago has scored at least seven runs in three of its last four games – but Abreu only has two extra-base hits in his last five games. Expect a surge soon.
Kris Bryant/Addison Russell/Jorge Soler – Assuming Tuesday's game gets played, the same recommendation from Monday applies. Read Monday's column for a full breakdown on the Cubs' trio.
Bargain
Be sure to check the above chart for more of the expensive hitters – and the statistics of their matchups. Below, we focus on some of the best upside plays for their price.
Joe Mauer – Prior to Monday's rainout, Joe Mauer was listed as Minnesota's leadoff hitter. With the expectation – from Monday's column – that Minnesota was in a good position for runs, Mauer gained an immediate boost. The former batting champion appears to have rediscovered his swing, and now has an additional day of rest before returning to action. If Mauer is leading off, he is arguably a must-start on Tuesday.
Ryan Howard – Even though Matt Wisler is enjoying a nice 2016 campaign, he still a major risk when facing left-handed hitters. Ryan Howard is bought solely for power potential, and his hard hit percentage against right-handed pitchers puts him on the map for Tuesday.
Cesar Hernandez – Like his aforementioned teammate, Cesar Hernandez makes the list thanks to his switch-hitting ability, where he will obviously bat left-handed against right-handed Matt Wisler. Hernandez will not be confused for a power threat, but he should bat towards the top of a lineup that is expected to score runs on Tuesday. For the savings at a premier position, Hernandez is one of the best value plays of the day.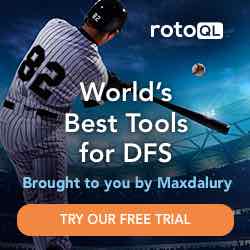 Featured Image Credit: By NickB149 (Own work) [CC BY-SA 4.0], via Wikimedia Commons