Mother's Day closes out another week of baseball with hot streaks – both individually and teams, as a whole – leading the way. In addition, a relatively small number of few top-flight pitchers are slated to start, moving the usual hitters to the front of the line.
[Play The $4,000 Home Run Tournament On FantasyDraft Today!]
Currently, we are using xFIP and wOBA simply to compare one pitcher's performance against another – especially against opposite-handed hitters. We aren't using these numbers for calculation. To help with some calculations, we have assumed that each hitter and pitcher has played at least one game. Each pitcher was assigned an innings total relative to his average projection.
Check the starting lineups and weather reports prior to making any plays, as these change without notice.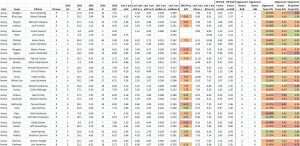 Jake Arrieta – Jake Arrieta's second start after his no-hitter was far more representative of what we've come to expect from Arrieta, and is a sign that he is, once again, rising. He will be tested on Sunday by a Nationals lineup that includes Bryce Harper and the scorching Daniel Murphy, but Arrieta is more than capable of rising to the occasion. In addition, the Nationals already strike out at a decent enough pace to consider using an opposing pitcher. Arrieta is elite and should push the expectations higher.
Matt Harvey – What happens first: Matt Harvey throws an absolute gem or we completely give up on him? Clearly, the latter appears to be unlikely, as another day of Harvey pitching includes another day of Harvey recommendations. In fairness, it is impossible to track Harvey's numbers so far off his career pace and not expect some sort of return to the mean. Perhaps he would warrant hesitation if facing a better offense, but the Padres are so strikeout-prone and low-scoring that Harvey can use this opportunity to reset some of his season statistics.
Patrick Corbin – Starting a pitcher against the Braves generally offers a decent return on one's investment. The potential output is elevated when said pitcher is a southpaw, as the left-handed-heavy Braves' lineup is ripe for the picking. Atlanta enters Sunday as one of the least productive offenses in the game, although its strikeout rate is not as high as the lineup's ineptitude would suggest. Corbin is the perfect pitcher to completely shut down the Braves.
Hisashi Iwakuma – The Astros continue to trend along their expected path of high strikeout totals, but with the occasional explosion of runs. Still, the team has slightly underperformed expectations, but has not yet shown any consistency in attempting a recovery. With that, Houston is vulnerable, and Hisashi Iwakuma – also a bit worse than his own personal projections – can provide a high reward, albeit with a high risk.
Nicholas Tropeano – Nicholas Tropeano has enjoyed a solid start to the season, slightly outperforming his expectations and carrying a high strikeout rate. Against one of the most strikeout-prone offenses – Tampa Bay – Tropeano should, at least, deliver a high strikeout total. The Rays are also one of the lowest-scoring teams in the league, but they have enough threats to see their run totals rise. Regardless, Tropeano is one of the higher upside pitchers of the day with a relatively high floor.
Ross Stripling – Ross Stripling carries elevated risk by pitching in Toronto to the Blue Jays' power lineup – especially the day after Clayton Kershaw – but the team's consistently high strikeout pace makes him a deep sleeper for Sunday. Compared to other days' high-priced pitchers, Sunday includes enough mid-range salary arms to not require as inexpensive a pitcher as Stripling. If it is a necessity, however, Stripling holds as high of a dollar-for-dollar upside as any.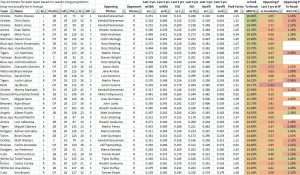 Paul Goldschmidt – In Paul Goldschmidt's last nine games, the slugger is 5-29 without a single extra-base hit. Not coincidentally, the Diamondbacks are averaging a mere 3.6 runs-per-game in their last five contests, almost a full run below their season pace. The slump for both Goldschmidt and the Diamondbacks won't last for much longer, and the matchup with Mike Foltynewicz provides a prime opportunity for an outburst.
Brandon Belt/Brandon Crawford – The start to Eddie Butler's career has been nothing short of a disaster. His peripherals are horrific, and the numbers are so far off a normal pace that may not be fully trusted. If they are, the left-handed bats of Brandon Belt and Brandon Crawford should shine on Sunday, as both get an obvious boost from facing right-handed pitchers.
Brandon Phillips/Zack Cozart/Eugenio Suarez – The trio of Cincinnati's infielders continues to deliver, and find themselves in an excellent matchup against Junior Guerra on Sunday. Guerra's extremely limited career sample size is too small to use for realistic projections, but the 31-year-old pitcher appears over his head.
Josh Donaldson/Jose Bautista – Although Ross Stripling is one of the suggested high risk-reward pitchers of the day, the risk comes from the power-laden lineup of the Blue Jays. Josh Donaldson and Jose Bautista have a combined three hits in twelve at-bats during their series with Los Angeles – although both of Bautista's hits have gone for extra bases – and the two are ready to breakout.
Kole Calhoun/Albert Pujols/Mike Trout – Recommended earlier in the week, Kole Calhoun and his hot bat will face Matt Andriese in his season debut – and his ninth career start. While Calhoun's hot streak is noteworthy against an inexperienced arm, veteran Albert Pujols and superstar Mike Trout should also be in the mix if the game gets out of hand.
Adrian Beltre/Ian Desmond/Miguel Cabrera – While there is always hesitancy when recommending a player the day after he hits a home run, the day after he hits two in the same game is even rarer. Still, Adrian Beltre – and now Ian Desmond – hit the radar for Sunday when facing Justin Verlander and his ERA over 6.00. On the other side of the game, Miguel Cabrera faces left-handed Martin Perez – Cabrera eats southpaws – in a matchup that could quickly be a battle of bullpens.
Welington Castillo/Jonathan Lucroy – Two of the most common catchers to appear on our chart make the list, yet again, although at an incredibly discounted price. As usual, Sunday brings the risk of backup catchers getting the start, but Castillo and Lucroy have excellent matchups against the aforementioned Foltynewicz and left-handed John Lamb, respectively.
Bargains
Be sure to check the above chart for more of the expensive hitters – and the statistics of their matchups. Below, we focus on some of the best upside plays for their price.
David Peralta – Wash, rinse, repeat. David Peralta is the newest mainstay on the list of bargains, and Sunday brings the next buying opportunity. Peralta will face Mike Foltynewicz – recently blasted by the Mets in his first start of the year – and the right-handed pitcher is downright bad against left-handed hitters.
Corey Dickerson – While Nicholas Tropeano stands as one of our pitching options for Sunday, the left-handed Corey Dickerson stands to benefit the most from the matchup. Dickerson's splits are incredibly tilted in his favor when facing right-handed pitching – he already has one home run in the series against the Angels off right-handed Cory Rasmus – and Tropeano's peripherals take an expected dip against left-handed bats.
Maikel Franco/Darin Ruf – Despite Justin Nicolino's impressive start to the season, his peripheral numbers against right-handed hitters leave something to be desired. Maikel Franco and Darin Ruf are two of the middle-of-the-order right-handed bats to target at attractive prices.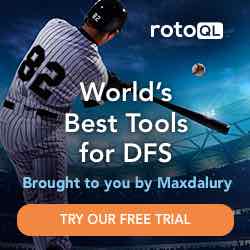 Photo Credit: Flickr user slgckgc. C.C. 2.0