Buckle up and prepare for sixteen games on Saturday, thanks to a rainout on Saturday night. Only the second contest between the Orioles and Athletics should be included in most all-day slates, but be sure to check the proper pitching matchups ahead of time.
Currently, we are using xFIP and wOBA simply to compare one pitcher's performance against another – especially against opposite-handed hitters. We aren't using these numbers for calculation. To help with some calculations, we have assumed that each hitter and pitcher has played at least one game. Each pitcher was assigned an innings total relative to his average projection.
Check the starting lineups and weather reports prior to making any plays, as these change without notice.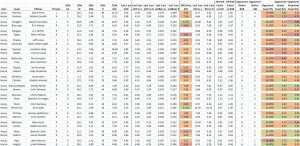 Chris Sale – If Chris Sale could limit the Blue Jays and Orioles to one earned run, each – on the road in both games, at that – he should thrive in Saturday's contest against the Twins. Even with recent signs of life, the Twins are still among the lowest-scoring teams in the league. The icing on the cake is the ideal combination of Minnesota's high team strikeout totals and Chris Sale's career strikeout rate, making him arguably the best pitching option of the day.
Shelby Miller – Sometimes, the storyline trumps the numbers. On Saturday, Shelby Miller will be returning to Atlanta to face his former team – the same team that failed miserably in providing Miller with run support in 2015. With a significantly better offense at his back Miller should already be reaping the rewards. He isn't. Instead, his ERA is astronomically high and the start to 2016 has been an utter disaster. Thankfully, the Braves feature the league's lowest-scoring offense. As Miller returns to the ballpark in which he sports a career 2.52 ERA, he enacts his revenge on his previous franchise.
Clayton Kershaw – There will likely never be a matchup in which Clayton Kershaw does not gain consideration. Against the right-handed power lineup of Toronto – in a hitter's ballpark – the risk of a higher scoring game is valid. Thankfully for Kershaw, the same offense that has the ability to explode at any time also strikes out at an incredibly high rate. Kershaw – like all other aspects of his game – enjoys high strikeout totals season after season. Saturday should be no exception.
Bartolo Colon – While the Mets' pitching staff has not necessarily struggled in their first two games in San Diego, they have yet to exploit the weaknesses of the Padres' offense. Namely, Jacob deGrom and Noah Syndergaard totaled seven combined strikeouts in their two starts. Bartolo Colon has nowhere near the season-long potential of either pitcher, but his current numbers are fantastic, making him an excellent buy in the right situation. Colon will succeed in playing the role of 'stopper' against one of the worst offenses in the game.
Ian Kennedy – Often disregarded, Ian Kennedy is putting together a solid season in Kansas City. Backed by a stellar defense and sporting a high strikeout rate, Kennedy is currently exceeding expectations, but shows signs of staying power. More accurately, as long as matchups are tilted in his favor, he can be trusted. The Indians' offense provides such an opportunity, as the team's strikeout rate is among the highest in the league. Unfortunately for Kennedy, the Indians are also one of the higher-scoring teams, making his floor somewhat unstable. Regardless, Kennedy is a 'sleeper' option for a massive discount.
A.J. Griffin – Maybe it's time to buy into A.J. Griffin. The Rangers' pitcher has baffled hitters in 2016. Most recently, he struck out nine batters and allowed one earned run through six complete innings in Toronto. While the nine strikeouts are too high to expect on a game-by-game basis, Griffin has struck out at least five batters in every 2016 start except his first. Griffin is an sneaky, high risk-reward play on Saturday.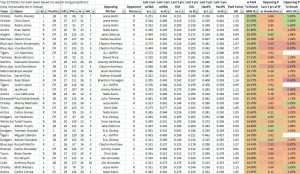 Mike Trout/Giancarlo Stanton/Bryce Harper – Mike Trout, Giancarlo Stanton, and Bryce Harper are no strangers to the chart, but all three have decent matchups – Stanton's is a hair above the best – that couples perfectly with their own outstanding talent levels. Specifically, Jeremy Hellickson – against Stanton – allows a high percentage of hard hit contact to right-handed batters, while Jake Odorizzi – against Trout – has general peripherals that favor right-handed bats, as well. Harper has only one extra-base hit in the past eleven games.
Chris Davis/Matt Wieters – With the Orioles playing a double-header on Saturday, there is some inherent risk with taking players in the second game – potential pinch-hitters, defensive substitutions, etc. Still, Chris Davis – hitless in his last three games – stands as one of the best first base plays on Saturday, facing Jessie Hahn in Baltimore. Matt Wieters – especially if he is out of the lineup for the first game – is arguably the best catching option of the day.
Maikel Franco/Adrian Beltre – Maikel Franco broke through his minor power slump on Friday with a double and a home run. Franco slots right back into the lineup as a top third base option against Tom Koehler. Adrian Beltre's potential failed to materialize on Friday, but he is now two games removed from a hit after tallying seven in eight games.
Nelson Cruz – Dallas Keuchel had been completely lights-out at home until finally struggling in his last outing. While the normal expectation is that Keuchel returns to form, Nelson Cruz provides some insurance in case it doesn't materialize. Cruz won't be cheap, but he will likely be the cause of Keuchel's potential issues in the right-handed-power ballpark of Houston.
Rougned Odor – Rougned Odor was one of Friday's top plays, and delivered with an outstanding performance. Mike Pelfrey's peripherals against left-handed bats are poor enough that most left-handed Rangers should be targeted. Odor and Prince Fielder are the moderately-priced players to consider, with another sitting in the bargain bin.
Bargains
Be sure to check the above chart for more of the expensive hitters – and the statistics of their matchups. Below, we focus on some of the best upside plays for their price.
Nomar Mazara – The left-handed Nomar Mazara is in the same positive position as his teammate, Odor, only at a massive discount. The rookie has certainly made an impact in his first month of Major League action and has yet to see his price exceed his production.
David Peralta – David Peralta continues to be an undervalued option for daily fantasy purposes, routinely delivering in the middle of a deep lineup. Against Julio Teheran – who struggles against left-handed hitters – Peralta is a top player for the price on Saturday.
Logan Morrison – The Rays exploded in the first inning of Friday's game, and find themselves in another ideal position for a high run-scoring environment. Left-handed Logan Morrison – if he is in the lineup – is a perfect bargain buy against Jered Weaver.
Featured Image Credit: By Arturo Pardavila III on Flickr [CC BY 2.0], via Wikimedia Commons