In a stark contrast with Thursday, Friday is bursting with pitching options. Unfortunately, some of the best are slated to go head-to-head with one another, somewhat limiting the upside. Thankfully, there are more than a few viable pitchers to throw in Friday's packed slate.
Currently, we are using xFIP and wOBA simply to compare one pitcher's performance against another – especially against opposite-handed hitters. We aren't using these numbers for calculation. To help with some calculations, we have assumed that each hitter and pitcher has played at least one game. Each pitcher was assigned an innings total relative to his average projection.
Check the starting lineups and weather reports prior to making any plays, as these change without notice.
click to enlarge
Madison Bumgarner – What more could Madison Bumgarner want in a matchup? At home, in a pitcher-friendly ballpark, Bumgarner will face a Rockies team that just put up two touchdowns and a field goal the night before – Colorado is now the third-highest scoring offense in runs per game. In addition to the shift from Matt Cain to Bumgarner slowing down the Rockies' offense, two of Colorado's best hitters – Charlie Blackmon and Carlos Gonzalez – bat from the left side of the plate. Bumgarner's strikeout potential is decent – carried mainly by his own personal rates – but his overall projections far exceed the reasonable salary for Friday night.
Noah Syndergaard – Like Bumgarner, Noah Syndergaard is in an ideal scenario thanks to Thursday's events, although on the opposite end of the run-scoring spectrum. The Padres – still the eighth-worst offense in runs-per-game – chased Jacob deGrom from the game after eight hits and three earned runs in only five innings of work. On the other side of the game, the Mets' offense was hitless into the seventh inning. As each team reverts back to form, Syndergaard's already high strikeout rate will thrive against the Padres' lackluster lineup.
Drew Pomeranz – The surprise bright spot of Thursday night was San Diego's Colin Rea taking a no-hitter into the seventh inning against the Mets. Ultimately, New York's offense put a few runs on the board – making the final score look closer than the game was for the majority of the night – but Rea exposed a weakness in the Mets' offense. Simply put, the team is prone to extremes – excluding Thursday, which ended with a three-run ninth inning, the Mets had either scored at least five runs or no more than one run in seven of their last nine games. In addition, opposing pitches occasionally elevate their games when squaring off with one of New York's talented arms. Southpaws, in general, have a distinct advantage against a lineup that includes Curtis Granderson, Lucas Duda, and Michael Conforto from the left side of the plate. All of these factors, added to his high strikeout rate, make Drew Pomeranz an excellent upside play on Friday.
Michael Pineda – The weather is already threatening the opening game of the series between the Red Sox and Yankees, but, assuming it gets played, Michael Pineda becomes a high risk-reward option. Pineda has been nothing short of disappointing in the early part of the season, but his strikeout rate has remained high. Not conveniently, Boston is stingy in the team-strikeout department, but Pineda has yet to pitch his best game. With basically every statistic well of its proper trajectory, a correction is in order, making Pineda solely an inexpensive contrarian play.
Vincent Velasquez – Vincent Velasquez has entered rare territory where he always deserves consideration. Indeed, he can often be pushed aside for better options, but his strikeout prowess always puts him on the radar. On the surface, his matchup with the Marlins somewhat limits his strikeout projections, but the beauty of a comparably low team-strikeout rate is that it can always increase on a given night. Velasquez is the type of pitcher to exploit this movement. The Marlins have been scorching hot – winners of ten of their last eleven games – but still have limited upside – in the eleven-game stretch, Miami never eclipsed seven runs, reaching the barrier only twice. Velasquez is a quiet 'sleeper' on Friday night.
Zack Greinke – After Zack Greinke's abysmal start to his Arizona career, he needed more than a few gems to correct his numbers. He delivered in three of the last four games, but was still blasted two starts ago. Unless Greinke is going to continue to pitch to an ERA well over 4.00 – as of Friday, it is over 5.00, but Greinke has not had a season ERA over 4.00 since 2010 – even more top-notch performances will be in his future. Friday night, in the pitcher-friendly ballpark of Atlanta, Greinke should continue his slow climb towards his career averages. The Braves are the lowest-scoring team in the league, and they strike out at a perfectly average rate. Greinke will thrive in a great matchup, as his win potential is elevated thanks to his offense facing Aaron Blair in his third career start.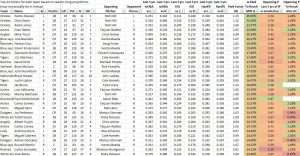 Paul Goldschmidt – If Arizona is going to back Zack Greinke, it will likely be due to the performance of Paul Goldschmidt. Goldschmidt is without an extra-base hit in his last seven games – 4-for-23 in that span with ten strikeouts – and faces a rookie that only has four strikeouts against 42 batters faced. Blair has toed the line, and Goldschmidt will make him pay.
Prince Fielder/Rougned Odor/Adrian Beltre – Jordan Zimmerman has entered the territory of the insane. Two total earned runs allowed in 33 innings of work through April make him a prime candidate for regression. The Rangers were just blasted by the Blue Jays on Thursday, and enter Friday's matchup against the right-handed Zimmerman ready to rebound. Left-handed Prince Fielder and Rougned Odor are top plays as both the Rangers' offense and Tigers' starting pitcher return to their respective averages. Adrian Beltre makes the list for a second consecutive day, as he only has five hits in his last seven games, despite a high hard hit percentage.
Minnesota Twins Hitters – Have we bought into Mat Latos, yet? No? Good. The right-handed pitcher has an incredible 1.84 ERA despite an insanely low strikeout rate. Even more than Aaron Blair, Latos has arguably been performing with smoke-and-mirrors, and the Twins – still creeping towards offensive respectability – are poised to breakout. In addition, Joe Mauer looks invigorated and Miguel Sano and Brian Dozier are finally coming alive.
Wellington Castillo/Brian McCann – Wellington Castillo and Brian McCann, once again, find themselves atop the chart of catchers to target. Castillo gains the same benefits of his Arizona teammates mentioned elsewhere in this column, but McCann returns home to Yankee Stadium to face Rick Porcello. If rolling the dice with Pineda, McCann is an excellent option for a miniature stack of all-or-nothing Yankees' plays.
Inexpensive Cincinnati Reds Hitters – The suggestion of not paying up for Reds' hitters could justify the use of this write-up in the 'bargain' section, but the value is more important as a warning against high-priced Reds' hitters than anything else. Cincinnati might be the most popular stack of the day, but the Reds have averaged nearly six runs-per-game in their last five games, and are severely over-extended. On paper, Tyler Cravy is the pitcher to target, but beware of getting burned by the obvious players with big salaries. Instead, Brandon Phillips is arguably the best play for the price, and is possibly the best second base option for the night.
Carlos Correa – Where is Carlos Correa? Despite the rest of his teammates finally heating up, Correa has thawed slowly. Three of his four hits in May came during the 16-run Houston outburst on Wednesday, but Correa still sits with an underwhelming .267 batting average and four home runs on the year. If the Astros really are taking off, Correa won't stay behind much longer.
Bargain
Be sure to check the above chart for more of the expensive hitters – and the statistics of their matchups. Below, we focus on some of the best upside plays for their price.
David Peralta – David Peralta refuses to see his price increase, despite the extra-base hit potential he brings to the table on a daily basis. As good as a matchup as Aaron Blair is for the aforementioned Goldschmidt, the left-handed Peralta is arguably the better buy for the money.
Kole Calhoun – It is becoming more difficult with each game to project Chris Archer. The Rays' starter continues to enjoy high strikeout totals, but is allowing far too many walks, hits, and, ultimately runs. Kole Calhoun is the anti-Archer, with a total of one strikeout and eleven hits in his last 27 plate appearances. In addition, Archer allows a high level of hard hit contact to left-handed bats, making Calhoun an excellent upside play.
Corey Dickerson – Corey Dickerson is one of the most unheralded cleanup hitters in the game, likely due to his frequent absence from games when facing left-handed pitchers. He does, however, thrive on right-handed pitching, and draws Cory Rasmus on Friday night. Conveniently, Rasmus has the second-highest hard hit percentage against opposite-handed bats of any pitcher throwing on Friday.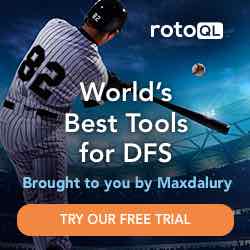 Feature Photo Credit: Flickr user SD Dirk C.C. 2.0