Despite Thursday generally serving as 'getaway day,' nearly the entire slate of games will be played at night. Thankfully, there is one standalone pitching option that separates himself from the pack, leaving hitters available throughout the remaining games.
Currently, we are using xFIP and wOBA simply to compare one pitcher's performance against another – especially against opposite-handed hitters. We aren't using these numbers for calculation. To help with some calculations, we have assumed that each hitter and pitcher has played at least one game. Each pitcher was assigned an innings total relative to his average projection.
Check the starting lineups and weather reports prior to making any plays, as these change without notice.

Jacob deGrom – Every once in a while a matchup appears that requires immediate action. Jacob deGrom against the Padres in San Diego is that scenario. The perceived imbalance is so tilted that the game might actually be too easy – and, thus, risky – but the setup is too ideal to ignore. In addition to deGrom's overall numbers suggesting a dominating performance against a Padres team that hardly scores and strikes out at a ridiculously high pace, the Mets' pitcher has yet to deliver a statement game. That changes on Thursday night.
Jaime Garcia – Jamie Garcia becomes the next pitcher in line to face the pesky Phillies, and he gets the nod with trepidation. Philadelphia continues to perform at a steady level of scoring a few runs each game while also delivering strikeouts. Simply put, they are rarely a threat to blow up Garcia, although the Cardinals' pitcher is not on the verge of a gem. His floor is high, and his ceiling is low, but the strikeout totals should carry him, regardless.
Jerad Eickhoff – Jerad Eickhoff has been a pitching target on a number of occasions thanks to impressive strikeout rate – both projected and actual – and slightly elevated ERA. The Phillies' starter is often overlooked due to the perception that his team limits his win potential, but, as evident by the low ceiling of Jaime Garcia, Eickhoff and Philadelphia are outperforming expectations. When the method by which the Phillies lost their Wednesday night tilt with the Cardinals – a blown save in the bottom-of-the-ninth inning – is factored into the equation, Eickhoff serves as the player ready to benefit from the team's encore.
Trevor Bauer – The Indians continue to trot strikeout pitchers to the mound, and Trevor Bauer draws the Tigers on Thursday. Bauer is in a similar position as the aforementioned Garcia, only with the increased risk of a big performance by the Detroit offense. Regardless, the Tigers are basically as strikeout-prone as the Phillies, and Bauer should take advantage. Unfortunately, Bauer's numbers are too skewed from his time in the bullpen to gather realistic predictions, but he remains a solid option given Thursday's lack of pitching depth after deGrom.
Kevin Gausman/Masahiro Tanaka – Kevin Gausman and Masahiro Tanaka will face one another in what should develop into a decent pitcher's duel. Tanaka has the head-to-head advantage with the longer track record of a low ERA and high strikeout rate, but Gausman has the matchup in his favor. After the Yankees and Orioles played five scoreless innings on Wednesday, New York finally broke through en route to a 7-0 shutout. The seven run outing was more than double what the Yankees had averaged on a per-game basis entering Wednesday, making it an outlier. The only limit to Gausman's upside is New York's low team strikeout pace – which could always rise. In the end, Tanaka is a valid option, but Gausman is the upside play.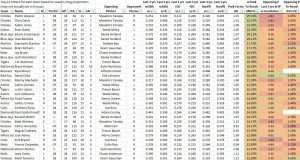 Left-handed Red Sox Hitters – The return of Erik Johnson to the White Sox's Major League club pushes all Red Sox left-handed bats to the top of Thursday's list. Johnson's sample size is rather small, but he does have sixteen career starts scattered over the past three seasons. His horrible peripheral numbers against left-handed hitters are too gaudy to ignore, making David Ortiz and Travis Shaw two of the top plays of the day.
Right-handed White Sox Hitters – With the first two sets of hitting targets found in the same game, the expectation is clearly for a high run-scoring environment in Chicago. Henry Owens has nearly the same amount of Major League career starts – thirteen – as his aforementioned counterpart, and his peripherals are equally as enticing for hitters – albeit, a tick better across the board. Owens does limit hard hit contact to an extent, so Chicago hitters might not pile on home runs, but all right-handed White Sox bats are on radar for Thursday night.
Giancarlo Stanton – Little changes from Wednesday for the Marlins' slugger who just hit his ninth home run of the season. In fact, the situation might have improved for Stanton, who faces the left-handed Robbie Ray. Conveniently, Ray is Thursday's pitcher that allows the highest hard hit percentage to opposite-handed hitters, making the right-handed Stanton a top play. Other right-handed Marlins can be used, but the ballpark favors pitchers enough to warrant hesitation. Stanton's power is so immense that the park factor is somewhat irrelevant.
Hunter Pence/Buster Posey – Right-handed hitters Hunter Pence and Buster Posey get the typical boost by facing the left-handed Chris Rusin, although expectations should be somewhat tempered. After exploding in Cincinnati's hitter-friendly ballpark, the Giants return home to where pitchers normally get the edge. Rusin's peripherals still put Pence and Posey on the map, but exercise some caution and limit exposure as the change in ballpark could have an impact on the series opener.
Anthony Rizzo – With the output that he continues to deliver, it is not a surprise that Anthony Rizzo is one of the highest priced hitters of the day. It is also not a surprise that he is one of the best targets of the day. Joe Ross has been a wizard at limiting runs, but he also has a surprisingly low strikeout rate – more pitches put into play are ideal for hitters in daily fantasy baseball – and has terrible peripherals against left-handed bats. To the shock of no one, Rizzo has a nice boost in isolated power when facing right-handed pitchers.
Adrian Beltre – J.A. Happ has been targeted as one of the top pitchers of the day numerous times in 2016 – and he has delivered nicely for his typical price. The tables turn on Thursday, where Happ becomes a target for hitters, instead. Happ's peripheral numbers against right-handed bats are slightly elevated, but Adrian Beltre's numbers against left-handed pitching is good enough to truly tilt the matchup. In reality, the Rangers are typically left-handed-heavy, with Beltre poised as the biggest threat. In a hitter's ballpark, Happ is expected to regress – his ERA is more than one run below his career average – in what should be a high scoring game.
Bargain
Be sure to check the above chart for more of the expensive hitters – and the statistics of their matchups. Below, we focus on some of the best upside plays for their price.
Adam Eaton – Like Sean Manaea on Wednesday, southpaw Henry Owens has terrible numbers against left-handed hitters, albeit in a small sample size. With the expectation of a high-scoring game on Thursday, the inexpensive option is Adam Eaton. As long as he isn't benched for the perceived matchup disadvantage – that doesn't exist for this game, in particular – Eaton should lead off and reap the rewards of Chicago's lineup.
Kirk Nieuwenhuis – Kirk Nieuwenhuis is the hitting version of a left-handed specialist. Only producing against right-handed pitching, Nieuwenhuis should be in the lineup against Alfredo Simon in a hitter-friendly park. Simon has been so bad in the early portion of the season that he cannot possibly continue down this road forever, so some level of caution needs to be applied when using Brewers hitters on Thursday. Therefore, Nieuwenhuis offers an inexpensive solution to taking advantage of Simon.
Delino Deshields – As mentioned in Adrian Beltre's write-up, right-handed Texas hitters should be on the radar for Thursday against J.A. Happ. Delino Deshields fits a similar mold as Adam Eaton – a potential lead-off candidate in a high-run scoring environment. Unfortunately, Deshields has spent much of his recent time at the bottom of the batting order, but, while this will likely cost him an additional at-bat, it may not matter once the lineup turns over. In addition, Deshields was out of the lineup on Wednesday, making him a prime candidate for a bounceback performance. If he is leading off, Deshields is a must-play.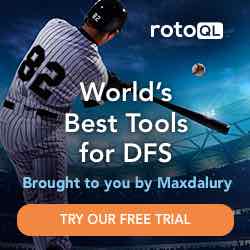 Photo Credit: Buck/Flickr C.C 2.0