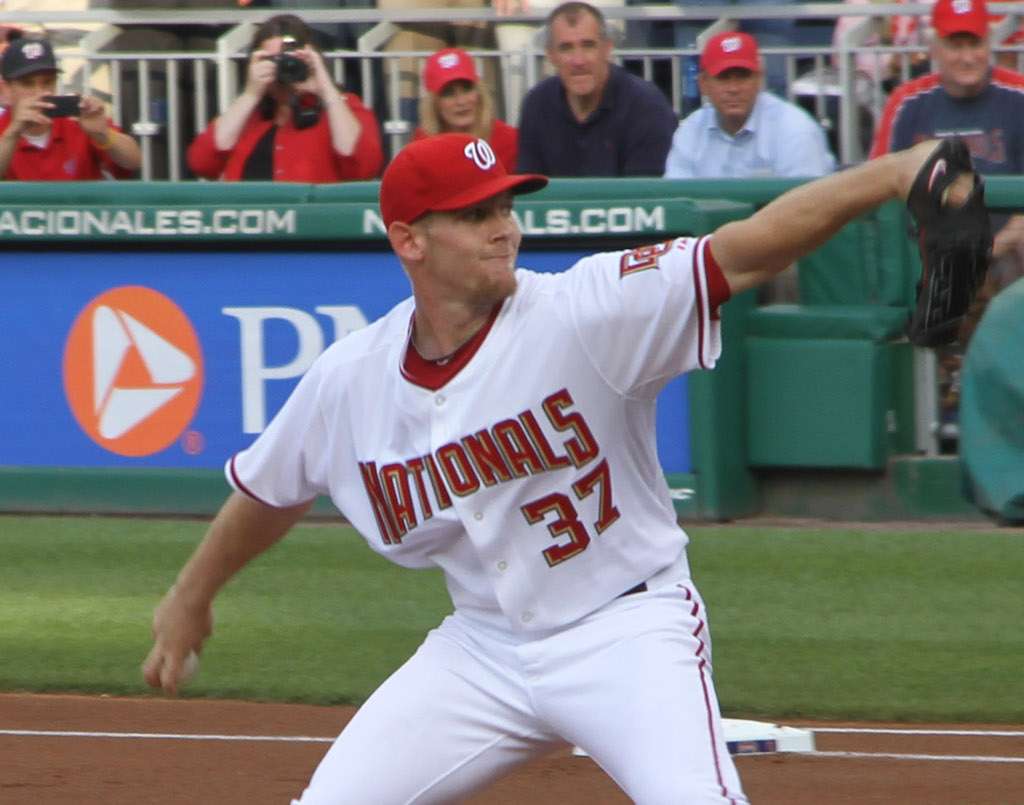 Latest posts by Mario Mergola
(see all)

All thirty clubs are in action again on Wednesday, with the games neatly dispersed over the course of the day. Oddly enough, there are a handful of talented pitchers throwing, but their matchups are not necessarily outstanding. Unfortunately, the hitters are equally suppressed, with the exception of a few lineups that should breakout.
Currently, we are using xFIP and wOBA simply to compare one pitcher's performance against another – especially against opposite-handed hitters. We aren't using these numbers for calculation. To help with some calculations, we have assumed that each hitter and pitcher has played at least one game. Each pitcher was assigned an innings total relative to his average projection.
Check the starting lineups and weather reports prior to making any plays, as these change without notice.
Steven Matz – Steven Matz is in the absolute best position of the day. After his team's offense was shut out the night before – expect run support – Matz takes the mound against an Atlanta squad that has proven to be nothing short of pesky. Thankfully for Matz, the Braves do continue to strike out at a decent rate, and the left-handed pitcher should thrive against a Braves lineup that arguably features their best hitters from the left side of the plate. Most importantly, as much as Atlanta refuses to roll over and die, the team rarely explodes for runs, keeping Matz's floor high and his ceiling wide open.
Drew Smyly – It is no accident that two of the most left-handed-heavy lineups will have faced a combined four left-handed starting pitchers in the first two games of their series. The Dodgers and Rays will follow up Scott Kazmir and Matt Moore with Alex Wood and Drew Smyly, respectively. While Wood is certainly viable for the same reasons as Kazmir on Tuesday, Smyly is the play for Wednesday. The southpaw appears to be growing as a pitcher with each start, and is arguably in the beginning stages of a breakout season. Simply put, the Dodgers are the ideal matchup for Smyly – and the ten-run outburst screams for a regression – where his strikeout rate and peripherals against left-handed hitters are excellent.
Jose Fernandez – In the early part of the season, we have already seen two pitchers that thrive at home lose games in their own ballparks – Dallas Keuchel and Jose Fernandez. Thankfully, this helps reset the trend, as evident by Jose Fernandez's nine-strikeout, three-hit performance in his second home start of the year. Wednesday will tally his third on the young season, and the Marlins' ace should be poised to continue on his successful path. The Diamondbacks are, indeed, a risk to both score and limit strikeouts, but they send Rubby De La Rosa to the mound after a ridiculous ten-strikeout, two-hit outing against the Cardinals. De La Rosa's career numbers suggest that he is one of the worst pitchers of the day, and the likelihood that he returns back to earth gives Fernandez a better chance for a win.
Corey Kluber – Corey Kluber is in one of the more unsettling positions of the day, yet he always warrants consideration. After dominating the Tigers two starts ago, Kluber will be opposed not only by the same offense, but by the same starting pitcher – Anibal Sanchez. The risk that Sanchez's revenge is enacted – Sanchez was blown up by the Indians in their last meeting – is high enough to cause concern for Kluber's win potential – as is the familiarity of the offense limiting his upside – but Detroit still strikes out at a high pace. As noted in the past, Kluber's outings are typically long – only once has he failed to complete six innings, and he has pitched at least seven innings in three of his five starts – and his floor is as high as anyone else's on Wednesday.
Stephen Strasburg – The manner in which the Nationals lost on Tuesday night – a three-run rally by Kansas City in the bottom of the ninth inning – speaks volumes to exactly how difficult it is to pitch against the Royals. The team rarely strikes out – five on the entire day – and is quietly effective on offense. The game does, however, also depict that the Royals were losing after eight innings – seven-and-one-third of which was controlled by the starting pitcher. As always, facing Kansas City lowers the basement – due to lower strikeout potential – but if Stephen Strasburg can continue near his stellar strikeout pace, he will blow past projections on the day.
Hector Santiago – Hector Santiago finally hit a relative speed bump in his last start, and, unfortunately, the left-handed pitcher will not necessarily see a much more favorable shift – pitching to a right-handed-heavy lineup in a hitter's ballpark – but he has one distinct advantage on Wednesday. Santiago will face the low-scoring, high-strikeout Brewers. While the risk of a bad outing is present for the aforementioned reasons, Santiago is currently trending right along his projected path, indicating that more of the same success he has already enjoyed is on the horizon.
Nelson Cruz/Kyle Seager – Due to the extremely small sample size – one career start – Sean Manaea's peripheral statistics cannot be taken seriously. Therefore, the simply target is Nelson Cruz, the slugging right-handed hitter. Kyle Seager – who is finally heating up – should no be overlooked due to his handedness, as his peripherals against left-handed pitching are still decent enough to warrant his use – especially at a nice discount.
Left-handed Mets Hitters – As noted in Steven Matz's write-up, the Mets' bats should enjoy Wednesday after being shut down by Matt Wisler on Tuesday. Lucas Duda, Curtis Granderson, Michael Conforto and the usual left-handed suspects should be on the radar. Jhoulys Chacin is simply bad against left-handed hitters.
San Francisco Giants Hitters – Dan Straily has been surprisingly effective in his brief stint as a Cincinnati starting pitcher. That will come to an end on Wednesday. Left-handed Brandon Belt gets the nod, but all Giants should be considered as the team goes for the sweep in a hitter-friendly ballpark before returning home. This is likely the last opportunity for an offensive outburst, and the Giants will not let it pass them by.
Adam Jones – Adam Jones has topped the chart for quite a while, as his injury in the early part of April knocked him off any reasonable pace. In order to fully recover, he needs some favorable matchups that will help right his ship. Wednesday affords such an opportunity, as left-handed C.C. Sabathia will pitch in Jones' hitter-friendly ballpark. The two are hardly strangers, as Jones has faced Sabathia a whopping 67 times, with four home runs, a total of nine extra-base hits, and a .311 batting average in 61 official at-bats.
Brian McCann – The other side of the game between the Orioles and Yankees yields one of the two best catcher options of the day – along with Buster Posey in the 'start all Giants' write-up. Brian McCann has actually hit better away from Yankee Stadium – perhaps the short porch in right field is a detriment to his approach – and will face the right-handed Tyler Wilson in another ballpark that plays well for left-handed power hitters.
Bargain
Be sure to check the above chart for more of the expensive hitters – and the statistics of their matchups. Below, we focus on some of the best upside plays for their price.
D.J. LeMahieu/Mark Reynolds/Brandon Barnes – San Diego's Cesar Vargas appears, on the surface, to be a pitcher worth targeting, but his hard hit percentage is relatively low. With that, his pitches should stay in the park, but hitters that don't live via the home run should thrive. For their respective prices, D.J. LeMahieu, Mark Reynolds – albeit, a power bat – and Brandon Barnes are great bargain buys.
Randall Grichuk/Matt Holiday – Lost in the mania of Jeremy Hazelbaker's torrid start to the year was Randal Grichuk. Grichuk has flown under the radar for a while, but should move to the head of the class when facing Adam Morgan. Oddly enough, Grichuk's peripherals against right-handed pitching are better than against lefties, but his opportunity for success remains high. The man that does gain a noticeable boost is Grichuk's teammate, Matt Holliday, who is a relative steal for his price.
Nori Aoki – In the main write-up, we dismissed Manaea's skewed numbers – especially against left-handed bats – as a means to avoid risking too much on a small sample size. The same level of caution does not need to be exercised in the bargain bin, as the cost-to-acquire a player is not crippling. With that, Nori Aoki – with a high weighted on-base average against left-handed pitchers – is a great buy. If he leads off, he is arguably a must-play at his salary.
Featured Image Credit: By dbking (IMG_6927) [CC BY 2.0], via Wikimedia Commons