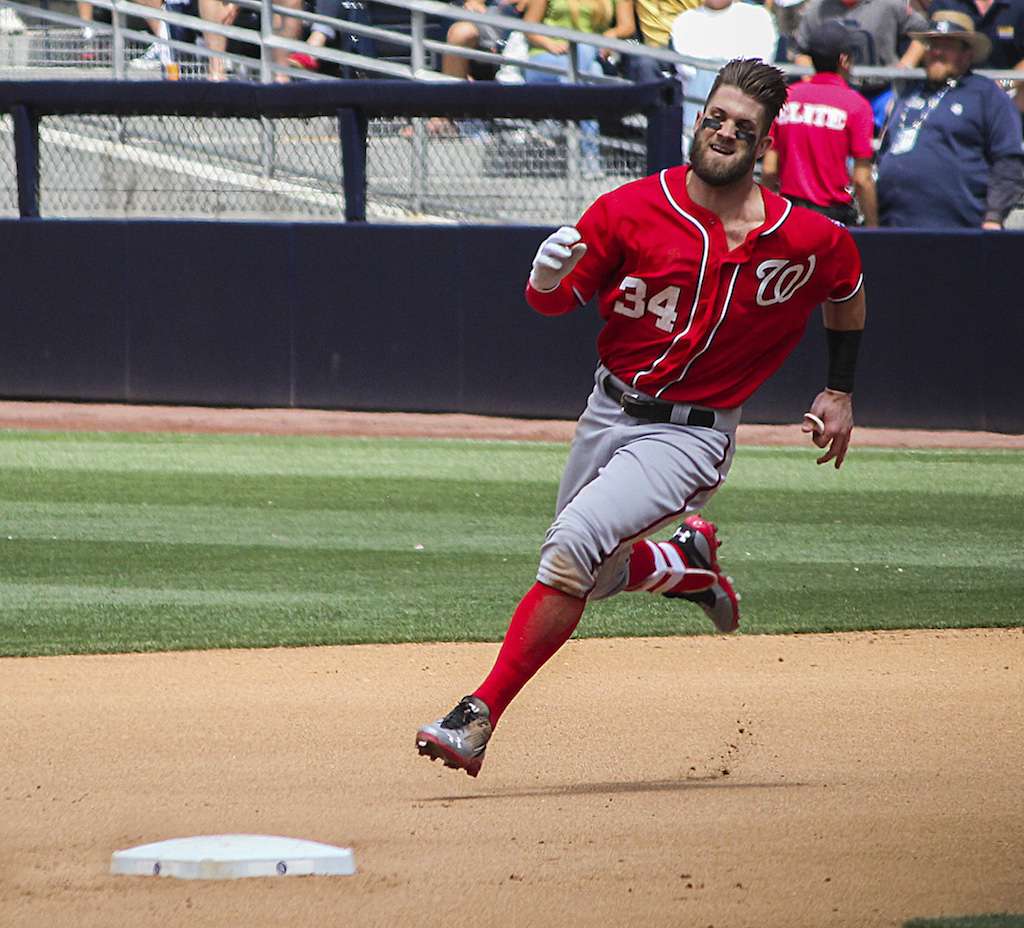 Latest posts by Mario Mergola
(see all)

Another week of baseball begins with a ten-game slate, all of which will be played at night. The new week brings a new set of series, which should be welcomed by a handful of players that are experiencing their first miniature slumps of the season. Thankfully, this presents a buying opportunity.
Currently, we are using xFIP and wOBA simply to compare one pitcher's performance against another – especially against opposite-handed hitters. We aren't using these numbers for calculation. To help with some calculations, we have assumed that each hitter and pitcher has played at least one game. Each pitcher was assigned an innings total relative to his average projection.
Check the starting lineups and weather reports prior to making any plays, as these change without notice.
Dallas Keuchel – Dallas Keuchel tops the list of pitching options for Monday, and his situation makes him the must-start play of the day. Despite being a left-handed pitcher in a ballpark that favors right-handed hitting, Keuchel is downright untouchable at home. In 2015, Keuchel was an astounding 15-0 with a 1.46 ERA in home games and 5-8 with a 3.77 ERA on the road – in a Cy Young award winning campaign, at that. In addition to the home dominance, Keuchel and the Astros will host the strikeout-prone Twins who conveniently put together a five-run outing on Sunday – a full run-and-a-half more than the team's per-game average output. Everything is aligned for Keuchel to shine on Monday.
Gio Gonzalez – If Gio Gonzalez is truly in the middle of a breakout campaign, he will need to prove that he can handle a less-than-ideal matchup, such as Monday's game in Kansas City. The Royals hardly ever strike out, and they are in the middle of a skid – which suggest a rebound is coming – but Gonzalez has been so impressive through April that he warrants consideration, anyway. The southpaw does have an advantage facing a lineup that includes a few key left-handed bats in a pitcher's ballpark, and the ceiling is raised if Gonzalez can, indeed, continue his high strikeout pace.
Nate Karns – Much of what makes Gio Gonzalez a solid play on Monday can be applied to Nate Karns. The Mariners' starter will be throwing in a pitcher-friendly ballpark against a team that rarely strikes out, but sits on the lower end of the run-scoring scale. Surprisingly, the right-handed pitcher has impressive strikeout rates against left-handed hitting, which should help limit the damage and provide a more balanced outcome.
Jonathan Gray – How good or bad is Jonathan Gray? Unfortunately for the Rockies' young pitcher, the world may never know, as starting roughly half of one's games in Denver typically has ill-effects on the final statistics. This is why a Colorado starter shifting to San Diego is ideal for daily fantasy purposes. Gray cannot be penciled in for a performance anywhere near that of Clayton Kershaw's on Sunday, even though he faces the same inept Padres offense, but he should be a nice source of cheap strikeouts.
Gerrit Cole – One of the highest risk-reward plays of the day is Pirates starter Gerrit Cole. The Cubs will be shifting from their hitter-friendly home ballpark to Pittsburgh – which heavily favors pitchers – and they enter the game with a completely unsustainable run-scoring pace. Unfortunately for Cole, the Cubs are not striking out at nearly the same pace as last year's squad, but this could also lead to a regression that gives opposing pitchers another boost. The threat of a big day by Cubs' bats is enough to exercise caution, but Cole is as talented as any other pitcher throwing on Monday and is more than capable of shutting down Chicago's offense.
New York Mets Hitters – The New York Mets followed their script to perfection. After an extended winning streak that included an offensive renaissance, the team failed to show up on Sunday against Madison Bumgarner. This was not only expected, but encouraged as a temporary hurdle. Now, between hitting the reset button and facing Mike Foltynewicz one day after Bumgarner, the Mets' bats should come alive. Specifically, left-handed hitters have proven to be the downfall of Foltynewicz, but all Mets' hitters are on radar for Monday. Lucas Duda, Neil Walker, Curtis Granderson, and Michael Conforto top the chart.
Toronto Blue Jays Hitters – Sitting just behind Foltynewicz in the list of opposing pitchers to attack is A.J. Griffin. Pitching in a hitter-friendly ballpark to a power-laden team that is currently failing to meet projections, Griffin should be torched by the usual cast of characters in Toronto – Jose Bautista, Josh Donaldson, Troy Tulowitzki and, most importantly Edwin Encarnacion. Basically, Griffin's hard hit percentage against right-handed batters is curiously high for a right-handed pitcher, and the Blue Jays should take advantage.
Bryce Harper – Don't let the recent hiccup by Bryce Harper – 0-for-11 in his last three games with a four-strikeout dud on Sunday – define a new trend for the slugger. Instead, don't miss the rebound. Harper faces Edinson Volquez – whose peripherals against left-handed hitters are poor – and Harper had not previously gone back-to-back games without a hit until this three-game stretch. A big outing is on the horizon.
Nelson Cruz – File Nelson Cruz in the same category as Harper – a power-hitter in a recent slide – and consider the likelihood of a breakout. Cruz is now 0-for-10 in his last four games after recording only one set of back-to-back games without a hit earlier in the year. The bleeding should stop against Kendall Graveman, statistically one of the worst pitchers of the day.
Buster Posey/Jonathan Lucroy – As noted time and again, Buster Posey feasts on left-handed pitching. On Monday, he draws Brandon Finnegan in a hitter's ballpark. Finnegan has enjoyed some nice outings in his short career, but he allows a high percentage of hard hit contact to right-handed bats. Jonathan Lucroy – without a home run despite 23 hits, to date – offers a nice buying opportunity at a discount to Posey when he faces Jered Weaver in Milwaukee.
Mike Trout – The superstar is facing Jimmy Nelson in Milwaukee and is currently trending below his projected home run pace. We saw the boost that this ballpark gave to Giancarlo Stanton, and Trout should be the next to benefit.
Bargains
Be sure to check the above chart for more of the expensive hitters – and the statistics of their matchups. Below, we focus on some of the best upside plays for their price.
Derek Norris – A cavernous drop-off in price from Buster Posey brings Derek Norris into the mix. Indeed, Norris faces one of our sneaky pitcher plays in Jonathan Gray – in a pitcher's park, nonetheless – but Gray has struggled equally against hitters from either side of the plate. If Gray falters – certainly a possibility given his track record – Norris gains. For his price, Norris may be unavoidable.
Asdrubal Cabrera – Considering the matchup for left-handed Mets on Monday, switch-hitting Asdrubal Cabrera is arguably the best shortstop play of the day, regardless of price. When factoring in his salary, he is a must-play in some capacity, with a higher lineup position offering even more potential.
Ezequiel Carrera/Michael Saunders/Justin Smoak – Like the Mets, the Blue Jays should be out in full-swing on Monday, and any cheap option from Toronto can be slotted in to fit a lineup under the salary cap. Whichever hitter leads off gets an immediate boost, but the recent favorite of Ezequiel Carrera jumps back into the mix. Michael Saunders and Justin Smoak are another pair of incredibly under-valued options for Monday's tilt.
Feaured Image Credit: By Johnmaxmena2 (Own work) [CC BY-SA 4.0], via Wikimedia Commons