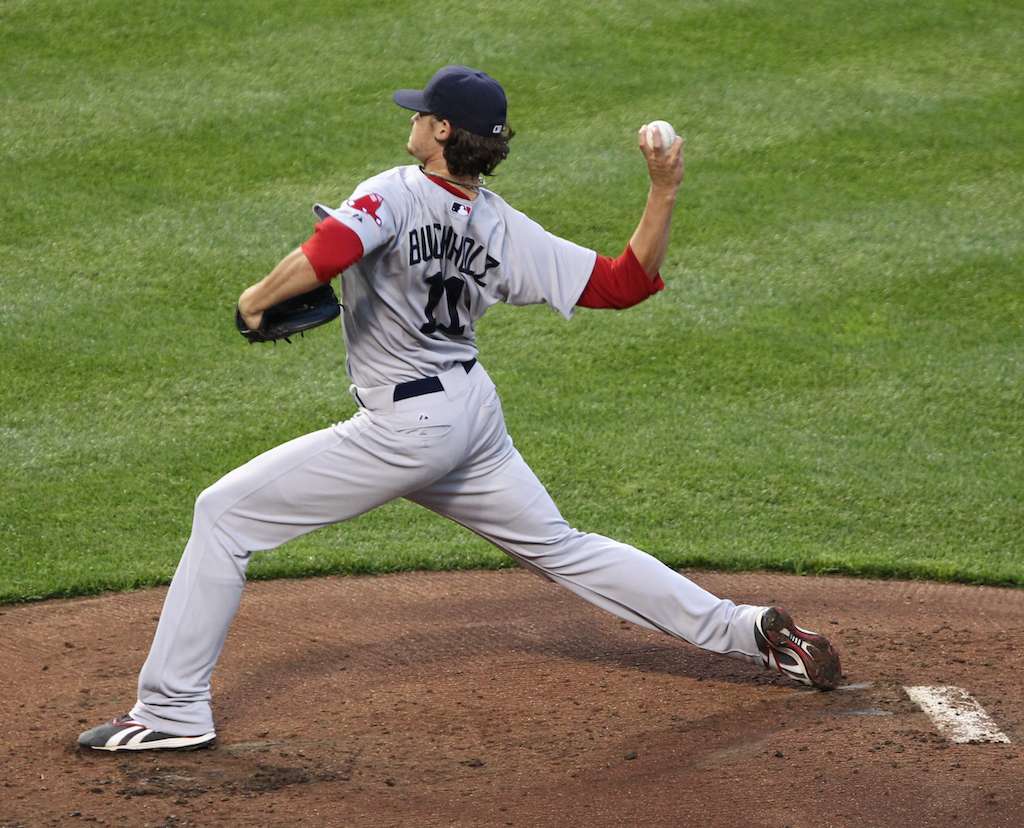 Latest posts by Mario Mergola
(see all)

Thursday features the lightest slate of games this week, with eight matchups split neatly in half between the afternoon and night slates. Interestingly enough, there are both high-scoring environments – Colorado and Chicago are hosting games – yet solid pitching matchups, making roster construction a bit more difficult than usual.
Currently, we are using xFIP and wOBA simply to compare one pitcher's performance against another – especially against opposite-handed hitters. We aren't using these numbers for calculation. To help with some calculations, we have assumed that each hitter and pitcher has played at least one game. Each pitcher was assigned an innings total relative to his average projection.
Check the starting lineups and weather reports prior to making any plays, as these change without notice.
Jake Arrieta – Wednesday's rainout pushes Jake Arrieta's start into Thursday afternoon, and he remains every bit the top target as originally scheduled. In fact, the extra off-day and afternoon start might actually eliminate the biggest concern we had for Arrieta – the status of his arm after throwing high-leverage pitches at the end of a 119-pitch no-hitter. Use Arrieta with confidence, and check Wednesday's column for the full breakdown.
Clay Buchholz – While the Braves have not necessarily been pushovers in 2016, they still fail to threaten opposing pitchers' floor projections. Clay Buchholz is the next Boston pitcher to take on Atlanta, and, like his predecessors, success appears to be in the works. Buchholz is trending near his career strikeout rates – a good sign that things will continue – but has an ERA well above his standard. A correction occurs on Thursday, as Buchholz is set up for a nice outing.
Anibal Sanchez – Anibal Sanchez was left to bleed out in his last start as the Indians hit everything the right-handed pitcher threw at them. Despite the poor outing, Sanchez's strikeout rate is still high, and he gets the added benefit of hosting a team on 'getaway day.' Oakland actually does not strike out enough to warrant excitement, but they also fail to score at a high pace. Sanchez has a high enough floor to be considered one of the better options of the day, with an open ceiling if he can control the strikeout game.
Tanner Roark – How easy would it be to dismiss Tanner Roark's insane 15-strikeout performance on Saturday and cast him aside? Instead, why not recognize that Roark can shine? After all, he is in another ideal position. His strikeout total is obviously inflated due to Saturday's gem, but the Phillies continue to provide high-strikeout, low-scoring games. Even when they win – the Phillies have taken each of the first two games from Washington in this series – they remain capped by offensive output, scoring a total of seven runs in the two victories. Imagine how those numbers would sink in losses. At Roark's price, he might be the sneakiest play of the day.
David Ortiz/Red Sox Left-handed Hitters – The Red Sox are going to petition to play Atlanta every week – then again, so would every other team in the league. Boston hitters – specifically, left-handed bats – should feast on Jhoulys Chacin, and David Ortiz ranks as the top hitter of the day. Already with limited at-bats and extended rest, this week, Ortiz is in a perfect position to explode.
Adam Jones/Manny Machado/Chris Davis – As noted in Wednesday's article, Baltimore's offense has gone cold, and some form of a rebound is in order. Coming home after playing in Tampa Bay's pitcher's park is exactly what the Orioles need. Adam Jones and Manny Machado have the opposite-handed matchup in their favor, but, despite John Danks' ability to limit hard hit contact to left-handed batters, the rest of his peripherals are not as impressive. Chris Davis is actually one of the better plays of the day, although his home run potential is relatively low.
Carlos Gonzalez – Games in Denver always impact the chart differently. On Wednesday, even against a left-handed pitcher, Carlos Gonzalez was targeted as a decent play – although not enough to make it into the article. On Thursday, against a right-handed pitcher and following a 1-for-6 performance, Gonzalez is the high-priced hitter to buy. Whether or not Nicasio's renaissance is legitimate, Colorado remains his biggest weakness.
Chicago White Sox Hitters – The Cubs might be the Chicago team that gets the attention, but the White Sox are the first team in Major League Baseball with sixteen wins. 8-2 in their last ten games, the White Sox are winning despite relatively few offensive outbursts – Chicago has scored five runs or fewer in six of its last eight wins. A team that performs this well without too many breakouts is bound to enjoy one against a weak pitcher. Tyler Wilson affords this opportunity, putting Todd Frazier, Jose Abreu, Jimmy Rollins, Brett Lawrie, and Avisail Garcia on the radar.
Matt Wieters/Jarrod Saltalamacchia – With four day games on Thursday, the catcher position is a relative risk, as some might receive the day off after playing the night before. Matt Wieters tops the chart for the second consecutive day as he faces another left-handed pitcher – after Matt Moore shut down all but one of the Orioles, John Danks is a welcomed change. Jarrod Saltalamacchia is the second-best option of the day, as he will bat from his more productive side of the plate.
Matt Carpenter – Perhaps because of how balanced their attack has been, the Cardinals rarely get mentioned for top targets. To that point, St. Louis scored eleven runs on Wednesday night, yet there were a total of four extra-base hits, with one belonging to the pitcher. Thankfully, Thursday focuses on a few specific hitters, with Matt Carpenter leading the charge for mid-range price options, and the rest falling in the bargain bin below.
Bargain
Be sure to check the above chart for more of the expensive hitters – and the statistics of their matchups. Below, we focus on some of the best upside plays for their price.
Brandon Moss/Matt Adams – Brandon Moss and Matt Adams are mainstays on the list of bargains, but their lack of consistency and playing time diminishes their value unless the matchup is perfect. Against Rubby De La Rosa in Arizona, both are worth targeting, with price and lineup position breaking the tie.
Ben Paulsen – Ben Paulsen is entering the territory of Michael Conforto for the first week or two of the season. That is, he continues to be a bargain play for his low price and power potential. Against Nicasio in Colorado, Paulsen is arguably a must-start if he bats fifth or higher in the lineup.
Danny Espinosa – Another mainstay at the bottom of the price barrel is Danny Espinosa. To date, Espinosa has yet to deliver a home run, continues to bat low in the order, and has been a disappointment every time he has been mentioned. Thankfully, his salary reflects this lack of production. Use Espinosa as salary relief only, although he has the ability to break out with the Nationals' offense – the one that was just shut down by Philadelphia's Jeremy Hellickson.
Photo Credit: Keith Allison/Flickr C.C. 2.0