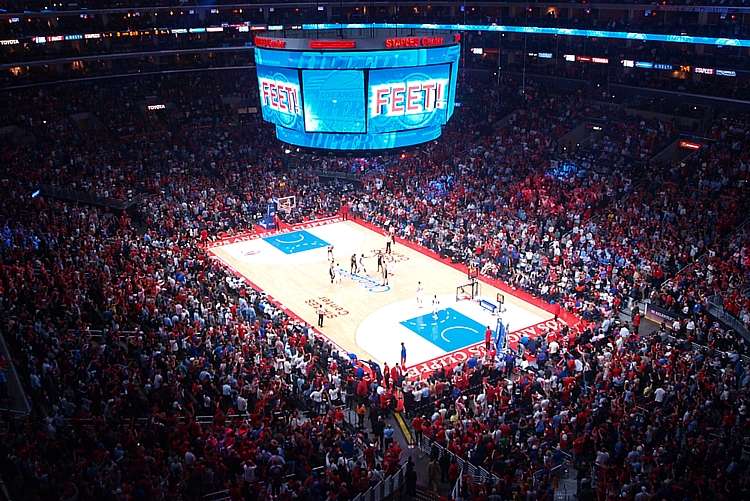 Latest posts by Chris Fedail
(see all)

Point Guard
Devin Harris (DK $3300, FD $3500, 17.9 USG)
With Deron Williams out and J.J. Barea still battling a groin injury, Raymond Felton is going to be the one that's busy but Harris should continue playing minutes in the mid 20's.  I don't think it's necessary to go this cheap at PG with Jeremy Lin already offering solid value (Batum is out again tonight) but Harris is a decent punt if you're really trying to fit in studs like Westbrook and Durant.  Also worth noting, OKC is a massive 14.5 home favorite in this game so there could be some valuable garbage time once this one gets out of hand.
Shooting Guard
Wes Matthews (DK $4900, FD $4900, 17.2 USG)
I'd much rather find a find a way to fit in Felton here but Matthews is fine for his price.  Dude's playing a ton of minutes and has upside (36.3 DKPTS in game 3).  The key to Matthews fantasy production is his 3 points shot.  In the first 2 games of the series, he shot 1-13 from deep for a combined total of 32.5 DKPTS.  That won't cut it on a night with so lots of points expected but in games 3 and 4, he shot 6-15 from three for a combined total of 59.8 DKPTS.  That's the kind of performance you'll need if you decide to fade Felton for only $1100 more.
Small Forward
Justin Anderson (DK $3100, FD $3800, 15.8 USG)
The SF position is terribly weak tonight with the exception of KD and Deng so if you really want a punt, I wouldn't mind going cheap as hell and taking a flier on Anderson.  He's yet to play much this series, only averaging 17.5 minutes but with how beat up the Mavs are right now and the likely blowout, I can see his minutes crawling into the 20's for game 5.  Despite not playing over 20 minutes in any of the first 4 games, he's still averaging 16.8 DKPTS, which is close to a fantasy point per minute so if my suspicion is correct that he sees those minutes tonight, a 20-25 DKPTS performance is not outta the question.  You'll gladly take that for his price point.
Power Forward
Marvin Williams (DK $4800, FD $5100, 16.8 USG)
If you're playing FD, the play here is the guy I'll be writing up at center but on DK, Williams is very enticing with Charlotte's recent change in their starting lineup.  They're starting Williams at SF now, so rather than being matchup against Luol Deng, he's seeing Joe Johnson defense.  That's pretty much a night and day type difference. In the first two games playing PF this series, he was averaging a putrid 9.4 DKPTS which is why is price has dropped so low. But in game 3 playing SF, he saw 36 minutes and recorded a double double (12 points, 14 rebounds) for 34 DKPTS.  The rebounding is not likely to happen again with him not playing as close to the basket but he finally shot over 50% from the field for the first time this series, thanks to that Joe Johnson defense.  Charlotte is expected to roll out the same lineup so feel free to roster him at that depressed cost.  Speaking of that same lineup Charlotte's throwing out tonight . . . .
Center
Frank Kaminsky (DK $3400, FD $3700, 17.1 USG)
Here's where the real value comes from tonight and likely to be quite a popular one after what he did with his first postseason start on Saturday.  Replacing Marvin at PF, Frank the Tank played a total of 35 minutes and produced 28 DKPTS with 15 points and 6 rebounds.  Now I'm going to be cautiously optimistic here because of what I've seen from Kaminsky this season.  He's rarely followed up a great performance with another one and it was quite frustrating but he really provided a spark to this team in GM 3 and it showed throughout the rest of the team, which matters a lot in the playoffs so if he continues to make a few important shots, he'll continue to play meaningful minutes.  I'd feel a lot safer rostering Al Jefferson now that he's starting but if you choose to fade Kaminsky and he has a similar night to AlJeff (like on Saturday), you're going to immediately be at a disadvantage in GPP's.  Also, I tried telling y'all about Plumlee before the back to back monster games so please do yourselves a favor and continue riding this wave because this isn't a blip.  He's had tremendous success against the Clips this season and will continue doing so.