With most of the festivities of the past few weeks behind us, Monday includes the typical off-day for many teams. After the extremely early day game between the Red Sox and Blue Jays – which, by the time this post is live, might have already started – the rest of the teams play at night.
Currently, we are using xFIP and wOBA simply to compare one pitcher's performance against another – especially against opposite-handed hitters. We aren't using these numbers for calculation. To help with some calculations, we have assumed that each hitter and pitcher has played at least one game. Each pitcher was assigned an innings total relative to his average projection.
Check the starting lineups and weather reports prior to making any plays, as these change without notice.
Get the latest MLB Odds on XN Sports

His price is naturally high, but how can Noah Syndergaard not be the must-play of the day? Syndergaard has been downright impossible to hit, so far, and is developing into one of the league's best pitchers with each passing day. His strikeout rate is absurd, and he is as safe as any pitcher on Monday to not get pounded. All this before factoring in the light-hitting, strikeout-happy Phillies against which Syndergaard will pitch. Everything is in his favor on Monday night.
In what is more than a simple contrarian play, Jerad Eickoff directly opposes Syndergaard on Monday. Eickoff may not be as visibly dominant as his counterpart, but his start to the 2016 season has been nothing short of impressive. He, too, draws a great matchup against a weak offense and is poised for a big day. Most importantly, competing against Syndergaard should provide a natural boost to Eickoff in a game that should quickly develop into a pitcher's duel. Not only is Eickoff worth a play, but the two pitchers could certainly be paired together in a lineup.
The presence of Syndergaard on Monday's slate bumps Jose Fernandez as the best pitcher of the day – not considering matchups. Unfortunately, when throwing opponents into the mix, Fernandez loses some of his luster, as he will face the high-flying Nationals. Between Fernandez's up-and-down start to the year – he has an astounding strikeout rate but high ERA – and Washington's powerful, but strikeout-prone offense, Fernandez is an unfortunate high risk-reward pitcher with an inflated salary. He does have the added benefit of an extreme pitcher's park – especially against left-handed bats, which should limit Bryce Harper and Daniel Murphy – and Fernandez is certainly in play if the use of Syndergaard is too obvious and, thus, too dangerous.
Among the quieter options on Monday is Phil Hughes, pitching against the Brewers' terrible lineup. Milwaukee has scored the fewest runs-per-game of any team playing on Monday, and they have the second-highest strikeout rate of the day – the most out of all teams playing at night. Hughes is not necessarily known to limit contact, but he does have eleven strikeouts in twelve innings. The matchup is perfect, and the price is even more attractive.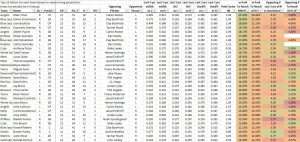 With the pitching options relatively limited on Monday, hitters are given a boost across the board. Dan Straily and Archie Bradley force all Rockies and Giants hitters, respectively, onto the radar, and the southpaw battle between and Hector Santiago and Carlos Rodon – in a hitter's park – puts White Sox and Angels' right-handed bats on the map.
Carlos Gonzalez/Trevor Story – He may not be hitting in Denver on Monday, but Carlos Gonzalez will have a huge advantage in Cincinnati. His numbers against right-handed pitchers are fantastic, and he should enjoy the shift from Jon Lester on Sunday to Dan Straily on Monday. Trevor Story – albeit, a right-handed hitter – hit a small speedbump after a blazing start, and is now a huge bounceback candidate.
Mike Trout/Albert Pujols – Rodon has been excellent in 2016, but his first two starts were against the Athletics and Twins, respectively. Neither light up the scoreboard on a given night and, while the Angels are no more threatening, as a whole, their individual right-handed bats are extremely dangerous. Mike Trout and Albert Pujols – especially at their relative prices – should instantly be targeted.
Todd Frazier/Brett Lawrie – On the other side of the White Sox and Angels game is Hector Santiago, another left-handed pitcher in a hitter's ballpark. Over Todd Frazier's last twenty at-bats, he has two hits and nine strikeouts. He also faced Jake Odorizzi, Matt Moore, Ervin Santana, and Phil Hughes during that span. Santiago might have the potential to out-duel any of the aforementioned names, but he also has his struggles against right-handed hitters. Frazier needs to breakout, and Monday offers an ideal scenario. Brett Lawrie should also be considered.
Buster Posey/Wellington Castillo/Devin Mesoraco – The only realistic option behind the plate on Monday is Buster Posey, as he will face Archie Bradley in his return to the Majors. Like Frazier, Posey is in a skid of his own – 1-for-16 – but, also like Frazier, Posey faced his own group of difficult pitchers – Clayton Kershaw, Scott Kazmir, and Kenta Maeda – in three of his last four games. Posey will welcome Bradley with open arms. Assuming savings are needed, Sunday's targets of Wellington Castillo and Devin Mesoraco are still in play.
Zack Cozart – Without Carlos Correa in action and with Xander Bogarts playing an early game, there are no shortstops available to offset some of the cost for Story. After the top salary of Story, the dropoff is so significant that the playing field is relatively level. Zack Cozart is the best option of the group, facing Jordan Lyles in a hitter's park and Cozart is already off to a hot start that has yet to include a home run.
Bargains
Be sure to check the above chart for more of the expensive hitters – and the statistics of their matchups. Below, we focus on some of the best upside plays for their price.
Ben Paulsen – For the same reasons as Carlos Gonzalez – a left-handed bat in a hitter's park against Straily – Ben Paulsen is an extremely cheap option for power on Monday. The loss of Charlie Blackmon adds to Paulsen's overall value, and Monday presents the best opportunity to show his worth.
Cristhian Adames – Like Story and Gonzalez, Cristhian Adames should benefit from facing Straily on Monday. Adames was given the day off on Sunday – and is not an everyday player, yet – but had the incredible benefit of leading off for the one-and-only game he started in 2016. If Adames is in the lineup on Monday, he is a steal. If he is batting towards the top, he must be played in tournaments.
David Peralta – David Peralta is the ultimate daily fantasy player to watch. He typically goes on a hot streak, his price gets inflated, he can't deliver enough to justify buying him, then the price dips. Wash, rinse, repeat. Peralta has now entered the buying stage, and he is opposed by Jake Peavy and his 10.00 ERA.
Photo Credit: Keith Allison/Flickr C.C.2.0