The entire league takes the field on Tuesday, with only two teams playing in the afternoon. This makes for a loaded night slate – although the Indians and Mariners start an hour earlier than usual, possibly requiring the use of an 'all-day' lineup to get some of their players in.
Currently, we are using xFIP and wOBA simply to compare one pitcher's performance against another – especially against opposite-handed hitters. We aren't using these numbers for calculation. To help with some calculations, we have assumed that each hitter and pitcher has played at least one game. Each pitcher was assigned an innings total relative to his average projection.
Check the starting lineups and weather reports prior to making any plays, as these change without notice.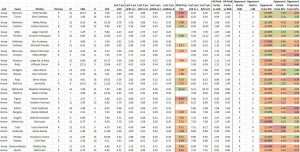 Occasionally, a game will look 'too easy' on paper and cause hesitation. Sometimes, the setup is simply too good to ignore, even if it is a trap. In the case of Francisco Liriano on Tuesday, his situation is so perfect that he must be in a lineup, even if the inexplicable occurs and he somehow gets shelled by the strikeout-happy, run-averse Padres in San Diego.
Derek Holland officially becomes the first pitcher of the week to target against the Astros. As always, Houston's offense presents a major risk-reward scenario for opposing pitchers, as the team strikes out at a high rate but is certainly capable of piling on runs. Holland is a nightmare for left-handed batters, which will help neutralize the likes of Colby Rasmus and Preston Tucker – although he will likely not be in the lineup – but Houston is filled with right-handed hitters that can explode. Holland is an all-or-nothing play, but he should deliver enough strikeouts to justify his use.
Yordano Ventura enters Tuesday in a similar position to Derek Holland. That is, Ventura is a strikeout pitcher facing a team with a decent strikeout rate that is also capable of scoring runs at will. In fact, Ventura's opponent – Detroit – is the sixth-highest scoring team in the league. This actually bodes well for Ventura, as the Tigers will be playing in the pitcher's park of Kansas City and will have to deal with the Royals' excellent defense – it has clearly aided pitchers such as Ian Kennedy, so far. Ventura is one of the better all-around plays on Tuesday.
It is almost as if Stephen Strasburg only pitches in favorable matchups. Then again, playing in the National League East will do that for a pitcher. The scales are tilted towards Strasburg for the third consecutive start, as he will pitch against the weak-hitting Braves in their pitcher-friendly ballpark. Strikeout rates for both Strasburg and the Braves are excellent for his upside, and there is no real concern entering Tuesday except the possibility of regression. Still, nothing suggests this is the case.
The Indians continue to roll out one strikeout pitcher after another, even though the team's defense and relative lack of run support fail to result in wins. Carrasco takes the mound on Tuesday in what is actually a reverse setup of the norm for Cleveland pitchers. The Mariners do not strike out at an excessive rate, but they are also capped in terms of offensive prowess. Carrasco completely shut down the Rays in his last start, and he has another great opportunity on Tuesday.
After a sixteen-strikeout complete game, it is impossible to evaluate Tuesday's slate without mentioning Vincent Velasquez. Simple regression suggests that he won't deliver anywhere near the value that will be expected of him, but he will also be pitching to a Mets offense that ranks eighth-worst in the league in runs-per-game. Unfortunately for Velasquez, this will be the second time in three starts that he will face said offense, and to expect a repeat of his opening act is dangerous.
Instead, the tables turn to the Mets' Logan Verrett, who struck out six Marlins in six innings in his only start of the season. Verrett has the benefit of facing the lowest-scoring offense in the league that has also tallied the fourth-most strikeouts. There should be obvious concerns with using Verrett, as Philadelphia will be more apt to score on a day after facing Noah Syndergaard, but he is just as likely to outperform his expectations. Most importantly, for their respective prices, Velasquez's floor is too low, while Verrett's ceiling is high enough to warrant the risk in tournaments.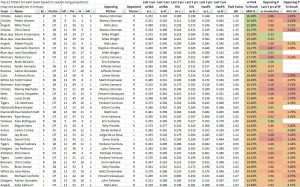 Brian McCann – This is hardly the first time that Eric Surkamp has been targeted for all the wrong reasons. As noted in the past, the southpaw actually has horrible peripheral numbers against left-handed hitters, which plays perfectly into the hands of hitters in Yankee Stadium. Unfortunately, left-handed bats rarely get a boost from facing left-handed pitchers – even if the pitchers' statistics suggest otherwise. Regardless, the similar-handedness helps keep the salary low for Brian McCann, making him the top target at catcher. Aaron Hicks sees a nice increase in production when hitting against left-handed pitchers, and should be targeted at a relative discount.
Edwin Encarnacion/Jose Bautista/Josh Donaldson – As usual, the power hitters from Toronto collectively find themselves in a fantastic position, especially in Baltimore. The cost to own Encarnacion, Bautista, or Donaldson is astronomical, but it is required that at least one is in every lineup. Encarnacion gets the slightest edge over the group due to his two-home run performance of Friday, his six hits in his last thirteen at-bats, and the fact that he is still trending below his home run pace, despite heating up.
Carlos Gonzalez/Nolan Arenado – Carlos Gonzalez was one of the top targets for Monday, and his situation remains relatively stable on Tuesday. Facing Alfredo Simon in Cincinnati, Gonzalez, along with the always-dangerous Nolan Arenado, become two of the top targets of the day.
Mike Trout – Which trend is more likely to break: Mat Latos' sub-1.00 ERA or Mike Trout's home run total of one, to date? Latos has successfully navigated the Athletics and Twins and, while the Angels are no powerhouse, Mike Trout is.
Corey Seager/Carlos Correa – Corey Seager's salary continues to sink, but his potential remains as high as ever. He still has impressive peripherals against right-handed pitching, and his low cost makes him a top target for Tuesday. Carlos Correa is also receiving a slight discount, but is still overpriced for his expected output.
Joc Pederson/Adrian Gonzalez/Chase Utley – Piling on Julio Teheran, the right-handed pitcher has struggled mightily against left-handed bats. Joc Pederson, Adrian Gonzalez, and Chase Utley should be added to the list.
Bargains
Be sure to check the above chart for more of the expensive hitters – and the statistics of their matchups. Below, we focus on some of the best upside plays for their price.
Cristhian Adames – At the salary that keeps getting assigned to Cristhian Adames, it is almost as if the fantasy websites are paying the owners to roster him. Adames is another absurd bargain on Tuesday and, while he likely doesn't have the power to run up his fantasy point total, he still benefits from an explosive offense at a laughable price.
Justin Smoak/Ryan Goins – Justin Smoak is off to a horrible start on the young season, but he has the benefit of playing in Toronto's deep lineup. Like most of the Blue Jays' hitters, Smoak should be targeted on Tuesday night, especially at his salary. Unfortunately, his numbers against left-handed pitching are not outstanding, so he should only be used if savings are needed and no better options present themselves. Ryan Goins presents great value, and the higher he bats in the lineup, the better of a play he becomes.
Didi Gregorius – It is admittedly a risk to start multiple left-handed bats against a left-handed pitcher, but the numbers continue to suggest that Surkamp should be opposed by lefties. Didi Gregorius is a bargain at a premier position. He doesn't necessary sparkle against southpaws, but he does have a higher hard hit percentage against lefties than right-handed pitchers.
Featured Image Credit: By dbking (IMG_6927) [CC BY 2.0], via Wikimedia Commons