Thursday's games start a bit earlier than usual, and there are more than enough games to warrant both early and late slate competitions. As it turns out, many of the better pitchers will appear in the first half of the day, while hitters get the edge, at night. With that, there are certainly opportunities to mix-and-match with all-day tournaments.
Currently, we are using xFIP and wOBA simply to compare one pitcher's performance against another – especially against opposite-handed hitters. We aren't using these numbers for calculation. To help with some calculations, we have assumed that each hitter and pitcher has played at least one game. Each pitcher was assigned an innings total relative to his average projection.
Check the starting lineups and weather reports prior to making any plays, as these change without notice.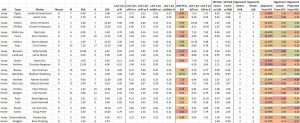 It would be unfair to pile on the Phillies just for sake of their history. Instead, they simply continue to draw bad matchups from opposing pitchers. Drew Pomeranz is absolutely deadly against left-handed hitters and is coming off a seven-strikeout performance in Colorado. Not only against the Rockies, but at their ballpark. The Phillies are not completely inept – and Pomeranz will be opposed by Vincent Velasquez and his attempt to piggy-back on a stellar outing – but their ceiling is capped. Pomeranz is a great option on Thursday.
The week of fantastic pitching matchups between the Rays and Indians continues with Danny Salazar and Chris Archer. Both have high upside and strikeout potential – including the opposing offense's propensity to strike out – and using both pitchers against one another would not be completely out of the question. The key difference between the two is the major gap in ERA – and, really, performance to date. Salazar is sitting pretty with a 1.69 ERA, while Archer's gaudy 7.20 ERA sticks out like a sore thumb. Will Salazar remain this good? Will Archer remain this bad? Of course not. As they level out, Archer is the one to gain and should be the pitcher to target.
The Royals may get criticized for their lack of a 'true ace,' but their pitching rotation, as a whole, is deep and complete. Kennedy's first game of the year was against the currently-sinking Twins, so his numbers should not necessarily be taken at face value, but his strikeout prowess is not new. In addition, he is difficult to hit from either side of the plate, but actually has a better strikeout rate against left-handed hitters. The risk is always present that the Astros might explode for a big outing, but they currently have the third-highest team strikeout rate for squads playing on Thursday.
Gerrit Cole's first start of 2016 was less-than-ideal. Allowing three earned runs and only striking out four batters, Cole failed to complete five innings against the Reds. His attempt to rebound will occur on Thursday afternoon as his team hosts the Tigers in the first game of the day. While their numbers might appear to be vastly different, Cole and Jordan Zimmerman are on opposite ends of the spectrum for both past performance – one start for each – and expected output for Thursday. Like Archer and Salazar, respectively, Cole is poised to improve while Zimmerman – who did not allow a run through seven innings, but only struck out three batters – is bound to stumble. In addition, the Tigers strike out a fairly high rate, yet have been scoring runs at an unsustainable pace. Cole bounces back in a big way, making him the pitcher to use on Thursday.
It's difficult enough to ask an established pitcher to follow up a no-hit performance with another gem. It's completely unrealistic to ask the same of a rookie making his second career start. While Stripling is worth mentioning thanks to his unforgettable debut, he is also worth critiquing, as well. Despite allowing no hits in seven-and-one-third innings, he did only strike out four batters while walking another four. The Diamondbacks might strike out enough as a team to warrant considering, but Stripling is not the pitcher ready to exploit Arizona's weaknesses.
Everything about the series between the Nationals and Braves has been odd. The two teams have already played five times – Washington has won all five – with each game being decided by three runs or fewer. Then there's the late scratch of Stephen Strasburg on Wednesday and the expectation that he will be able to throw on Thursday.
Whatever the circumstances, the Braves are the epitome of the team bitten by bad breaks in the first week or so of the season. Scheduling, injuries, and close losses have taken their toll, but the now 0-8 Braves are posied to end their skid with Julio Teheran on the mound. Teheran has failed to deliver in two outings, so far, but his numbers are little too far off their norm, and a regression is necessary. More importantly, Teheran's win potential is high for Thursday, as he will be opposed either by Strasburg – presumably at less than 100 percent – or a fill-in.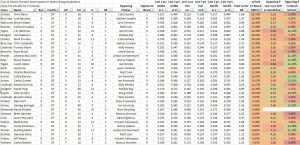 Chris Davis – On Monday, Chris Davis ranked fourth on our chart for power potential, even though he was opposed by southpaw David Price. The numbers – not the conventional wisdom – prevailed, and Davis promptly delivered two hits, two runs, five runs batted in, and a home run – albeit not off Price, himself. The key for Thursday is still Davis' potential over the matchup – and, as proven on Monday, Davis' opponent on the mound will likely not face him every at-bat. With the natural discount that Davis is receiving, he is almost impossible to not use at first base on Thursday.
Buster Posey/Yasmani Grandal – His price is astronomically high, and his status is in question, but Buster Posey has an absolutely ideal matchup on Thursday. If he is in the lineup, he is almost a must-play, even with his salary hit. For a much more attractive price, Yasmani Grandal has returned to the lineup for the Dodgers, and has a better hard hit percentage against left-handed pitchers.
Minnesota Twins hitters – It is the same story for the Minnesota Twins day-in and day-out. They will hit. They will win. It's that simple. Mat Latos was unbelievable in his season debut, but the likely regression coupled with Minnesota's impending breakout puts all Twins' hitters on the radar. Miguel Sano and Brian Dozier are obvious targets – although both bring high price tags – but all cheap options – Trevor Plouffe and Eddie Rosario, to name a few – should be considered in a semi-stack of the Twins. If Minnesota fails to deliver, yet again, they will simply become another buying opportunity on Friday.
Mitch Moreland – One of the quieter power threats without a home run on the season is Mitch Moreland. Playing in Texas against the right-handed Chris Tillman, Moreland is a solid choice for Thursday. Unfortunately, he won't come at a discount, but should be considered.
Yasiel Puig – Wednesday night, the left-handed bats from the Dodgers got the edge by facing Rubby De La Rosa – and Adrian Gonzalez promptly delivered. Thursday, the lineup flips, as left-handed Robby Ray takes the mound. Yasiel Puig, with thirteen hits, but only one home run, gets the automatic nod.
Howie Kendrick/Justin Turner – Like Grandal, Howie Kendrick has also returned to the Dodgers' lineup, and presents a solid right-handed hitting option for Thursday. If Dozier is too expensive, Kendrick can help save a few dollars at second base. Finally, Justin Turner should get the same boost as the rest of his teammates.
Brandon Crawford/Eduardo Escobar – Unfortunately, playing in Colorado inflates salary as much as it does offensive performance. Brandon Crawford is a top choice for Thursday, but he may be too expensive to fit into a lineup. As mentioned in the write-up about cheap Twins hitters, Eduardo Escobar would be a solid risk-reward for his insanely-low price.
Jay Bruce – The lopsided nature of Wednesday's game between the Cubs and Reds tends to suggest a better effort on Thursday from Cincinnati. Jason Hammel gets hit hard by left-handed bats, and Bruce's hard hit percentage jumps significantly when facing right-handed pitching.
Bargains
Be sure to check the above chart for more of the expensive hitters – and the statistics of their matchups. Below, we focus on some of the best upside plays for their price.
Mallex Smith – As noted on Wednesday, Mallex Smith is a top option for cheap outfield production in both stolen bases and runs scored – assuming that Atlanta's offense wakes up. Smith already has two stolen base attempts in three games.
Mark Trumbo – Surprisingly, right-handed hitter Mark Trumbo – who is off to a hot start – is available for a price far cheaper than his expected output. There is concern in somewhat stacking hitters against Cole Hamels, but Trumbo's price is too good to pass up.
Scott Schebler – A dirt-cheap option – if he is in the lineup – Scott Schebler mashes right-handed pitchers. Include Schebler for all the reasons why Bruce would be used, but at a fraction of the cost.
Featured Image Credit: By Mr.schultz (Own work) [CC-BY-SA-3.0], via Wikimedia Commons