Wednesday brings a full slate of games, including the return of early contests. The increased number of games naturally comes with more options, but Wednesday's pitchers actually bring an inherent level of risk. Despite the quantity of arms that could be used, the quality of their matchups are somewhat lacking. As a result, we will lean on hitters to pair with pitchers that are looking to rebound – and could be owned for a reasonable price.
Currently, we are using xFIP and wOBA simply to compare one pitcher's performance against another – especially against opposite-handed hitters. We aren't using these numbers for calculation. To help with some calculations, we have assumed that each hitter and pitcher has played at least one game. Each pitcher was assigned an innings total relative to his average projection.
Check the starting lineups and weather reports prior to making any plays, as these change without notice.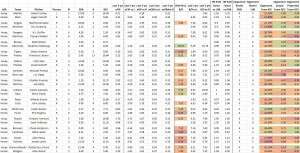 While it is among one of the least appealing matchups of the day, Colin Rea has an opportunity for a bounceback on Wednesday. Having already been thrust into two undesirable positions – a mop-up role against the Dodgers and a start in Colorado – Rea catches a break in Philadelphia. The Phillies may show signs of life, at times, but they still strike out a decent amount and are hardly a risk to explode for too many runs. In addition, the right-handed Rea has a better strikeout rate against left-handed batters – by a significant margin, at that. Rea is worth the risk only in tournaments.
Drew Smyly has been on our radar since losing to the Blue Jays over a week ago. Scheduling and rain has forced us to wait on Smyly, but his opportunity comes against the ideal opponent. The Indians are among the league leaders in team strikeout rates, feature left-handed Jason Kipnis, and the ballpark should protect any mistakes that Smyly would make against right-handed hitters.
At what point do we learn our lesson regarding the Nationals and Braves? On paper, every matchup appears to favor Washington – and, to the Nationals' credit, they do end up winning – but the starters fail to either meet expectations or secure a win. After Scherzer and Gonzalez, Strasburg is the next Washington pitcher that will attempt to shut down the pesky Braves. Strasburg has the same benefits lined up as his predecessors – a low-scoring, strikeout-filled opponent – and should be on the radar for Wednesday. He should, however, be approached with caution, as Atlanta has continued to knock on the door without bursting through.
In the end, it was impossible for Francisco Liriano to follow up his incredibly season debut with another gem. With a more human performance out of the way, however, he can reset and move forward. The Tigers just broke out against Liriano's rotation partner on Tuesday and are already trending above their expected runs-per-game pace. A return to earth by the Detroit lineup plays into the hands of Liriano on Wednesday.
Among the many pitchers that need a bounceback performance on Wednesday, Michael Pineda sits near that top of the list. Smacked around by the Astros in his first start, Pineda's next opponent is no easier. Considering how poorly Pineda's counterpart looked on the same night – Collin McHugh surrendered five earned runs and only recorded one out before getting pulled – there is reason to believe that conditions were less than ideal for the pitchers. Pineda did still record five strikeouts in five innings, and his high ceiling should offset his equally shaky floor.
It would be ill-advised to suggest the use of Drew Smyly without also considering Carlos Carrasco on the other end. Like Smyly and Pineda, Carrasco's first outing included five strikeouts, but too many runs to consider a success. Facing the Rays indoors will help keep Wednesday's scoring low, as a pitcher's duel is in the works. Playing both pitchers against one another obviously loses the opportunity for two wins, but Carrasco should be given the same respect as Smyly on Wednesday.
On both sides of the scale, Yordano Ventura and the Houston Astros are both boom-or-bust. Ventura is a strikeout machine, while the Astros toe the line of the home-run-or-die mentality. The risk is high – therefore, Ventura should be considered in tournaments, only – but the reward is outstanding – especially since it would limit the production of Astros' hitters. If the Royals have shown us anything, collectively, over the past few years, it is that they refuse to go down without a fight. After the series' opener, Kansas City has been ready for a recovery. The matchup is thoroughly tilted in the Royals' favor on Wednesday.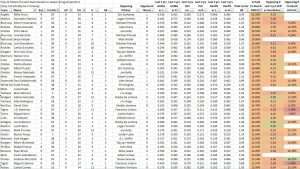 Mets and Marlins hitters, Logan Verrett – Imagine being a hitter on either the Mets or Marlins. After facing Jarred Cosart and Steven Matz – neither are studs, but both have high ceilings – you are then forced to compete with Jose Fernandez or Noah Syndergaard. Basically, you bide your time until Wednesday.
After the aforementioned pitchers, Adam Conley and Logan Verrett are welcomed with open arms. All Mets and Marlins hitters are on our radar, but Mets' bats get the edge for their combined four runs over the past two games – and the likelihood that Wednesday will be much kinder to New York.
Justin Bour – Surprisingly, Verrett is actually quite good at limiting solid contact to hitters from either side of the plate, and paying up for Giancarlo Stanton is ill-advised. In fact, given the expectation of a Mets' rebound and Verrett's peripherals, he should be targeted as a major sleeper in early tournaments. If going against Verrett is preferred, Justin Bour is the main target – if he starts – especially given his price.
Neil Walker/Travis d'Arnaud – Like Verrett, Adam Conley's ability to limit hard contact is noteworthy, and he has the added benefit of facing left-handed hitters in Curtis Granderson, Michael Conforto, and Lucas Duda. The right-handed bats of New York should all receive consideration on Wednesday, with the inexpensive options getting the edge across the board. Neil Walker and Travis d'Arnaud should be the centerpieces of any early slate lineup – d'Arnaud actually stands as the best option at catcher for the entire day, although his price is quite high.
Mike Trout/Edwin Encarnacion – Same story, new day. Mike Trout and Edwin Encarnacion are now each eight games into the 2016 season with a combined one home run – Trout's monstrous blast from Monday night. Encarnacion draws another tough opponent in Michael Pineda, but Trout will face the left-handed Eric Surkamp. Surkamp actually allows a surprisingly low hard hit percentage to right-handed batters, but Trout is an exception to most rules.
Adrian Gonzalez/Joc Pederson/Corey Seager – Despite his thirteen hits, Adrian Gonzalez has yet to put a ball over the fence. Facing Rubby De La Rosa presents the ideal scenario for Gonzalez to break out. For his price, Adrian Gonzalez is the play for Wednesday at first base. In the same situation and at an equally attractive price for their respective positions are Joc Pederson and Corey Seager.
Maikel Franco – Though his ceiling is not as high as many of the targets we list on a daily basis, Maikel Franco continues to be targeted thanks to his comparatively low price. Franco has been somewhat of an all-or-nothing player, so far, and his matchup with Colin Rea is actually not ideal, but he is an affordable third baseman with power that bats at the heart of a lineup.
Miguel Sano – Like Franco, Miguel Sano is unavoidable. The Twins cannot possibly continue this wretched pace of runs scored, and Carlos Rodon is shifting from the pitcher-friendly park of Oakland to Minnesota – where right-handed bats get a power boost. The only downside of playing Sano is the recognition that he has looked completely lost at the plate – three hits, thirteen strikeouts, and no extra base hits in 26 plate appearances – but he could simply be experiencing a slump to start the year. The situation is primed for a Rodon regression and Sano explosion – Sano's hard hit percentage against left-handed pitchers is astoundingly high.
Mallex Smith – Already with a stolen base attempt – he was actually thrown out and injured on the play – Smith should continue to find opportunities to deliver fantasy points atop the aforementioned Braves' 'pesky' lineup. Atlanta has yet to break out, despite four losses to the Nationals, all by two runs or fewer. When Atlanta does score on Wednesday, it will likely be via the legs of Mallex Smith.
Bargains
Be sure to check the above chart for more of the expensive hitters – and the statistics of their matchups. Below, we focus on some of the best upside plays for their price.
Starlin Castro – How quickly things change. Starlin Castro went from a non-factor to a must-start back to a bargain buy, despite his price remaining relatively constant. Against left-handed J.A. Happ, Castro is another fantastic buy.
Yasmani Grandal – Yasmani Grandal is back from injury and, after a pinch-hit appearance on Tuesday, should be good to go for Wednesday. At a great price and a position that suddenly appears thin, Grandal is another Dodger to buy on Wednesday.
Colby Rasmus – Colby Rasmus. Again. Always.
Featured Image Credit: By dbking (IMG_6927) [CC BY 2.0], via Wikimedia Commons