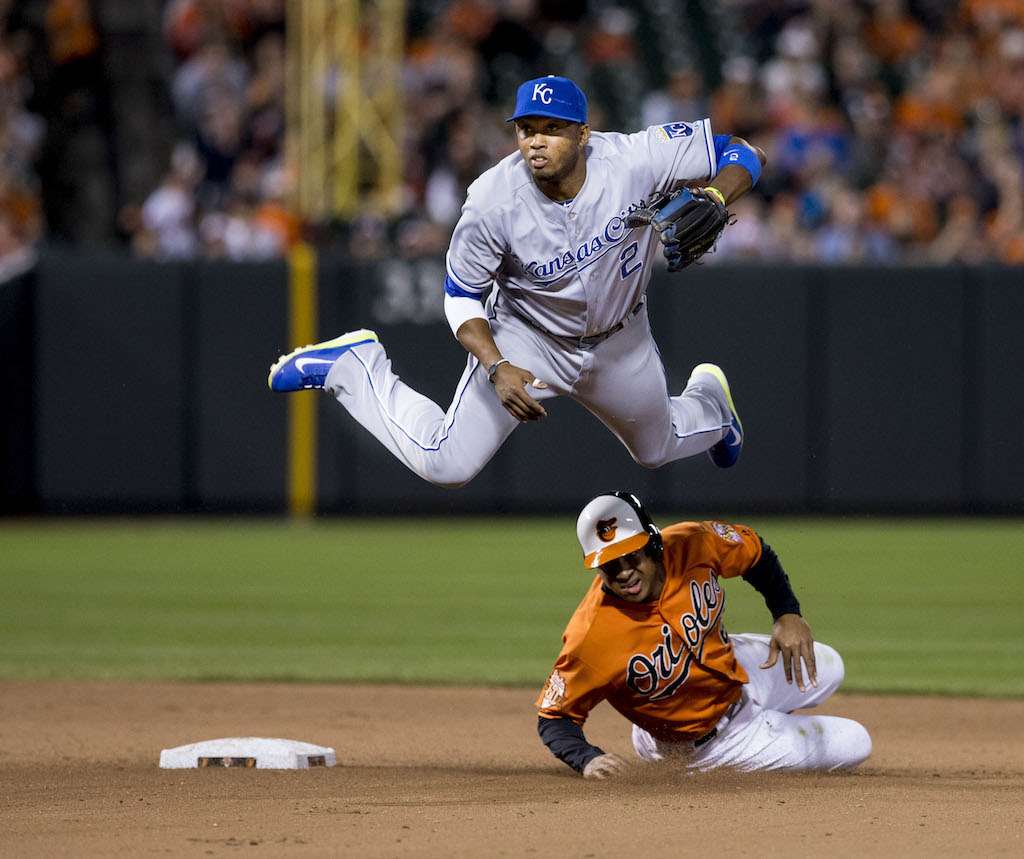 Latest posts by Felipe Melecio
(see all)
The Major League Baseball season is underway and the baseball word is still buzzing from the seemingly improbable ascent of the Kansas City Royals as they captured the championship defeating the New York Mets in October of 2015. For "old-school" fans of the game, it was a victory for "traditionalists" who still think baseball should be played as if it were still 1915.
The general thought was that the Royals put a huge dent on the analytics movement (which many people in the know would say has completely taken over baseball for almost a decade now and all 30 teams utilize some form of advanced stats to make player evaluations, across all formats of baseball, amateur and professional). These people would cite the Royals as a "throwback" to the old ways of the game.
Grant it manager Ned Yost absolutely loves to flash the "bunt" sign every single chance he gets, but aside from that, the Royals are everything that so-called, old-school fans tend to hate: they are the personification of "Moneyball." A look at their roster is all you need to look at when figuring out the paradigm they utilized to build their team.
To start, the Royals depended on their homegrown talent to all peak simultaneously to see success on the field and they complemented said farm players by signing cheap veterans at a much reduced cost to go along with the young, cheap players at the core of their roster.
Secondly, they spotted market deficiencies across baseball and exploited those deficiencies by building a team that can counter a high-strikeout baseball environment and can hide their own weaknesses by fortifying other areas of strength.
Somewhere out there, Michael Lewis is grinning and Billy Beane is back on the drawing board.
"But look at how aggressive they were on the base paths. They kept the opposition on their toes because they were so fast and chaotic," these people will say. In reality however, the Royals had three players in their every day lineup post an Ultimate Base Running (UBR–an advanced stat measuring players' base running value) mark above 1.0. Those players were:
All three of those players had more than 450 plate appearances in 2015. We would have to scale back the data to at least 200 plate appearances (PAs) to see the next Royals' player to meet this criteria in Jarrod Dyson, who only had 225 PAs.
"You don't get it, Felipe. This was not a station-to-station team like a lot of these Moneyball teams are. This team is special because they can take the extra base with steals," the rebuttal usually goes. So looking at Weighted Stolen Bases (wSB–a base running metric that measures stolen bases as it pertains to runs) of Royals' players who posted a minimum of 200 PAs, we see that only four of their players posted a wSB above 1.0:
Jarrod Dyson
Lorenzo Cain
Alcides Escobar
The other eight players who posted 200 PAs for the Royals last season will not be confused for the baseball equivalent of sprint runners. With all that in mind, the Royals main base stealers are still more efficient than most teams in baseball. The Houston Astros also had four players finish with a wSB over 1.0, but were not as prolific as Kansas City. But the notion that the Royals' offense was highly dependent on an aggressive approach on the base paths is simply not accurate.
If anything, the team's speed helped a lot more at preventing runs than scoring runs.
Instead of focusing on their base running, the focus should be on their approach at the plate, where they collectively had the lowest Strikeout Percentage (K%) in the league, but also posted the lowest Walk Percentage (BB%) in 2015. Most fans are taught that walks are very important, but the Royals seemingly threw the theory out the window. On the contrary, in a baseball environment which heavily emphasizes pitchers to yield high strikeout rates, the Royals found a way for their hitters to impressively limit their strikeouts.
Remarkably enough, the Royals countered the current trend on high pitching strikeouts by having their hitters generate high Contact Rates with a very aggressive approach at the plate. The Royals led all teams in Contact Rate and finished eighth in Swing Percentage. Looking at the World Series teams since 2009, the following teams finished in the top 10 in both categories:
2010 Texas Rangers (they were close to repeating the feat in 2011)
2012 Detroit Tigers
2012 San Francisco Giants
2014 and 2015 Kansas City Royals
Many people were wondering if the "Moneyball" notion of taking pitches, grinding at bats, and attempting to draw walks was already an antiquated theory. They were wondering if the rest of baseball would adopt the "Royals' Way" at the plate: swing at many pitches, put more balls in play, create more chaos and variance.
The problem with the "Royals' Way" is, yes, it's proven to work in recent history, but it's only five teams (with the Royals accounting for two World Series teams) out of 14 which have posted very high Contact and Swing Rates. The 2015 New York Mets made plenty of contact (finishing ninth), but finished 22nd in Swing Rate. The Giants, who have been one of the most aggressive teams in baseball in this current decade, finished 21st in Contact Rate in 2014. The 2013 Boston Red Sox won a championship utilizing "the old school" Moneyball approach, as they finished 16th in Contact and 30th in Swing Rate. They defeated the Cardinals who finished 19th in Swing Rate.
It is hard to believe that teams will start teaching their hitters to be aggressive like the Royals because it worked for them. Teams would have to acquire players who fit the mold and re-teach their minor league players to forget everything they were taught over the last few seasons or so and start hacking at pitches the way the Royals' hitters have done in the last two seasons.
Grab your machetes, rookies!
But if there's a couple of things that teams will most likely copy from the Royals is they will place an even bigger emphasis on shoring up the backend of their bullpens (see transactions this past offseason by New York Yankees, Boston Red Sox, etc). No longer is it imperative to have a good closer and setup man, but teams also need to stockpile with relievers who can come in the seventh, sixth, and even fifth innings and they better be able to reach back and throw the 95 mph heat when the situation calls for it.
The other thing teams will try to emulate from the Royals is perhaps the idea of needing a very good starting rotation to get teams through the season and into the playoffs might be replaced by acquiring pitchers who can simply eat innings, at least through the fifth inning; solid, but unspectacular starters to hand the ball over to their seemingly unstoppable bullpen. The Royals' starters finished 21st overall in Field Independent Pitching (FIP) last season.
With the high price of starting pitchers exponentially rising every free agency period, this might be an ideal that other teams might want to follow. It would be a cheap, economical way of building a starting rotation.
Of course, if any team truly wants to copy the "Royals' Way" they will have to be sure their teams have an elite defense supporting these pitching staffs. Obviously, a task easier said than done.
Finally, to get back to the Moneyball approach the Royals adopted in structuring their current core and roster, this team is full of guys who were at one point considered busts by not only the collective baseball world, but also the same fan base that adored them last year at their championship parade.
Eric Hosmer, Mike Moustakas, and even Alex Gordon were seen as disappointments and busts before they unexpectedly made their runs at the last two World Series. Many pundits and fans alike thought it would be time to once again move on to another rebuilding plan and were left shocked and perplexed when the Royals decided to trade away former top prospects like Wil Myers, Jake Odorizzi, and Mike Montgomery and acquire veteran pitchers James Shields and Wade Davis in December of 2012. People liked Shields, but were upset that the team would give up promising arms for a bust in Davis.
Baseball has a funny way of working. Wade Davis is now a premier closer for the champion Royals. Hosmer is now seen as a player with loads of intangibles who seemingly comes through in the most pressure-packed situations. Moustakas went from a frustrating player to one of the team's best source of power. And Alex Gordon went from being a future superstar, to fallen star, to arguably becoming the team's best hitter and fielder.
In 2016, the Kansas City Royals will be defending their crown throughout the season. With a core group of players now a year older and with an added year of experience, they should have plenty of swagger to once again make another postseason appearance, even if the statistics don't tend to agree with their methods. Even if a lot of their success is seemingly inexplicably bizarre at first glance. Even if, ironically enough, they are now the new embodiment of "Moneyball" their believers tend to resent.
Photo Credit: Keith Allison/Flickr Creative Commons 2.0