Another day of Opening Week games brings another early slate ripe with potential. For Wednesday, the Blue Jays will be the 'Storyline Play of the Day,' as they became the first team in history to lose a game via an overturned call featuring a now illegal slide at second base. If any team is eager to get back on the field of play, the Blue Jays lead the charge by opening up Wednesday's group of games.
Currently, we are using xFIP and wOBA simply to compare one pitcher's performance against another – especially against opposite-handed hitters. We aren't using these numbers for calculation. We are also pulling some statistics – such as team strikeout rate – from last season's totals until a better foundation is built in 2016. To help with some calculations, we have assumed that each hitter and pitcher has played at least one game. Each pitcher was assigned an innings total relative to his average projection.
Check the starting lineups and weather reports prior to making any plays, as these change without notice.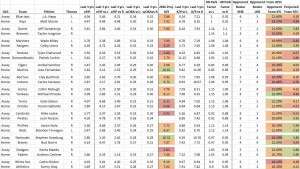 Pitchers
As noted in the introduction, the Blue Jays are the team to watch on Wednesday. Their hitters will be featured in our lineup, but J.A. Happ is now a must-own in early slate lineups. He has an absolutely ideal matchup against the Rays – especially since Tampa Bay's projected cleanup hitter is left-handed – and should receive plenty of run support – although Happ is opposed by the talented Matt Moore.
Like his teammate the day earlier – and Jose Fernandez on Wednesday – Michael Pineda is better suited for daily fantasy baseball than season-long contests. Pineda's per-inning rates are fantastic, and he should have no trouble racking up strikeouts against the Astros. Unfortunately for Pineda, Houston's offense is dangerous, and their small run output from Tuesday puts them at a bigger risk to put forth a better effort on Wednesday.
Jose Fernandez fits the same mold as Pineda, only with a better strikeout rate and in a hitter's ballpark. In addition, his matchup with the right-handed heavy Tigers lineup is perfect, and he deserves a start in any daily fantasy website that allows for two pitchers to be used.
The Giants spent their offseason retooling their rotation and, after Johnny Cueto made his successful season debut in Milwaukee on Tuesday, Jeff Samardzija follows suit on Wednesday. The book on Samardzija is simple – his strikeout prowess is excellent but his risk to implode is ever-present. Against the strikeout-happy, right-handed lineup of Milwaukee, now is the time to take a chance on Samardzija. It is worth noting, however,  that Milwaukee has only scored a total of four runs in two games, and is due for an offensive outburst. Samardzija should sit towards the bottom of the list of pitchers to own, but is definitely viable on Wednesday.
Along the lines of high risk-reward plays sits the trio of Kenta Maeda, Brandon Finnegan, and Juan Nicasio. The expectations for Maeda is that his strikeout totals will inflate during the early portion of the season – since hitters have not seen his pitches live – but potentially diminish over the course of the year. Unfortunately, like Samardzija's matchup, Maeda will face a team with a total of six hits and no runs over the first two games.
Brandon Finnegan draws the Phillies – which should hardly strike fear in anyone's heart – and gets a boost from every part of the matchup except the ballpark. His level of unknown makes him a dangerous play, but he is worth the risk in high-upside formats when using him sparingly.
Then there's Juan Nicasio.
Indeed, the Juan Nicasio that was long-forgotten in Colorado, emerged as the surprise of Spring Training, and has flown up draft boards since mid-March. Do we buy in?
Why should we? Maybe Nicasio carries the momentum from Spring Training into the regular season, but isn't it just as likely that he struggles against a solid Cardinals lineup? In fact, Nicasio will likely be highly-owned for the reasons already mentioned and, with enough pitching options on Wednesday, it's best pass on Nicasio and fill the role elsewhere.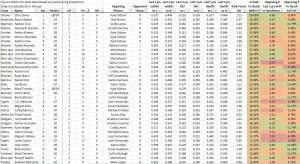 Blue Jays right-handed hitters – As noted in Tuesday's article, two of the main power-hitting Blue Jays – Bautista and Encarnacion – had yet to put a ball over the fence. Bautista proved to be a solid play – three walks, a triple, and a run scored – but both remain on the radar for the foreseeable future. With the left-handed Matt Moore on the mound for the Rays – and the aggressive nature the Blue Jays will likely take less than twenty-four hours after a heart-breaking loss – all right-handed Blue Jays bats are on-call.
For their prices, Justin Smoak is worth a second look while Russell Martin makes the list for the second consecutive day. Bautista, Donaldson, and Encarnacion sit bundled together on the chart, with Donaldson's splits versus left-handed pitching undeniably outstanding – unfortunately, so is his price. Encarnacion's lack of an extra base hit, to date, makes him the best option to connect, but Donaldson is the batter most likely to hit a home run.
Brandon Moss/Matt Carpenter – Opposing Nicasio is paramount with his hype at reaching an all-time high, and the left-handed slugger, Brandon Moss, is the first to gain an immediate boost – if he is in the lineup. Matt Carpenter is equally as obvious, but only if his price allows.
Nelson Cruz – Typically, we try to avoid players that hit a home run the previous night, as the likelihood of two consecutive home run days are lower than hitting a home run after a game without one. Regardless, Cruz is playing in the ballpark that treated him well for years, and faces the pitcher most likely to allow a home run on Wednesday.
Kyle Seager/Adam Lind/Jay Bruce – Seager and Lind receive the same benefit as Cruz – facing Colby Lewis in Texas – while Bruce draws sophomore Aaron Nola in Cincinnati, but all three hitters have an unfortunately high price for Wednesday. If the money is there, so is the potential, but it might be wiser to simply pay up for Cruz.
Chris Davis – Even at his price, it is hard to ignore Chris Davis. Playing at home against a right-handed pitcher is ideal, however, Kyle Gibson is surprisingly unlikely to allow a home run. Gibson won't shut down Davis altogether, but, if Gibson keeps him in the ballpark, Davis will not be worth the price paid.
Nolan Arenado – Compared to the prices of some of the most prolific sluggers of the day, Arenado is a relative discount. Balls have been flying out of Arizona at a fantastic rate – for hitters – and Arenado faces the left-handed Patrick Corbin. Arenado's splits are actually fairly equal, but Corbin's hard-hit percentage stands out against right-handed batters yielding Arenado as a great buying opportunity.
Joc Pederson – While he isn't an absolute bargain, Pederson has a great matchup against Andrew Cashner in San Diego. The Dodgers' lineup has been impressive, thus far, but Pederson's power has yet to emerge. If he can fit in the budget, use Pederson on Wednesday.
Trevor Story/Jed Lowrie – Although we advised against Story on Tuesday – which proved to be a mistake – Story is too appealing to ignore on Wednesday. Another right-handed batter facing Corbin in Arizona, Story might be the best shortstop option for the price. Jed Lowrie presents a nice opportunity for an extra savings, and has different position eligibility based on the website used.
Corey Seager – Similarly to Trevor Story, Corey Seager is hitting the cover off the baseball. Unlike his fellow rookie, Seager has yet to hit a home run, despite four hits and two doubles in nine at-bats. His price may technically be elevated for his short history, but he is greatly undervalued for what he should continue to bring on a daily basis. He is worth the investment until he proves otherwise.
Bargains
With the above chart typically featuring the more expensive hitters – and the statistics of their matchups – we focus on some of the best upside plays for their price.
Mark Reynolds – Always a power threat, Reynolds is the overlooked Colorado hitter at a decent price, albeit not a steal. If he is in the lineup, he can be used on sites that don't penalize for outs.
Seth Smith – Nearly everyone from Seattle hit a home run on Tuesday night, but the matchup on Wednesday is just as good. At a dirt-cheap price, Smith is a great addition to a lineup by barely dedicating any funds.
Khris Davis/Mark Canha – With Josh Reddick and Stephen Vogt potentially being neutralized by Carlos Rodon, right-handed batters Khris Davis and Mark Canha are poised to gain. Davis is always a home run-threat, and should be one of the first cheap options used on Wednesday night.
Featured Image Credit: By Keith Allison from Owings Mills, USA (J.A. Happ) [CC BY-SA 2.0], via Wikimedia Commons