As expected, we saw the final push begin for a few teams in Week 13 – both good and bad. The Cowboys, Broncos, and Seahawks continued to make strides in crowded races, and were given some help by the Redskins, Colts, and Panthers all losing. This carries nicely into Week 14, as it leads to a completely different set of expectations now that we can see the finish line.
Which also leads to the separation between what needs to happen to make this playoff push and what actually will happen. And that's where we can exploit the spread.
With a full, sixteen games on the schedule, this imbalance of perception and reality is featured heavily. Thankfully, so is one of my favorite trends that has, prior to last week, been largely unsuccessful in 2018.
Now, with only one-quarter of each team's games remaining on the schedule, we can make our move along with the squads trying to slide into position down the home stretch.
Listen to Episode 7 of our free podcast here:
Below are predictions for each game against the spread. Spreads have been taken from various websites and are subject to change. The spread in parenthesis denotes the selected team. An asterisk denotes a confidence pick.
*Confidence Picks – 2018 Season: 44-37-3 (Last Week: 3-3)
(2017 Season: 53-48-4) (2016 Season: 53-67-3) (2015 Season: 69-45-2) (2014 Season: 61-46-2) (4-Year Total: 236-206-11)
All Picks Against Spread – 2018 Season: 97-87-8 (Last Week: 7-9)
(2017 Season: 137-119-11) (2016 Season: 123-136-8) (2015 Season: 143-117-7) (2014 Season: 149-114-4) (4-Year Total: 552-486-30)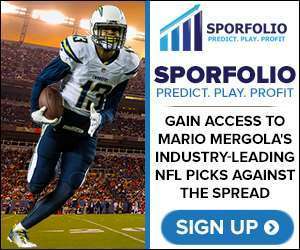 Carolina Panthers at Cleveland Browns
The Carolina Panthers are spiraling out-of-control. After cruising to a 6-2 record, the team has now lost four consecutive games. The Panthers now must travel to Cleveland to face a Browns team that is, if nothing else, sporadic.
What exactly did happen to Cleveland, last week? Were the Browns caught by a much better team when the Texans came to town? Or did they simply under-perform? More importantly, what can we expect in the down-the-stretch?
Most likely, what we saw from Cleveland, last week, is much closer to what we will see for the remainder of the year. Teams occasionally get a quick boost from a mid-season head coaching change, but it doesn't typically spark a long-term run. The Browns already had their surge under Gregg Williams via back-to-back wins against the Falcons and Bengals, but the Texans exploited just how little Cleveland can be trusted.
The Browns turned the ball over three times in Week 13 and allowed a whopping 187 rushing yards on defense. This is the perfect type of team for the Panthers, as Carolina created 15 turnovers through the first eight games of the year – again, it had a 6-2 record over this stretch – but just one in the last four games. But, through the ups-and-downs, the one thing the Panthers do well is run the ball. It is now leads the team in yards-per-rush and is second in total rushing yards on the season. Cleveland's defense ranks 23rd and 28th in these categories, respectively.
Throughout this roller coaster season, one of the patterns that has remained alive for the Panthers is their success against AFC opponents. In my Week 3 picks column, I wrote about how Carolina had won five consecutive non-conference games and all four in 2017. It then went on to beat the Bengals in Week 3. With only a loss to the Steelers – a big one, at that – the Panthers are now 7-1 in their last eight matchups with AFC opponents.
Sunday will improve this streak to 8-1.
Carolina wins by six points and covers the spread.
Prediction: Carolina Panthers (-1)
Philadelphia Eagles at Dallas Cowboys
I always lead with how much of a treat it is to get a matchup between two teams that just played on national television. Why? Because both are subject to major shifts, and at least one will be too violent for our liking.
Starting with the more recent image in the eyes of the football-watching world, were we actually impressed by the Philadelphia Eagles and their win over the Redskins? Probably not. After all, the Eagles were as large as seven-point favorites against a backup quarterback. They were, by most accounts, supposed to win. That they did so against a third-string quarterback should hardly move the meter. So, we will scroll back further in our timeline.
It's easy to forget about the Thursday games when a full Sunday interrupts the flow, but as soon as people start to form their picks for the week and land on the Dallas Cowboys, they will remember how impressive their win was against the Saints. And Dallas will look more attractive than it really is.
Like Philadelphia beating Washington, the Cowboys were supposed to play well against New Orleans. It was the perfect combination of an over-performing Saints team traveling on a short week to face a hungry defense with something to prove. That Dallas actually won only helps matters, as the tide has now completely shifted in the Cowboys' direction.
We should not forget that, while Dallas' defense has proven to be excellent – top-five in both yards and points allowed-per-game – the offense has been a liability since the start of the season. It has scored 27 points or fewer in ten games, including five-of-the-last-six.
Remarkably, Philadelphia's defense has allowed more than 27 points only once, this entire season – a 48-point disaster in New Orleans. Outside this single blip, the Eagles have remained alive in the divisional race largely because of a quietly good defense, along with an offense that is starting to take shape. Philadelphia has now scored at least 20 points in four-of-its-last-five games.
The Eagles were major regression candidates at the start of the season, and they have played their part perfectly. But, with four games remaining in the year and a share of the division lead on-the-line, we are about to see the best Philadelphia has to offer. And, while it may not be a 'must-win' for Dallas, head coach Jason Garrett will have his conservative gameplan put to the test against the aggressive – and Super Bowl champion – Doug Pederson.
Keep in mind, the Cowboys have only been favored in a game four times prior to Sunday. They are 2-2 against the spread including an outright loss as touchdown favorites.
The Eagles win by four points and beat the spread.
Confidence Pick: Philadelphia Eagles (+4)
Click here to sign up for Sporfolio to see the rest of Mario Mergola's NFL picks against the point spread. Mergola finished with the highest total of correct NFL picks against the spread for 2015 and 2016 – tracked by NFLPickwatch, and finished 2015 with an accuracy of 60.53% for his confidence picks. His 4-year record for all NFL games against the spread is 552-486-30!