There is no better place to start this column than by giving thanks. Thanks to you readers for the opportunity to write about my football picks. Thanks for positive results. And thanks for the gift that is football and how it helps us all form this bond.
Seriously.
Because you could not have watched last week's action – especially Monday Night Football – and not felt tied to every other fan across the world. We are seeing some outstanding games, top-notch levels-of-play, and pure entertainment. What's best is that we really do get to share it with a community. And for that, I am thankful.
The sport continues to give and, as usual, we have a trio of games on Thanksgiving Thursday, followed by a large set of matchups on Sunday and Monday. But, because of the nature of this week, there is some added uncertainty to the mix.
At least three teams have injuries to their starting quarterbacks and, at the time of this writing, no announcements have been made. I do, however, frequently argue that the eventual news about an injured quarterback is irrelevant, and I stand by that claim. Which is also why I was able to write about each game without concern for which player will line up under center.
Still, despite my approach, this week is undoubtedly different from the rest. This makes it no better and no worse. Just different. But, as we have seen throughout this season, the trends we love to follow are alive-and-well and have generally produced at an excellent rate.
And for this, we are definitely thankful.
Listen to Episode 7 of our free podcast here:
Below are predictions for each game against the spread. Spreads have been taken from various websites and are subject to change. The spread in parenthesis denotes the selected team. An asterisk denotes a confidence pick.
*Confidence Picks – 2018 Season: 39-30-3 (Last Week: 3-3)
(2017 Season: 53-48-4) (2016 Season: 53-67-3) (2015 Season: 69-45-2) (2014 Season: 61-46-2) (4-Year Total: 236-206-11)
All Picks Against Spread – 2018 Season: 84-69-8 (Last Week: 7-6)
(2017 Season: 137-119-11) (2016 Season: 123-136-8) (2015 Season: 143-117-7) (2014 Season: 149-114-4) (4-Year Total: 552-486-30)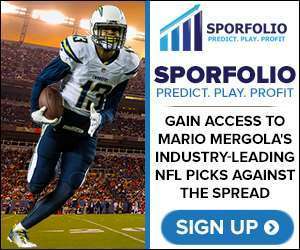 Seattle Seahawks at Carolina Panthers
Anyone who reads my columns regularly knows how fond I am of Seattle's Russell Wilson, but I must be as fair to the numbers as I have been to the quarterback. That is, Sunday will not be an easy setup for Wilson's Seahawks.
Seattle just completed a thrilling, nationally-televised home victory against the Packers on Thursday Night Football, and now has to travel to North Carolina for an early game on the east coast. This has not hampered the Seahawks, however, as they have won their last three trips to Carolina. Then again, they also scored no more than 16 points in any of the games.
The weight that will be rested upon Seattle's shoulders isn't the distance or the time zone, however, but the overall state of the playoff picture and the schedule. Including Sunday, the Seahawks only have two road games left. Granted, of the four home games, two are against the Chiefs and Vikings but, compared to the potential 'letdown' in Carolina, these will be welcomed.
On the other side of the game, the Panthers are about to play their only home game in a five-week span. They lost the last two road games but, true to their trend of recent years, they are a perfect 5-0 at home in 2018. Forget the competition in the upcoming weeks, playing at home has been beneficial for Carolina, and the team needs every edge it can get after losing a heartbreaker in Detroit, last week.
Carolina is also at a breaking point in the playoff push, while Seattle still has room to grow. The Panthers were 6-2 and one of the clear Wild Card teams as of a few weeks ago, but are now at risk of falling to 6-5 and losing a future head-to-head tiebreaker with the Seahawks. If Carolina's 6-2 record were not a mistake or fluke, it should have no problem leaning on its excellent run game – third-best in yards-per-attempt – and taking advantage of Seattle's defense, which is allowing the fifth-most yards-per-rush.
The Seahawks will have their own opportunity to recover over the next month, but the Panthers cannot allow Seattle to steal a win on Sunday. Instead, Carolina will set the tone early and not need to rely on a late-game rally.
The Panthers win by a touchdown and cover the spread.
Prediction: Carolina Panthers (-3)
Pittsburgh Steelers at Denver Broncos
One of the first questions I ask myself whenever I see a curiously small spread is, "Am I looking at a 'trap?'" Usually, the answer is not overly difficult to find. But, it often requires a follow-up question of, "Do I think others will view this as a 'trap?'" This takes a bit of exploration.
Starting with the opponents of the most recent game played, we have a Denver Broncos team that just beat the Los Angeles Chargers. Los Angeles was an impressive 7-2 before last week and had won six consecutive games. The general football fan will be floored by this outcome, as the image of a victory against the Chargers carries weight.
Too much weight, as we know.
Los Angeles had been on a hot streak, but it was one built to end shortly. And, a division opponent is the perfect team to cut down this momentum. The entire picture of the Broncos' most recent win is much dimmer than it would seem.
The Pittsburgh Steelers had an alternate experience, last week. Like the Broncos, the Steelers also won, but they did so via an improbable comeback after being thoroughly outplayed and arguably allowed back into the game because the Jacksonville Jaguars don't know how to handle a lead. The struggles throughout the matchup are certainly going to be highlighted as a potential issue for Pittsburgh, and it will be the easy conclusion to draw for the narrative of how the Broncos can pull off the 'upset.'
It is also built on a shaky foundation.
The Steelers – like the Chargers – stumbled in Jacksonville because they were bound to stumble. They had flown too close to the sun and were finally seeing their metaphorical wings melting. But, they didn't even crash down to earth. They recovered and won. Because their top-five offense – in points and yards – is capable of outpacing almost anyone. Including the Broncos.
The spread for Sunday's game between Denver and Pittsburgh is not a 'trap.' It is a reaction to two false results. Which means it is an overreaction.
The Steelers win by eight points and cover the spread.
Confidence Pick: Pittsburgh Steelers (-3)
Click here to sign up for Sporfolio to see the rest of Mario Mergola's NFL picks against the point spread. Mergola finished with the highest total of correct NFL picks against the spread for 2015 and 2016 – tracked by NFLPickwatch, and finished 2015 with an accuracy of 60.53% for his confidence picks. His 4-year record for all NFL games against the spread is 552-486-30!
Photo Credit: Keith Allison Flickr C.C. 2.0