Lionel Messi hit a 26th-minute free kick and the Barcelona defense held on for a 1-0 win on Saturday. The victory opened up an eight-point gap to Atletico Madrid, all but deciding the title.
Even if Atleti had won, keeping a slightly better pace than Barcelona over the next 11 fixtures would be a tough task. But the approach to this match was problematic. Manager Diego Simeone spent the entirety of the first half playing not to lose, which inevitably led to a second half of playing catch up.
The "not to lose" attitude of the week became apparent with the selling of wingers Nico Gaitan and Yannick Carrasco on February 26. Simeone chose to overload on central midfielders, marginalizing these players and their attacking wide play. Of the now 17 outfield players on the team, Vitolo is the only true winger. Thomas, Koke, Saúl, and Gabi all play center midfield as their primary position.
Therefore it wasn´t too surprising when Simeone chose those four central midfielders to all start against Barcelona. They are likely the best players on the team. However, Ángel Correa would have been welcome in the wing position to add at least a little wide play and attack.
Barcelona dominated possession from the off and really started to take it to Atleti, firing off the first two shots of the match in the fifth and 13th minutes. Atleti continued to keep eight players back and let Barca pass and advance at will. The red and whites did not get a shot off until the 21st minute. By the 26th Barca had five shots and a goal.
What happened next was very strange. Instead of hustling and trying to get that goal back, Simeone´s men chose to continue to play conservatively. It was as if they were not interested in scoring a goal until the second half. This showed that the gameplan was clearly to sit back and play for at least a 0-0 first half if not a 0-0 game.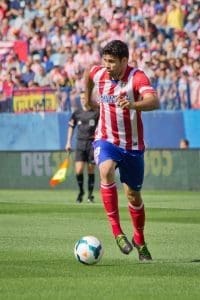 Atleti may be the best defensive team in La Liga, but this strategy is close to ludicrous against Barcelona. The Blaugrana have only failed to score four times this season, and only once in La Liga. They possess two of the seven most prolific goalscorers in the world and have scored against Atleti in the teams´ last nine meetings. It was almost inevitable that they would get a goal at some point.
And yet Simeone seemed more interested in stopping Barca from going up 2-0 than tying the score at one. Barcelona went on to shoot five more times in the first half; Atleti ended the first half with only that one shot in the 21st minute.
[Click Here To See the Future of Fantasy Sports]
In the second half, Atleti finally started to turn on the jets and urgency. But the quality and similarity of the players on the pitch limited the colchoneros. Missing the speed and wide play of a Correa or even a Carrasco, Atleti could not get a goal. Simeone started making substitutions throwing Correa and Gameiro on to the point where he had four forwards on the pitch.
But Barca's defense was well-rested from having not been called upon much in the first half. They easily dealt with the Atleti attack and had only one slip-up, when Diego Costa scored a goal but was ruled offside. This was really the only time Atleti came close to a goal as only one of their six shots was on target. Barca continued to dominate the possession battle (58-42), number of passes (604-430) and touches (830-640). The reason for some of these differences is just playing style, but a disparity this large definitely causes concern.
Simeone has employed the "not to lose" strategy more than once this season. It was also apparent in the 0-0 draw to Real Madrid and in the Champions league draws at Roma and home and away to Qarabag. It is neither fun to watch nor successful and will continue to stop the team from reaching its potential. Yes, Atletico could have gone gung-ho in these matches and lost something like 4-1, but it is better to try to attack and fail than just play conservatively.
If Atleti continues to play not to lose in big games, they will only go but so far. Russian league leaders Lokomotiv Moscow are next on the schedule. Atleti must go after this match as they host the first leg in Madrid. If they hang back and play defensively like they did at Barcelona, they could find themselves between a rock and a hard place in Russia.
The "not to lose" strategy may have limited the damage. In many places, it has gotten Atleti a 0-0 or 1-1 draw in matches in which they were the underdog. But as manager of one of the top clubs in the world, Simeone has the talent to go out and win every match. Therefore, the gameplan should be to play like it.
Photo Credit: Carlos Delgado [CC BY-SA 3.0], via Wikimedia Commons
Photo Credit: Carlos Delgado [CC BY-SA 3.0], via Wikimedia Commons