Antoine Griezmann scored a first minute goal and the Atlético Madrid defense held on for their 21st clean sheet in all competitions. The win was Atleti's third straight this season and narrowed the gap to Barcelona to just seven points with 15 matches remaining.
Just two weeks ago, the margin was 11 points. Barcelona had won seven straight La Liga matches and seemed out of reach. Now, after three straight clean sheet victories, Atlético is right back in the hunt.
The improvement started in defense where manager Diego Simeone changed from an ill-advised 3-4-2-1 system back to his traditional 4-4-2. The team's problems in attack (they are still only tied for seventh in La Liga in goals) were cause for concern for the manager. But trying to score two and three goals in games has never been Atleti´s mantra. It is always better to improve defense and counterattack from the back.
So Simeone brought Juanfran back into the team and he immediately got an assist while helping to a clean sheet against Las Palmas. The Argentine manager changed the defensive lineup again vs. Valencia, exchanging Jose Giménez and Juanfran for Stefan Savic and Vrsjalko. However, this lineup did not last long as Savic exited with injury in the 29th minute, replaced by Giménez. Godín also exited the match with a face injury, relieved by Juanfran in the 51st. Atletico once again fed off the home crowd and got a 1-0 victory.
The continued injuries caused more changes for Simeone, but he was also blessed with the return of Filipe Luis. A back line of Luis, Lucas Hernández, Giménez, and Vrsjalko got the clean sheet at Málaga.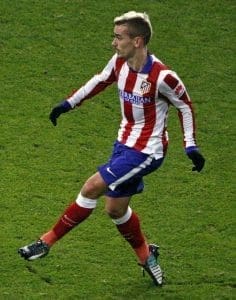 The new focus at the club has also moved up into the midfield. Cholo went with the same midfield that lost to Sevilla the next time out and they performed as wingers Saúl Ñiguez and Ángel Correa were instrumental in the attack. Thomas Partey also had a goal off the bench. Yannick Carrasco joined the team in place of Gabi at Valencia, but Correa stole the show again. He scored the only goal on assist from fellow midfielder Koke. But even Correa got spelled in the next match for Vitolo, a game that belonged to the forwards.
The striker roles have also been a bit dodgy as Diego Costa has missed time and been out of form with both a concussion and muscle problems. Fernando Torres slotted in alongside Antoine Griezmann in the match at Las Palmas, and both strikers scored. Costa was back in the lineup for the Valencia match, but both he and Griezmann turned in good, but not too noteworthy performances. And Costa returned again last weekend, a match in which Griezmann scored the only goal needed in the first minute.
After a stretch of three games in which Atletico were not themselves, Simeone went back to basics and turned the team around. The question now is if they can sustain this form and outdo Barcelona for the title.
The recent draws show that the Blaugrana are vulnerable, but it will take a near perfect 15 matches from Atleti. And they will not be playing bottom table teams Málaga or Las Palmas. Trips to Sevilla, Barcelona, and Real Madrid remain on the schedule alongside the toughest Europa League in years. It will be an uphill battle for Simeone and his colchoneros.
However, the additions of Costa and Vitolo and the ability to play without several key players show that Atleti has depth. They are probably yet to peak this season as Simeone's teams usually peak in March and April. The 2013-14 title winning team rattled off nine straight wins in those months, including a crucial victory over then fourth place Athletic Bilbao.
Atleti's parent club is next on the La Liga schedule. Barca travel to the Basque country to take on Eibar. But before that, Atletico must also take care of business in Europa where they travel to Denmark this week. The grueling Thursday-Sunday schedule could take a toll and will behoove Simeone to make near perfect rotation choices.
The gap to Barcelona is no longer insurmountable, but it will take some doing. Atleti are currently on pace for just 86 points. It usually takes at least 90 to win La Liga and Barca are on pace for 97. They will have to continue to play perfect, gritty football and keep the clean sheets coming, but they have a shot at the title.
Photo Credit: By cristina cifuentes [CC BY 2.0], via Wikimedia Commons
Photo Credit: Anish Morarji from St Albans, EnglandCropped and retouched by Danyele (Flickr.com (original photo)) [CC BY 2.0], via Wikimedia Commons