We have one of the largest NFL DFS slates of the past few weeks ahead of us, as there are only two teams on a bye week and the London game is late enough to be included in the main tournaments. Therefore, 14 games give us more-than-enough options to find top plays for our lineups – as well as fair reason to avoid certain matchups.
Sporfolio's NFL Daily Fantasy Sports game-by-game analysis columns are driven by expected game flow. Based on a combination of our Week 6 NFL picks against the spread and our expectations for a given game, we project the actions necessary to make these picks come to fruition. We aim to pinpoint players integral to our predicted game flow for each game of the week.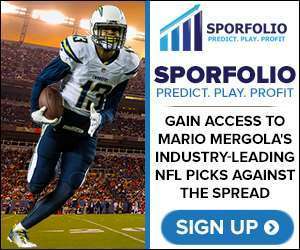 Luke May is Sporfolio's NFL DFS expert, and Mario Mergola operates Sporfolio as the expert for NFL Picks Against the Spread.
Dallas Cowboys at San Francisco 49ers 
Luke's DFS Take: The Ezekiel Elliott suspension drama rolls on, and the running back will get at least two more games before a conclusion is reached. With all of that uncertainty lingering, it is logical that he would want to perform as well as possible before potentially having his season cut short, and this week is a perfect opportunity for him to explode. Outside of the Denver fiasco, Elliott has received at least 20 carries in every game, and he is also averaging just over 4 targets-per-game. That type of volume should easily be reached this week and in a favorable matchup against the 49ers, Elliott is a prime candidate for a huge game. Elliott's play has been somewhat unnoticed this season due to his legal distractions and the emergence of so many other running backs this season. With people losing track of his skills and his price tags skyrocketing this week, Elliott has potential to be overlooked which makes him an even better target this week. Brian Hoyer was pulled from last week's game in favor of another unknown quarterback in C.J. Beathard. Beathard came in lead scoring drives on four of seven possessions and should be in line for another start. His presences under center led to a productive outing for tight end, George Kittle who is emerging as a top option in this 49ers offense. Kittle and Beathard were college teammates at Iowa and it would not be surprising to see Beathard lean on their chemistry and continue throwing to Kittle very often. Factor in that the 49ers will likely be playing from behind most of the game, and we could see a good game from another cheap tight end in Kittle. 
Mario's DFS Take: Let's start off by recognizing that the never-ending drama of Ezekiel Elliott continues to force him onto one's radar. He is immensely talented and was the centerpiece of an offense that won 13-of-its-15 meaningful games in 2016. Every time he is on the field – which is now often in question due to the eventual likely suspension – he presents a big-play opportunity. Against the 49ers in a game Dallas is expected to win, this would look like the right time to unleash Elliott. Not so fast. He is worthy of consideration by his own accord – and the fact that he tallied 138 rushing yards and a touchdown in San Francisco, last year – but the 49ers actually have the fifth-best defense in yards-per-rush. He can be used, but with caution. Instead, I'm going against-the-grain and, as a result of picking the 49ers to 'upset' Dallas, I will ride the hot hands of George Kittle, Carlos Hyde, and, you guessed it, Pierre Garcon. Do you need the numbers again? You need the numbers again. Here are the numbers. Again. 56 targets, 33 completions, 434 receiving yards, and still no touchdowns. The wide receiver is always heavily involved and is itching to find the endzone. He remains a must-play for me, and gets a boost thanks to the potential that Dallas does jump out to an early lead.
Seattle Seahawks at New York Giants
Luke's DFS Take: The Giants pulled off what-seemed-to-be the most unlikely of victories last week in Denver and get another chance to shock in a game against Seattle. The offense was decent considering the lack of depth due to injuries, but the defensive line was the difference in the game. They put enough pressure on Denver that they were able to shut down the offense for a large majority of the game. This week they get to face off against a very suspect Seattle offensive line which could lead to trouble for Russell Wilson. Doug Baldwin has been incredibly quiet this season, and is a great option to start buying into before people remember how good his and Wilson's connection is, but this may not be a great week for him. The Giants' offense relied heavily on Orleans Darkwa last week who shockingly produced over 100 yards on the ground. He may be a popular play at a cheap price after that performance, but it is likely that he won't come close to that number again and is probably best left off your lineup. Evan Engram proved again what a nightmare he can be for defenses last week, and should be the most productive member of this Giants offense this week. With that said, his production may be limited too as this Seahawks defense is allowing just over 18 points per game which includes a 33 point disappointment against Tennessee. There are acceptable offensive options in this game, but both defenses can be considered as well. 
Mario's DFS Take: I couldn't wait to load up my Primetime lineup with players from the Giants in Week 6, but I am stepping away on Sunday. Seattle's defense is, as usual, excellent – outside of a single hiccup against Tennessee, the Seahawks have not allowed more than 18 points in a game. I am comfortable going right back to Seahawks' defense against a Giants offense that is no longer a surprise candidate for an 'upset.' To that point, Seattle will be on high alert. Offensively, the Seahawks have started to find some room in the running game, but I still can't buy in. Russell Wilson, himself, has 30 carries, so the rushing attempts and yards for the team are skewed. Instead, I will look to Doug Baldwin, who is Wilson's favorite target – despite Jimmy Graham emerging, of late – but only has one touchdown on the year. Baldwin and Graham are both worth considering.
Read More Daily Fantasy Football Content On Sporfolio for a full breakdown of every NFL game
Photo Credit: By Keith Allison (Flickr) [CC BY-SA 2.0], via Wikimedia Commons