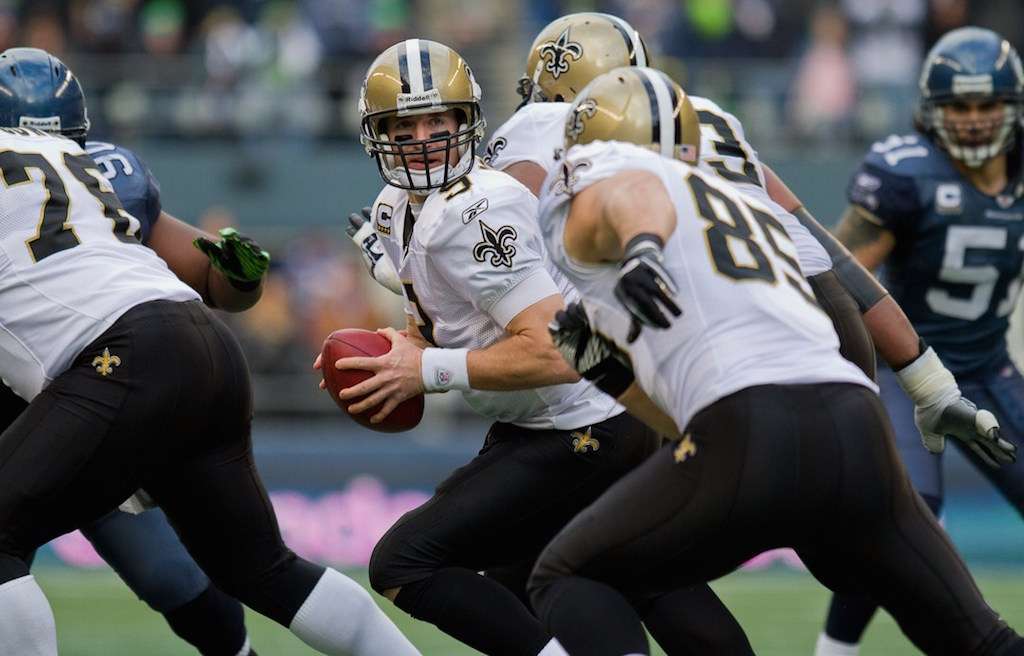 As mentioned in our weekly nfl picks against the point spread column, there is a handful of games with extremely large spreads. Whenever this happens, we can usually pinpoint an expected gameflow, as the underdog will likely be trailing for most of the game and need to throw in order to compete, while the favorite will be running out the clock late. That is, of course, if we buy into the games going exactly according to plan. The good news is that, wherever an 'upset' is possible, we can expect the underdog to lean on its strengths which, five weeks into the season, are becoming clearer week-after-week.
Sporfolio's NFL Daily Fantasy Sports game-by-game analysis columns are driven by expected game flow. Based on a combination of our Week 6 NFL picks against the spread and our expectations for a given game, we project the actions necessary to make these picks come to fruition. We aim to pinpoint players integral to our predicted game flow for each game of the week.
Luke May is Sporfolio's NFL DFS expert, and Mario Mergola operates Sporfolio as the expert for NFL Picks Against the Spread.
Detroit Lions at New Orleans Saints
Luke's DFS Take: People may be afraid of the Lions' defense because the turnover numbers they have are impressive. This is a perfect opportunity to pick against what seems to be a tough matchup. The Lions' defense was exposed last week by the Panthers after taking advantage of struggling offenses – aside from the Falcons' – in the early portion of the season. Drew Brees and the Saints are coming off of a bye week and that spells bad news for the Detroit defense. The Saints also shed themselves of the failed experiment in Adrian Peterson which was becoming more of a distraction than anything. This offense should explode this week which makes the entire offense fair game. The Lions' offense should also be in a good position to score on a vulnerable Saints defense, but it will depend on the health of Matthew Stafford. If Stafford is healthy and ready to go, this game has all the makings of a high-scoring affair.
Mario's DFS Take: It is quite possible that we have come to expect too much from the Saints offense, but too little from the team, itself. When we last saw New Orleans, it was shutting out the Dolphins in London. That's right, the Saints allowed zero points to an opponent. It seems crazy, but it was also a function of playing against a truly horrible offense. On Sunday, the Saints will host Matthew Stafford and the Lions. Assuming he is healthy enough to play, Stafford will fare better than Jay Cutler did in Week 4, but I'm not ready to completely ignore what the Saints' defense did. Is it great? Absolutely not. But, with two weeks to prepare for its next game, a better effort is to be expected. It is also worth noting that Detroit ranks 29th in the league in yards. Drew Brees and the Saints' offense should also get a boost from the extra preparation time, although the matchup is less-than-ideal.
New York Giants at Denver Broncos
Luke's DFS Take: The easy thing to do on Sunday night is to take the Broncos' defense and move on considering the fact that the Giants' offense basically doesn't have any players left. These injuries are devastating for the Giants, but open opportunity for fantasy production in rather unexpected situations. If Sterling Shepard is able to play this week, he will likely receive somewhere around 15 targets because is hands down Manning's top option left and the only one he has any real chemistry with. Shepard's health is still very much in doubt though which forces us to turn to Evan Engram. Engram has actually had a good start to his career, and figures to become a focal point of this offense now. The Broncos defense is the 28th ranked defense against tight ends in terms of fantasy points allowed, so despite the brutal matchup on paper, Engram personally doesn't have a bad matchup. The rookie tight end has the best matchup on the team and very well may be the only real weapon left at Manning's disposal making him a very good target this week. The Broncos offense still does not intrigue me much due to the inconsistencies of Trevor Siemian. C.J. Anderson does not need to rely on his quarterback though which means we don't have to worry about him. Anderson has remained an important piece of this offense, and should see plenty of work once again this week. The game flow will likely be in his favor, and he faces off against a Giants defense that was just shredded by Melvin Gordon and is allowing 139 yards per game on the ground. Plug Anderson in with confidence.
Mario's DFS Take: I never thought I would type these words, but I am excited to use the Giants' players in my DFS lineup. Of course, the lineup to which I am referring would be a tournament in a Primetime slate, but the value is simply too great to ignore. Nearly everyone from New York will be lowly-owned, and the injuries to Odell Beckham, Jr. and Brandon Marshall will force the offense to funnel directly through Sterling Shepard and Evan Engram. Both are must-starts in Primetime contests. Of course, Denver's defense – allowing the fewest yards-per-game in the league – is scary enough to warrant hesitation, but the Giants basically never run the ball – second-fewest attempts – so they will either be leading due to the aerial attack or passing in an attempt to stage a comeback. Regardless, Eli Manning will be busy, and I will even throw him into a tournament lineup. In order to complete the 'upset,' the Giants' defense will have to play closer to its 2016 iteration than what we have seen, so far, in '17. It's possible since, outside of the lone 42-point explosion, Denver averages a more reasonable 18.67 points-per-game.
Read More Daily Fantasy Football Content On Sporfolio for a full breakdown of every NFL game
Photo Credit: By Kelly Bailey [CC BY 2.0], via Wikimedia Commons