Week 3 was the perfect example as to why we use our picks against-the-spread as a major factor in determining the expected game flow for each matchup. Nearly every popular player struggled mightily for the majority of DFS lineups, but our plays actually produced nicely, as we leaned on a few heavy underdogs performing well – we were basically all-in on Cincinnati's A.J. Green and Washington's Chris Thompson for our daily fantasy football lineups. In Week 4, however, we are left with a handful of matchups that are either split down-the-middle or are severely one-sided. Thankfully, separating the games into these categories also helps us know which to target and which to avoid.
Sporfolio's NFL Daily Fantasy Sports game-by-game analysis columns are driven by expected game flow. Based on a combination of our Week 4 NFL picks against the spread and our expectations for a given game, we project the actions necessary to make these picks come to fruition. We aim to pinpoint players integral to our predicted game flow for each game of the week.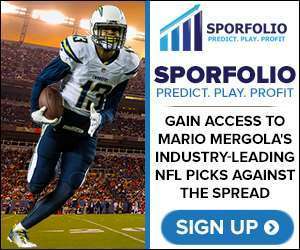 Luke May is Sporfolio's NFL DFS expert, and Mario Mergola operates Sporfolio as the expert for NFL Picks Against the Spread.
Cincinnati Bengals at Cleveland Browns
Luke's DFS Take: The Bengals put up exactly the type of fight we expected last week in Lambeau, and should find this week's matchup to be a bit easier. Two things became clear under new Offensive Coordinator, Bill Lazor: A.J. Green is the hands-down focal point of this offense, and the running back committee now has a front runner. While Green is once again a strong option, this week provides a good opportunity to finally jump on the Joe Mixon bandwagon. The talented rookie has not had the most successful start to his career, but that was largely due splitting reps with two other backs. Last week, Mixon saw more carries than he had in the first two games combined, as he ran the ball 18 times. That type of volume is always appealing, and this week's situation could provide even more usage and greater opportunity. Against a lowly opponent, the Bengals may possess their first significant lead of the season which would allow Mixon the chance to take over the game. There is some risk because of the other running backs presence, but Mixon could potentially have his first big NFL performance, this week. The Browns' offense seems to be in decent hands under talented rookie quarterback, Deshone Kizer. Despite his many mistakes, he has shown an ability to make plays that must be refreshing for this Browns team. Despite his upside, this Browns offense is still too devoid of talent to consider as truly viable options in this game.
Mario's DFS Take: In true AFC North fashion, we go from one pair of games in which a low score appears likely to another. But, with both the Browns and Bengals desperate to kickstart their respective offenses, it may not be the worst idea to roll with a potential high-scoring game. After all, the firing of Cincinnati's offensive coordinator puts the pressure on the team to start scoring, and we already saw A.J. Green find the endzone under the new regime in Week 3. He and Andy Dalton slide back into play for me if I were to buy into a Bengals surge. DeShone Kizer and Isaiah Crowell make my list of targets for separate, but viable reasons. Kizer displayed exactly how valuable he can be when his team is trailing by throwing for 242 yards and two touchdowns in Week 3, while Crowell remains the team's workhorse without a touchdown to his name. All four players are simply too ingrained in their team's gameplans to be ignored, regardless of the game flow.
Detroit Lions at Minnesota Vikings
Luke's DFS Take: I think it is fair to assume that nobody would have expected Case Keenum to have the type of game that he put together, last week. I also think it is fair to assume he won't be putting up numbers like that again, this week. The Lions' defense has been solid this year and has managed to produce an incredible eight turnovers and score a touchdown in all three games so far. While that type of production from a defense has to eventually calm down, for now, there is no real reason to take a chance starting Keenum who has been unimpressive in every game he's ever played other than last week. Detroit suffered an absolutely crushing loss last week after what appeared to be a game winning touchdown drive was called back. That type of loss can motivate a team to play with a lead to next week to avoid that situation, but it may be difficult to produce this week. The Vikings' defense remains one of the toughest groups in the league and should be able to slow down Stafford and the Lions on Sunday. Bottom line: this division rivalry is not the type of grudge match that seems worth investing in, and even the one defense listed is risky.
Mario's DFS Take: I had been waiting for the news of quarterback Sam Bradford before completely solidifying my pick for the game – despite currently listing Detroit as a confidence pick. The announcement that Bradford will miss the game is hardly surprising – it was expected – but the Vikings opening as the favorite admittedly brings me some concern. It is something I will monitor through the weekend. Regardless, the Vikings' defense absolutely has to be one of the better plays of the weeks, as it is one of the best units in the league and has to try to win a division home game on its own. It will rise to the occasion of, at least, slowing down Stafford and the Lions – which is where the concern lies. On the other side of the matchup, Detroit's defense will benefit from the shift to Case Keenum – although Keenum torched the Lions' defense, last year, with 321 passing yards, three touchdowns, and a rushing touchdown as a member of the Rams – and slides back into play after turning over the Falcons' offense three times in Week 3.
Read More Daily Fantasy Football Content On Sporfolio for a full breakdown of every NFL game
Read More on XN Sports: