It's happening. It's as if the chips we have pocketed are finally getting turned in, and results are improving steadily for our nfl picks against the point spread. It's exciting. It's rewarding. It's also extremely dangerous.
We have now turned in back-to-back-to-back winning weeks against-the-spread to start the year and, as a result, we are likely all near the top of any respective point spread pools. Great! We have also seen a barrage of underdogs show up, as expected, and beat their respective spreads. Finally, we saw the last remnants of overreactions and 'snap judgement' come to fruition and deliver. They lingered one week longer than they should have, and we capitalized.
Unfortunately, we are reaching a saturation point. The 'pullback' will happen soon and some regression will take over. Not necessarily for these picks – as I am specifically proceeding with this in mind – but for the trusted patterns that have worked so well now for three consecutive weeks. It's natural, and it goes along with how the spreads are displayed.
At the time of this writing, there are seven favorites of at least seven points, but also three with no spread, at all – granted, one is due to an injury. The remaining six games are a spattering of numbers, as the spreads try to find their rightful place amidst early-season chaos.
We strive to do the same, but the turmoil about to strike the games are why it was so imperative to jump out to an early lead in the standings. Thankfully, we are in position to ride out the storm.
Below are predictions for each game against the spread. Spreads have been taken from various websites and are subject to change. The spread in parenthesis denotes the selected team. An asterisk denotes a confidence pick.
*Confidence Picks – 2017 Season: 11-8 (Last Week: 4-2)
(2016 Season: 53-67-3) (2015 Season: 69-45-2) (2014 Season: 61-46-2) (3-Year Total: 183-158-7)
All Picks Against Spread – 2017 Season: 27-19-1 (Last Week: 9-6-1)
(2016 Season: 123-136-8) (2015 Season: 143-117-7) (2014 Season: 149-114-4) (3-Year Total: 415-367-19)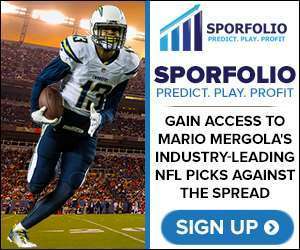 Read More: Full Week 4 NFL Schedule and Odds
Cincinnati Bengals at Cleveland Browns (+3)
At one point, the bleeding has to stop. This 0-3 team from the AFC North has played so poorly that it needs an 'easy game' to back on track. Not necessarily toward a playoff berth but, at least, toward respectability. The Bengals need that, right? Or is it the Browns?
Imagine the company that the Cincinnati Bengals are now keeping. One of the longest tenured head coach-quarterback combination in the National Football League and featuring a few playmakers on offense, the Bengals have sunk so low that they are now being compared to the Cleveland Browns – the laughing stock of the past infinity years. Undoubtedly, this how the Bengals are viewing their matchup with the Browns, and they fully expect to slip out of the basement of the division by Sunday night.
Taking such a direct stance on both franchises from only one viewpoint clearly ignores the other. Essentially, the Cleveland Browns are viewing Sunday in the exact same manner, only with the results reversed. They are a disgusting 1-18 since the start of 2016 – one more loss would leave them with a winning percentage of .050 over a 20-game span – yet they fight hard in nearly every matchup. Surprisingly, the spread for last week's defeat in Indianapolis agreed, as Cleveland was eventually the favorite – only to lose, outright. And, the spread agrees again, or else it wouldn't have opened at a low number and then dipped further.
Cincinnati scored 24 points in Green Bay in Week 3, but did so on only 301 total yards – a season-high total. Cleveland has amassed at least 345 total yards of offense in back-to-back games. In addition, the Bengals were absolutely steamrolled on the ground in the first two weeks of the season, allowing 157 and 168 rushing yards, respectively. The Browns would be wise to utilize the ground attack more, but have frequently been playing from behind – as evidenced by the ninth-fewest rushing attempts in the league. Regardless, Cleveland's quarterback, DeShone Kizer is second on the team with 17 rushing attempts – eleven more than the next-highest running back – and the Bengals allowed their lone touchdown to Houston in Week 3 on a 49-yard scramble by quarterback Deshaun Watson. Thankfully for the Browns, Cincinnati is currently incapable of scoring in bunches, leaving Cleveland's rushing attack free to operate as desired. Once that happens, the matchup will be exploited.
The Browns win by four points and beat the spread.
Detroit Lions (PK)* at Minnesota Vikings
Why should anything surprise us, anymore? In just three short weeks – really, two, for the sake of this example – we have seen arguably the two most likely storylines throughout the league come to fruition: a heart-breaking loss by the Lions – in which they put together an epic comeback – and a Sam Bradford injury. We can basically add these to the adage about death and taxes.
Bradford missed last week because, of course, he would.
The Lions lost in unthinkable fashion because, of course, they would.
Expected results are nice when aligned with other factors but, when the two combine, we are left fighting gravitational pulls in opposite directions. Thankfully, we have the spread. And, in this case, we have no spread.
Just like Week 3, there is no spread for Minnesota's game because the status of quaterback Sam Bradford is uncertain. Thankfully, the writing was on the wall, last week, and the Vikings were destined to win the game with-or-without Bradford – my one regret was not making this a confidence pick. Let's walk through the thought process and see if we can't find some connections.
Bradford missed Week 2, and the Vikings promptly lost to the Steelers. News of his injury broke rather late, however, and the spread jumped quickly in response. We had already picked against the Vikings based on the game, itself, and we were right.
No one was surprised when Bradford's status was undetermined during the middle of last week , as he had already missed the Steelers game. Instead of mistakenly releasing a spread that would eventually change based on Bradford's health, there was none. This forced people into a 'wait-and-see' holding pattern. This was a mistake for most people.
As soon as Bradford was officially listed as 'out,' the spread released, and the 'obvious' pick was to take the Buccaneers – hopefully, you stuck with what I wrote, and not the news. In fact, prior to the announcement, I even tweeted the following:
If I were undecided on the #Vikings pick, I'd ultimately go opposite the news. The spread will overreact to #Bradford's presence or absence.

— Mario Mergola (@MarioMergola) September 21, 2017
Again, shame on me for not making it a confidence pick. But, I digress. The point is that delaying the release of the spread suggested that the final number would tell the story. But, it was irrelevant.
Now, what are people to do? Bradford burned them in Week 2 if they didn't swap out, and he burned them again when they did swap in Week 3.
We can now make a few assumptions for Sunday and, in the extremely unlikely event that all of these are wrong, we can consider changing – it won't happen.
Bradford will not play. The Lions will be favored. The spread will reflect some sort of 'protection' from piling on Detroit. But it won't be a 'trap.' And the Lions will win and cover.
If news breaks that Bradford is out and the Vikings are favored in the game, we might need to reconsider this pick, as it would suggest a 'trap' is laid – I'll also make sure I update this on Twitter, so follow me there. Until that happens, we will stick with the division team who just lost in crippling fashion squaring off with a backup quarterback for whom the Lions will be able to prepare.
Detroit wins by six points and covers.
Click here to sign up for Sporfolio to see the rest of Mario Mergola's NFL picks against the point spread. Mergola finished with the highest total of correct NFL picks against the spread for 2015 and 2016 – tracked by NFLPickwatch – and finished 2015 with an accuracy of 60.53% for his confidence picks.
Photo Credit: Mike Morbeck / Flickr C.C. 2.0.