The second week of the NFL DFS season is naturally littered with 'bounceback' candidates galore, as each team tries to re-establish itself after only sixty minutes of play were used to define it. Thankfully, we did get some clarity about the top targets for a few teams, as well as witness the emergence of some fantasy options we will need to consider in the coming weeks.
Sporfolio's NFL Daily Fantasy Sports game-by-game analysis columns are driven by expected game flow. Based on a combination of our Week 2 NFL picks against the spread and our expectations for a given game, we project the actions necessary to make these picks come to fruition. We aim to pinpoint players integral to our predicted game flow for each game of the week.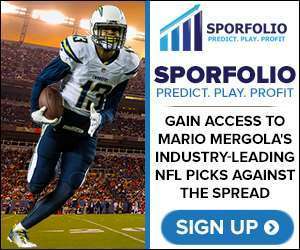 Luke May is Sporfolio's NFL DFS expert, and Mario Mergola operates Sporfolio as the expert for NFL Picks Against the Spread.
Read More:
Week 2 NFL Picks Against the Point Spread
Minnesota Vikings at Pittsburgh Steelers
Luke's DFS Take: Minnesota is another team who certainly impressed in a dominant Week 1 game, but I am not biting quite yet on this one either. Sam Bradford had an amazing game, but he was benefited by having little pressure from the defense and having receivers roaming the field uncovered. Maybe this offense will be better than originally expected, but I'm going to need to see it against better competition – which this Steelers defense will provide – before I buy in. Dalvin Cook, on the other hand, continues to show he is the real deal and will likely see a ton of work as he is a big dual threat back who figures to remain heavily involved. His volume, skill, and modest price tag make him a solid option. The Steelers' offense had some ups and downs in Week 1. The 'ups' mainly surrounded Antonio Brown who had a huge game. Brown faces a tough task this week against Xavier Rhodes – who has a history of stymieing top tier receivers. This entire Vikings' defense is solid and should be able to limit Antonio Brown as much as any group possibly can. The 'down' for the Steelers offense was mainly Le'Veon Bell. Bell struggled to get anything going in what should have been a solid matchup and game flow. There is questions as to whether or not he is in shape after holding out through most of training camp and preseason. Add that to the fact that he has a tough matchup and is the highest priced player of the week, and it will not be surprising to see many people passing up on using Bell this week; I will not be one of those people. Getting a player of his caliber when people are against him is the perfect time to jump in and capitalize. Bell is, hands-down, the most dynamic running back in the NFL, and even if he is rusty from missing camp, players of his skill level do not take long to recover. I will jump all over the possibility of buying into Bell when others are not and hope that he reminds everyone that he is matchup-proof on his way to a dominant performance. He certainly carries some risk to him, but that is the type of risky play that can win you a tournament.
Mario's DFS Take: I don't know what it will take for me to come around on the Minnesota Vikings' offense, but I doubt I ever will. The 5-0 start from 2016 was not enough. Dominant performances by Sam Bradford, Stefon Diggs, and Dalvin Cook against the Saints were not enough. What will be enough? Most likely, some level of sustained success by the bulk of the offensive unit. We haven't seen it, and it stems not just from the Vikings' previous desire to play a conservative game, but from the inability to compete when the defense doesn't keep Minnesota in the game – or in the lead. Basically, let's see what happens when the Steelers' high-flying offense – that was just held down by a division opponent in Cleveland – puts the pressure on Minnesota to keep pace. But, how will the Steelers break through against a Vikings defense that is justifiably considered one of the best? Most likely, using all of their weapons. Le'Veon Bell had a total of 47 yards from scrimmage. He might be rusty from his long holdout, but he will quickly return to the fantasy star we know. Antonio Brown did not disappoint and, while he is almost always a good play, he should command attention, opening up the field for Martavis Bryant. The formerly suspended wide receiver is immensely talented, and it won't be long before he explodes – he had two catches on six targets in Week 1. Finally, Ben Roethlisberger will face a tough secondary, but he rarely meets an opponent that prevents him from actually throwing. He had at least 31 attempts in all-but-two of his starts in 2016. Roethlisberger brings volume, and he has the playmakers to turn his passes into a big fantasy output.
Chicago Bears at Tampa Bay Buccaneers
Luke's DFS Take: The Buccaneers enter Week 2 devoid of a regular season to rely on for information due to the postponement of their Week 1 game. Week 2 always provides an exciting test for fantasy players because there was so much to be learned from Week 1's experiences. Without that experience for the Buccaneers, it is difficult to know what to expect. There is a lot of buzz surrounding their team this season, but I do not know what to expect from their offense. With Doug Martin out, Jacquizz Rodgers will surely see a heavy workload which makes him a decent choice at a modest cost. Outside of that there is a degree of unknown about their offense. I am intrigued to see how newly-acquired DeSean Jackson fits into this offense and how he impacts the targets that go towards Mike Evans and Cameron Brate. Jameis Winston seems poised for a strong season, but the uncertainty of how the offense will run, and the possibility of them protecting a lead for most of this game make him a high-risk high-reward play this week. The Buccaneers' defense should be solid this season and gets to face off with a Bears offense that is simply devoid of wide receivers at this point. The offense has to run through the running back tandem of Jordan Howard and Tarek Cohen, but with the Buccaneers likely keying on them, this is probably not a bad week to avoid the duo.
Mario's DFS Take: The Bears and Buccaneers combine for one of the better 'storyline games' of Week 2, as Chicago's starting quarterback, Mike Glennon, was a highly-regarded backup quarterback prior to this season. His former employer? The Tampa Bay Buccaneers. I had a lengthy writeup on how difficult it is for a quarterback to face his former team, and Glennon's situation is as tough as any. He even has to face a Buccaneers squad that is about to make its season debut after Hurricane Irma forced the team out of action in Week 1. They will be ready. And, as Tampa Bay pulls away from the Bears, Glennon will have to take to the air. With another devastating injury to Kevin White, Kendall Wright steps in as the clear top option for Glennon. Wright has the ideal situation, as he basically guaranteed the lion's share of looks. Rookie running back Tarik Cohen will certainly be utilized, as well, after his incredible debut, but Tampa Bay will not be as caught by surprise as Atlanta was. With the game expected to go heavily in Tampa Bay's favor, Jacquizz Rodgers – in the absence of Doug Martin – should be asked, once again, to carry the workload. Without a game this season from which we can draw conclusions regarding Tampa Bay's trust in Rodgers, we do need to exercise caution. But, it is hard to ignore that Rodgers is as successful a fill-in option as any. In Weeks 4, 5, and 6 of last season – the three games in which he received at least 20 combined carries and receptions – he rushed for 324 yards on 75 carries and caught seven passes for 46 yards.
Read More Daily Fantasy Football Content On Sporfolio
Photo Credit: Keith Allison / Flickr C.C. 2.0