We might as well keep it going. The picks had already been on fire lately – as noted in previous articles, over 58% accuracy for most of the time since the spreadsheet's final tweak at the end of June – but, they kicked into another gear these past two days. Two DFS articles, four games' over/under run totals picked, and four wins. I certainly look forward to when Colin can return to his regular writing duties, but it has been fun – and rewarding – to see a perfect 4-0 in my baseball picks alongside these columns.
As a result of these past two days, the overall record for the picks since June 30th has moved up to 59.6 percent accuracy. Remember, the best part about that score is that it mainly includes your average -110 odds for each game. A lot of other sites will brag about baseball picks' accuracy, but they are usually including games in which the favorite is in the range of -200. You need to have a much higher winning percentage to profit from those. But I digress. This is about daily fantasy baseball, so let's get to it! Of course, via the spreadsheet.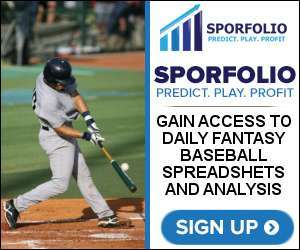 Low-Scoring Games
Cleveland Indians at Tampa Bay Rays – I love Blake Snell. Maybe it is the fact that he was a highly-touted prospect for a long time and I had eagerly anticipated his arrival. Or maybe it is the beauty of his ridiculous curveball – seriously, watch it. Or even the never-ending supply of arms to come out of the Rays' farm system and into fantasy relevance. Whatever the reason, I'm usually looking for pitchers in a game started by Snell. My spreadsheet may disagree, at times, but we can have our differences. I'll take Snell's career strikeout rate of one-per-inning every time he toes the rubber. That is, until we look at Danny Salazar's production. His 4.32 ERA is actually the highest of his career – at the completion of any season – but he is striking out an obscene 12.6 batters-per-nine-innings-pitched. Look no further for your pitching targets.
Targets: Danny Salazar and Blake Snell
New York Mets at Philadelphia Phillies – The eventual release of the starting lineups might move me away from this game in terms of general overall expectations, but the initial setup is nearly perfect for pitchers. Jacob deGrom gets the opportunity to rebound from a pedestrian five inning, three earned run performance in his last outing. He takes on a Phillies offense ranked third-worst in runs-per-game. As an added bonus, deGrom struck out twelve batters the last time he faced Philadelphia. 'Strikeouts' are the calling card of Vince Velasquez – 277 in 257.2 career innings – and, while the Mets rank near the middle-of-the-pack in offensive numbers, they are averaging only 2.3 runs-per-game over the last six games.
Targets: Jacob deGrom, then Vince Velasquez
High-Scoring Plays
Houston Astros at Chicago White Sox – The Astros and White Sox have been kind to us since I started filling in for Colin, and there is no reason for that to change on Thursday. In fact, there is even a great setup for one of the two teams. The White Sox have now scored 15 runs over the last two games and are on the verge of sweeping the Astros. The chasm between the two teams in the standings borders on infinity – Houston has the most wins in the American League, while the White Sox have the most losses – so we should be ready for a regression in the series finale. This gives Houston's bats a chance to wake up against the 1-4 Carlos Rodon and his 4.66 ERA – as much as I like Rodon long-term, his ERA has steadily climbed in each of his three seasons.
Targets: Astros hitters, then White Sox hitters
Los Angeles Dodgers at Arizona Diamondbacks – Yu Darvish's debut with the Dodgers was nothing short of masterful – 7 shutout innings, one walk, only three hits allowed, and ten strikeouts. Perfect. Now, he can regress. And said return to normalcy will be furthered by the shift in both competition and venue from the New York Mets of Citi Field to the Diamondbacks in hitter-friendly Arizona. Darvish will not shut down the Diamondbacks on Thursday. Nor will Anthony Banda stifle the hottest team in baseball. He may be a southpaw facing a lineup full of left-handed hitters, but Los Angeles' bats will not be denied.
Targets: Dodgers and Diamondbacks hitters
Undervalued Plays
A.J. Pollock – As mentioned in the high-scoring game section, Arizona's bats should be targeted against Darvish on Thursday. This starts with the bargain of A.J. Pollock, mired in a beautiful 1-for-12 skid, from which a rebound is likely. Hitting in front of Paul Goldschmidt only increases Pollock's value.
Kyle Seager – It is probably time for people to start paying attention to the Seattle Mariners. My preseason pick for the American League pennant, the Mariners have finally climbed back into the playoff picture after a slow start. The same slow start shared by Kyle Seager – just five total home runs through May. He now has 17 on the year – including one on Wednesday – and is right in the middle of a Seattle resurgence.
Christian Yelich – Whether-or-not the game between the Marlins and Nationals gets pegged as high-scoring or low-scoring by my spreadsheet – at the time of this writing, lineups are not released, so it isn't producing a number, but I suspect it will lean toward pitchers – I'm buying into Christian Yelich on Thursday. Yelich is batting a mere .158 over his last 11 games, and was given the night off on Wednesday. Returning to action against Tanner Roark's disappointing 4.82 ERA should be all Yelich needs to outperform his low price.
Sign up for Sporfolio to gain access to NFL picks and DFS, NHL DFS, and MLB DFS spreadsheets (picks from the Pitcher Breakdown Spreadsheet – all over/unders – are now at 59.6% accuracy since June 30).
Featured Image Credit: By Arturo Pardavila III from Hoboken, NJ, USA (#WorldSeries Game 2: Jacob deGrom) [CC BY 2.0], via Wikimedia Commons