Trade winds are circling in the Bronx as the Yankees landed Todd Frazier and two arms from the White Sox bullpen.  The Yankees are giving up Blake Rutherford who was their 1st pick in 2016 and the No-3 ranked prospect in their system.  It seems like a lot to give up since Frazier has an expiring contract at the end of this year.  However there doesn't seem like there is a lot of room in the Yankee outfield for Rutherford to come up and grow.  I don't think it is a good trade, the Yankees are in a good position and shouldn't give up this good of a prospect for bullpen arms.  If they got a proven starting pitcher that would be worth it but this is a bit of a stretch for the Yankees.  They still have a ton of prospects and great young talent already in the Bigs so they will be alright.
Every team is in action today with a couple of afternoon games.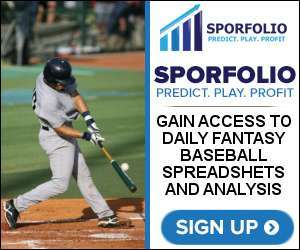 Low-Scoring Plays
St. Louis Cardinals @ New York Mets – A number of teams have been in contact with the Mets for Jacob deGrom, however the Mets aren't interested as they still think this is a pitching staff that can lead them to the promised land.  deGrom has been filthy this year and is the best pitcher on the day.  The Cardinals are only batting .255  as a team which is 16th best in the league.  deGrom has a WHIP of 1.18, and an ERA a little above 3.  The Mets should be in good shape to win this one.
Targets: deGrom, Bruce
Arizona Diamondbacks @ Cincinnati Reds – The Reds were shut down yesterday by the Diamondbacks and Robbie Ray.  Ray didn't have the strongest performance as he only struck out 4 batters over 6 innings.  The Diamondbacks should have another big game today with Greinke on the mound.  He will have a stronger game than Ray did as the Reds still have yet to prove to be a threat.  The Diamondbacks are scoring runs at will so Greinke will pick up the win in this game, it just depends on how many he is going to strike out.  Goldschmidt is one of the best bats in the league and is always a great play look for him to pick up a couple hits here and drive in runs.
Target: Greinke, Goldschmidt
Detroit Tigers @ Kansas City Royals – The Royals have been hot a have climbed back into the race in the AL Central. Verlander is pitching for the Tigers who had a less than stellar first half of the season.  It wasn't awful but it wasn't up to Verlander's standards.  The second half of the season is a new season so look for Verlander to have a good outing here.  Castallenos had a monster game yesterday and the Tiger veterans in Carbrera and Martinez are always great plays.  Look for the Tigers to score runs and help Verlander pick up this win.
Targets: Verlander, Castallenos, Cabrera
High-Scoring Plays
Washington Nationals @ L.A. Angels – The faces of baseball square off in this series for the only the 2nd time in their careers.  Harper vs Trout should set up to be a big series. The game finished 4-3 last night where both Trout and Harper homered.  The difference was that Harper came up with a triple to help the Nationals win it.  The Angles are a different lineup with with Trout in it.  The Nationals are hot and are due for a loss in this second half of the season.  Look for Trout to have a big day against Gio Gonzalez and help turn the Angels season around.
Targets: Trout, Escobar, Revere
Texas Rangers @ Baltimore Orioles – The Orioles went off last night as they scored 6 in the first inning.  That is the Oriole team that was here in the beginning in the season and the Oriole team that I think will stay.  Look for them to ride off of the offense from yesterday and have another big day with their bats.  Machado, Trumbo, Davis, and Jones are all too good of players to be silenced for so long.  Schoop is one of the quiet players but is electric.  He can hit for power and run very well once he's on the base.
Targets: Schoop, Trumbo, Machado
Undervalued Players
Gray – Oak – SP – Gray is one of the players that seems to be on the move this trade deadline. Since he might traded I like him to have a huge game to help his trade value. His last 4 starts have been incredible while his ERA is around 1.  He is only $9600 which is a steal.
Hosmer – 1B – KC – If Verlander is going to lose this game, one reason will be because of Hosmer.  He is batting .314 with 13 home runs and 44 RBI's.  Hosmer is a solid play, I won't be taking him today, but if you don't believe in Verlander take him.
Holt – 2B/OF – BOS – Holt is back up in the big leagues and could be the answer the Red Sox were looking for at 3rd base.  They can't afford to trade more prospects so they might as well give Holt the shot.  If he is in the starting line up take him as he is only $3300.  He bats 9th so he has Mookie, Bennintendi, Bogaerts coming up right after him.
Khris Davis – OF – OAK – Davis has been crushing the ball this year, he has 27 home runs but only 65 as the A's are not getting on base for him.  However a home run is still very valuable for a player and Davis can hit them.  He is only $4200 which is a great price point for a slugger.
Sign up for Sporfolio to gain access to NFL picks and DFS, NHL DFS, and MLB DFS spreadsheets.
Featured Image Credit: Keith Allison/Flickr C.C. 2.0