June is here and Mr. Met has gone rogue.  Last night a video surfaced of him giving a fan the middle finger.  All the Met supporters were saying "he doesn't have a middle finger" but you know what his intentions were when he did that.  The Mets have enough to deal with, and now they have to apologize for the actions of their mascot.  Check for Syndergaard's twitter as he hates mascots and is always fighting with Mr. Met on there-it's actually pretty funny.
Today we have a small slate a games with some coming to you as early as 12 so get those lineups in.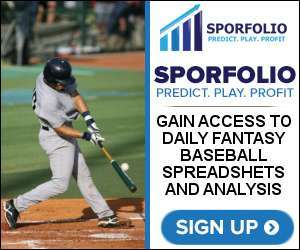 Low-Scoring Plays
Arizona Diamondbacks @ Miami Marlins – Greinke should be a lock in your line up as he is the top pitcher of the day.  The Marlins are an average ball club, so Greinke should play well in this one.  In a day where there isn't a lot of games you have to have at least one team with the top pitcher on it.  He will be highly owned however if that pitcher puts up big numbers there is 0 shot you are able to catch back up to the pack.  Taking Diamondbacks batters wouldn't be the worst move.
Targets: Greinke, Goldschmidt
The Arizona-Miami game is a lock for low scoring in my eyes.  No other game is a lock as I can see it.  I like the Red Sox – Orioles game to stay low, however with those offenses you never know.  Eduardo Rodriguez has been great in his last two outing.  But he is still a young pitcher going up against a tough offense.  I will probably end up taking him in my lineup  but it's bold going against a team that hates them this year.
The other game that I could see go low scoring is the Dodgers-Cardinals.  Again, I don't love this play however the Cardinals are not putting up the most prolific offensive numbers so Brandon McCarthy could have a big day for the Dodgers.  Again I don't see that game as a lock like I see the Diamondbacks game, however McCarthy wouldn't be the worst play.
High-Scoring Plays
New York Yankees @ Toronto Blue Jays – I love this game to be a slugfest that will turn into a bat flipping contest between Bautista and Judge.  The Yankee-Red Sox Rivalry is on the verge of coming back, however this year the Red Sox hate the Orioles, I like the Yankees and Blue Jays to get some rivalry going here. Sabathia is having a better year than I thought, but Tulo is back for the Jays and Bautista is finding his grove. Bautista is absolutely on the back 9 of his career however he can still bomb balls.  Judge will do damage but Joey Battflips will hit a late home run to help the Blue Jays.
Targets: Tulo,Bautista
Milwaukee Brewers @ New York Mets – I have finally figured out the Mets, they are going to scoring 8 runs in a game or get shut out.  I like the Mets to bounce back after getting shut out last night.  Thames went deep last night so he had his fix and should go hide in the corner for another week.  Bruce, Duda, Walker, and Conforto have all been playing well for the Mets.  I don't think a Brewers pitcher can shut down those 4 two nights in a row.  The Mets' lineup has potential, it's unfortunate they have the worst training staff in the country.
Targets: Duda, Conforto
Undervalued Plays
In a day where there aren't many games there really isn't any one undervalued.  I would stalk the starting lineups and see who isn't playing, and then take their backup.  Specifically, an older veteran won't be in the lineup so look for his back up for cheap.  With so few games it will be easy to make a lineup, but the most undervalued player will be Pujols, as he will hit 600 tonight.  That's right you heard it here first, Sporfolio is breaking news! Pujols hits 600, becomes the 9th member of the exclusive club.
Sign up for Sporfolio to gain access to NFL picks and DFS, NHL DFS, and MLB DFS spreadsheets (picks from the Pitcher Breakdown Spreadsheet are now at 54.8% accuracy since May 21).
Featured Image Credit: Tyler Bolken / Flickr. C.C 2.0