"Will they play?" Undoubtedly, this will be the question most asked throughout Week 17.
Unfortunately, not only will we never get a straight answer regarding the gameplan of coaches entering a regular season finale, we also cannot even trust the information we are given. Last year, Cardinals head coach Bruce Arians went on record stating that he would not rest players in his team's season finale. A 36-6 home loss later in which the backup quarterback attempted 18 passes in relief of Carson Palmer, Arians would later state that he blatantly lied about his intentions.
Attempting to win a daily fantasy football tournament requires taking bold chances. But, on a week that includes all sixteen games being played on Sunday, there are more-than-enough matchups to target if we choose to avoid a few due to uncertainty about playing time.
Sporfolio's NFL Daily Fantasy Sports game-by-game analysis columns are driven by expected game flow. Based on a combination of our Week 17 NFL picks against the spread and our expectations for a given game, we project the actions necessary to make these picks come to fruition. We aim to pinpoint players integral to our predicted game flow for each game of the week.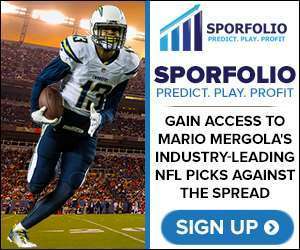 Luke May is Sporfolio's NFL DFS expert, and Mario Mergola operates Sporfolio as the expert for NFL Picks Against the Spread.
New England Patriots at Miami Dolphins
Luke's DFS Take: With both the Patriots and Dolphins already in the playoffs but able to improve their respective positions, there is some level of motivation for the teams to let their starters play if the game is close. The Patriots' defense may not be elite, but the coaching staff is. This translates to New England limiting Matt Moore and the Dolphins. Jay Ajayi would be the top target from Miami, as he has shown the ability to follow up one massive game with another great one, but we are not necessarily on the verge of a high-scoring affair. With that, Tom Brady is always expected to succeed, but the rest of his offense is nearly impossible to project. Julian Edelman has been a target-machine since Rob Gronkowski has been out, and that should continue, but the three-headed running back group that New England uses is not worth targeting.
Mario's DFS Take: In the only matchup in Week 17 between two teams that have already clinched postseason berths, the Dolphins and Patriots might also be the only playoff-bound teams that will play their starters for an extended period of time. New England would clinch the first seed in the AFC with a win, while the Dolphins could move up to the fifth seed with a win and some help – this would send Miami to Houston instead of Pittsburgh. Of course, rumors and reports are all less definitive with the Dolphins and Patriots, and it leaves us in the same position as the rest of the matchups on Sunday. In terms of game flow, both running backs LeGarrette Blount and Jay Ajayi would be in line for nice outings – as Blount's team should be leading and running the ball while Miami's offense runs through Ajayi – but neither can be safely trusted to play the full game. Thankfully, their respective prices are a bit decreased, allowing for a smaller number of fantasy points needed to deliver reasonable value. Elsewhere, we can actually target Dolphins quarterback Matt Moore, as he should be given as many snaps as possible to get more comfortable with an offense he will soon be leading into the playoffs.
Kansas City Chiefs at San Diego Chargers
Luke's DFS Take: The Chiefs are in position to potentially take over the division lead but, with the Chargers being the only team in the league to lose to Cleveland, San Diego will be poised to throw everything at Kansas City. The Chiefs' defense has been an outstanding fantasy play thanks to its special teams contributions and defensive touchdowns, but it has been beaten by opposing quarterbacks. Philip Rivers and his bevy of weapons are all in-line to succeed but, as usual, it is a toss-up as to which wide receiver Rivers will target most. Heading into this week, I was high on Ronnie Hillman – who was set to take over as the every-down-back with Kenneth Farrow out – but softened my stance with reports that Melvin Gordon will return for this final game. At the time of this writing, it now appears likely that Gordon won't play on Sunday, allowing Hillman to take over as a fantastic cheap option.
Mario's DFS Take: I am thrilled to buy back into the Chargers immediately after their embarrassing loss in Cleveland – 'embarrassing' simply because they lost – especially in what-could-be the team's final home game in San Diego. Unfortunately, the Chargers are still in the same difficult position for fantasy purposes. That is, they have too many talented receiving options and not enough healthy running backs. This would lead to a recommendation of quarterback Philip Rivers, but he will face one of the league's most opportunistic defenses – third-most interceptions in the league. The Chiefs do, however, only rank 14th in defensive net-yards-per-pass-attempt and, after losing to Cleveland, Rivers and his offense should be in all-out attack mode in an attempt to cripple the Chiefs' division hopes. We always love to use a running back against a Kansas City run defense allowing the seventh-most yards, and it appears as if Ronnie Hillman will take over for the injured Melvin Gordon. We also need to look at Antonio Gates as the player most likely to receive a redzone target to close out the team's tenure in San Diego. From Kansas City, running back Spencer Ware is only 79 yards away from a 1,000 rush yard campaign. Expect him to get extra carries to reach the milestone, assuming he is healthy enough to start.