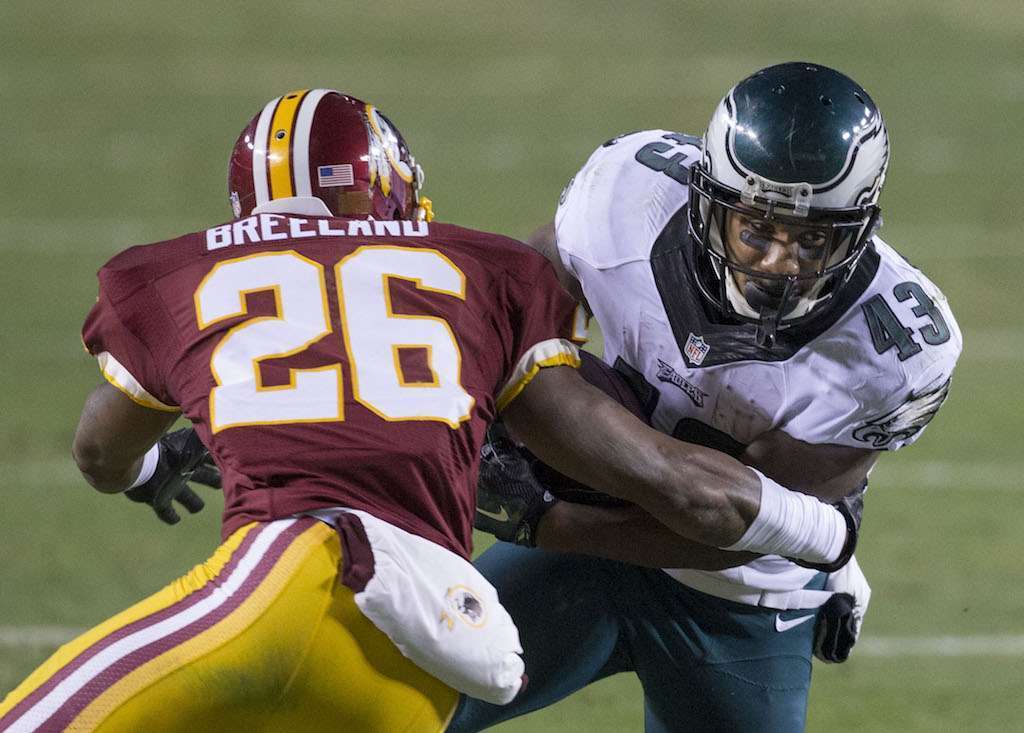 Latest posts by Mario Mergola
(see all)
Despite 26 teams in action on Sunday and Monday in Week 10, only two division games remain after Thursday night's contest. The lack of familiarity between opponents forces an extra level of consideration when breaking down each game, but it likely also contributed to universally smaller spreads and, thus, a higher expectation of potentially closer games. Thankfully, we can lean on each team's strength as there should be a slightly smaller need to think outside-the-box.
We also have another oddity in Week 10, as the typical Millionaire Maker tournament that we have come to know and love is absent from this week's set of tournaments on DraftKings. There is, however, a smaller risk-reward replacement in the form of a "$2M Mini Midseason Celebration." Especially with relative uncertainty between how one team will attack its non-division opponent, it might actually be the best time for such a change in approach to tournaments, since the smaller fee to play could lead to a more diversified set of options for multiple lineups.
Sporfolio's NFL Daily Fantasy Sports game-by-game analysis columns are driven by expected game flow. Based on a combination of our Week 10 NFL picks against the spread and our expectations for a given game, we project the actions necessary to make these picks come to fruition. We aim to pinpoint players integral to our predicted game flow for each game of the week.
Luke May is Sporfolio's NFL DFS expert, and Mario Mergola operates Sporfolio as the expert for NFL Picks Against the Spread.
Denver Broncos at New Orleans Saints
Luke's DFS Take: The matchup between the Broncos and Saints is hard to love from a fantasy perspective as, even though each team has an obvious strength, they will go directly head-to-head on Sunday. Last week, the Broncos' defense was beat up by the Raiders, but coming off a tough loss where they sipped to third place in the AFC West, I expect a better performance from Denver's stronger unit. This would include the Broncos slowing down Drew Brees and company enough to make the Saints' offensive players worth avoiding, despite their current hot streak. Unfortunately, it isn't worth buying into Denver's defense as a play on Sunday simply because Brees has the ability to rise to the occasion, but the Saints' defense is a nice option since it recently got back a few starters from injuries and has a good matchup against a struggling Broncos' offense.
Mario's DFS Take: The Seahawks' defense couldn't stop it, a trip to San Francisco couldn't stop it, and a return home in an attempt to secure a winning record for the first time since the end of 2013 will only enhance the Saints' offense. Especially after the Raiders just exploited the Broncos' defense, I am ready to take a chance with Drew Brees on Sunday. Perhaps I will temper expectations for Brandin Cooks, as Denver is good enough to slow down a specific player upon which it can focus, but Brees is the key to an offense that contains a number of weapons. To that point, Mark Ingram is worth considering after breaking out for 153 rushing yards in Week 9, but he lost a whopping 23 carries to Tim Hightower. Unfortunately, it will probably be wisest to stay away from either running back, but a complete contrarian play would be the use of New Orleans' defense – Denver has turned the ball over five times over the past two games.
Minnesota Vikings at Washington Redskins
Luke's DFS Take: The Vikings are coming off three consecutive losses after starting the season 5-0 they desperately need a win to regain some confidence. Minnesota's offense looks like the prime candidate to turn it around after a few weak performances in a row, but it is difficult to love any of the Vikings' skill position players. All of a sudden, there are three running backs who should see action, making it nearly impossible to trust one, despite the great matchup. If the Vikings' offense is, indeed, going to have success, it will likely have to funnel through Stefon Diggs. The most likely option to succeed is still the Vikings' defense, which has a great chance to back to its dominant ways, this week.
Mario's DFS Take: I am usually the one shouting loudest to avoid anyone from Minnesota on a weekly basis, but Sunday's game in Washington D.C. is an exception. Not only are the Vikings coming off one of the toughest losses of the season, but they have a great head-to-head matchup against a porous Redskins run defense – allowing the second-most yards-per-attempt. I want to own a Vikings' running back, but deciding between the bevy of options is maddening – Jerrick McKinnon is currently penciled into my lineup. I will consider both Stefon Diggs and Kyle Rudolph, yet again, but Diggs gets the edge thanks to 27 targets over the last two games and only one touchdown. The Vikings' defense is also worth a look as the entire team is ready for a rebound.
Photo Credit: Keith Allison/Flickr C.C 2.0