We are reaching the point of no return. It is make-or-break time.
Entering Week 9, the Falcons, Cowboys, Saints, and Chargers were arguably the easiest teams to target for potential wins – given their matchups and recent history. All four teams won and covered their spreads. There were no letdowns. Not one. Easy picks. Easy wins. In fact, two weeks ago, we specifically targeted Week 9 as a potential shift for the tide in the absence of New England. Wrong again.
Now beyond the midpoint of the 2016 NFL season, it is apparent that this year has deviated from a typical path. Whether it is decreased ratings, split attention with the presidential election and a World Series filled with history, or a subtle change in how people are consuming the sport, the football is bouncing a bit differently. It is now time to ask the same question that always arises when trends, patterns, or any traceable numbers begin to outperform at an outrageous pace. "Will it continue?"
Not everything. It can't.
Removing all opinion and subjective reasoning from the conversation, we can hone in on at least one fact. Both the election and a World Series that included the Cubs and Indians are now over. Perhaps it has no impact on the state of the National Football League, but it is an undeniable truth that Week 10 is a post-election set of games and, by definition, different from the last nine.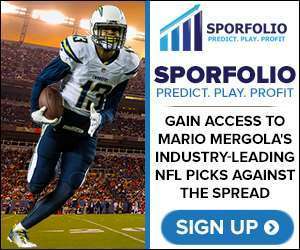 We might have actually already seen the attention slowly creep back towards football, as many people are arguing that Week 9's conclusion – Monday Night Football between the Seahawks and Bills – was one of the "best games of the season." Was it? Or were people just more inclined to watch?
It is also interesting that such claims are being made after a week that featured not only the four aforementioned 'easy' teams winning, but one in which favorites had their best showing of the season – by our spreads, 8-3-2. As favorites tend to gain more attention when covering spreads, this could draw more eyeballs back to the television in the coming weeks.
The debates and other televised events that have likely chipped away at viewers' attention have been replaced with your regular scheduled programming. By our estimation, this is the increase in 'upsets' and tight games that we have grown accustomed to seeing over the years.
Below are predictions for each game against the spread. Spreads have been taken from various websites and are subject to change. The spread in parenthesis denotes the selected team. An asterisk denotes a confidence pick.
*Confidence Picks – 2016 Season: 28-32-1 (Last Week: 1-5)
(2015 Season: 69-45-2) (2014 Season: 61-46-2)
All Picks Against Spread – 2016 Season: 61-68-4 (Last Week: 4-7-2)
(2015 Season: 143-117-7) (2014 Season: 149-114-4)
Denver Broncos at New Orleans Saints (-2.5)
We write about regression to the mean in basically every column, but defining said 'mean' and anticipating when the move will occur is the bread-and-butter of picking games against the spread correctly. Of course, we haven't necessarily done so in 2016, but some teams simply took longer to develop and establish their eventual destinations than others.
The Denver Broncos and New Orleans Saints are finally ready to make their respective moves, albeit in opposite directions.
After back-to-back losing seasons for the first time since 1999, the Saints looked poised to make it three-in-a-row when starting 2016 in an 0-3 hole. Now winners of three-of-their-last-four games, they appear to have put an end to any further slide and are in the middle of a multi-season rebound.
Denver is in a race to catch up to New Orleans, only sinking from the top instead of rising from the bottom. After the defense carried the team to a championship in 2015, its dominance continued into the first month of the new season, holding four consecutive opponents under 21 points en route to a 4-0 start. In a league where the ability to throw the football reigns supreme, however, quarterbacks Trevor Siemian and Paxton Lynch have turned in three loss in the team's last five games, all of which included scores of 20 points or fewer.
Drew Brees and the Saints have the league's second-best average of points-per-game, lead the league in yards, have scored at least thirty points five times, and recently topped Seattle's phenomenal defense. Playing in front of its home crowd with a chance to move over .500 for the first time since December of 2013, New Orleans will not let the momentum slip away.
The Saints' defense catches a break against a sub-par Broncos offense, while Brees and company continues to deliver. New Orleans wins by six and covers the spread.
Minnesota Vikings (+3)* at Washington Redskins
Those Minnesota Vikings. Not really a 5-0 team? Of course. Pulled down by a poor offense? Certainly. Undeserving of being the favorite in last week's game? Not so fast.
The final score of Minnesota's home bout with the Lions in Week 9 suggests that Detroit – by virtue of winning – played a better game than the Vikings. But it does not encapsulate the rebound performance that was in the works for Minnesota throughout the contest. It ignores how the Vikings missed an extra point, had a field goal blocked, moved the ball within five yards of the Lions' endzone twice in the fourth quarter, still came-from-behind to take the lead with less than thirty seconds left in regulation, and only lost via a miracle, 58-yard field goal by Detroit's Matt Prater that sent the game to overtime. Nearly impossible losses always put a team on the radar for their next contest, especially when said team would have moved to 6-2. And is getting points the following week.
Washington played arguably its most impressive game of the season two weeks ago in London, and came away with an unsatisfying tie. In fact, it came within a chip-shot missed field goal of winning outright. Regardless, the Redskins' nearly flawless performance will have had its momentum lost in the team's bye week while creating the illusion that it is about to meet a sinking Vikings team. Again, a Vikings team that imploded and still sits atop the NFC North with a 5-3 record.
Minnesota's often-criticized offense – by this column – tallied its highest total of yards since Week 5 while Washington's defense sits at 21st in the league in yards, has allowed the third-most first downs, and second-most rushing yards-per-attempt. The Vikings rebound and finish what they started in Week 9, winning by four and beating the spread.
Click here to sign up for Sporfolio to see the rest of Mario Mergola's NFL picks against the point spread. Mergola finished with the highest total of correct NFL picks against the spread for the past two seasons – tracked by NFLPickwatch, and finished 2015 with an accuracy of 60.53% for his confidence picks.
Featured Image Credit: By Kelly Bailey [CC BY 2.0], via Wikimedia Commons