Jeremy Langford was big for me last year. I went on KGSO 1410 radio in Kansas and the West Coast Recess, NGSC internet product, and touted him extremely hard for DFS week 9 and was able to help some listeners cash big that were unaware of the high pedigree prospect who danced his way to 182 combined air and ground yards on 20 rushes and 7 receptions topped off with two touchdowns. Is there a soft spot in my heart for him? Yes, but he is being incredibly undervalued this year due to reasons I can logically dismantle with ease. I am not here to tell you Le'Veon Bell is going to be a top fantasy RB this year. I'm here to dig deeper and provide a mid to late round guy that provides league winning upside at a severe discount. I was able to successfully help a lot of readers last year with Keenan Allen, when few touts were on him. Jeremy Langford is the running back reincarnate.
The Issues
There are two perceived issues that are clouding the fantasy populace's mind when it comes to Langford. The perception of John Fox being tethered to a hot hand committee approach, and the threat of 5th round pick Jordan Howard.
As far as a 2 back system goes, we have to look at the scope under which these judgments were made upon John Fox's style of running his half backs out there. While last year's Ronnie Hillman and C.J. Anderson backfield split was nothing short of a fantasy nightmare, when Fox has had a capable back that wasn't injured, he rides them into the ground. In 2013 Knowshon Moreno compiled 241 carries for 1038 yards and 10 touchdowns on the ground coupled with 60 receptions for 548 yards and 3 more touchdowns through the air, finishing as the 5th highest standard scoring running back in fantasy football on the season. That comes out to an average of 15.12 carries and 3.75 receptions per game totaling 18.82 touches per game. That sounds like a workhorse to me. Doesn't to you? Knowshon's 2013 301 touches would have been the 5th most last season among RBs.
Let's not forget last years apple of my eye, C.J. Anderson, who was clearly playing hurt, and severely under performed his skill level. Let us not be so biased towards the recent past that we forget C.J. Anderson's dominant second half of 2014, where he did everything. Well, everything except share the ball. When he went home, he took it with him. Over the final seven games of 2014 CJA compiled 1173 yards total and 10 touchdowns, setting the fantasy and purist football world on fire. He averaged 24 touches per game over that span. The play caller? John Fox.
The 'Threat'
Jordan Howard has decent pedigree, but has already been profiled as a "change-of-pace back" by Bears OC Dowell Loggains. He is a stiff north south runner, while Jeremy Langford has loose hips and great cutting ability. While there are some statistics that favor Howard, one must remember the majority of his college statistics were compiled in the CUSA, while Langford's were all made in the Big Ten, which is far more competitive. In addition, Howard struggled in college with the biggest issue that keeps young running backs off the field in the NFL, picking up the blitz. This problem will keep Howard from being able to play extended downs, and make the Bear's play calling very predictable when he is on the field. No quarterback feels comfortable with a guy that can't protect him, and if he struggled in college, facing NFL defensive backs will be a nightmare. Howard also struggled with pass catching in college while Jeremy Langford has soft and skilled hands. Many in the industry believe Howard may play most of his downs on special teams this year and that is a sentiment I agree with.
The eye test on Jeremy Langford is incredible as well. He showed electricity, agility, speed, and burst through the hole on tape. Langford also has already adjusted to the NFL well, and until we see how Jordan Howard's skill and work ethic translate, fear of him taking Langford's job, or even a large share of his workload, is absurd.
Where You Get Him
Jeremy Langford is hanging around at an average pick of 69.76 according to RotoViz MFL10 ADP application, with a standard deviation of 7.33. These early league ADPs tend to set the market for the casual fan leagues. This means you'll get him in the 5th or 6th round, where he is criminally undervalued(a @seigeDFS saying).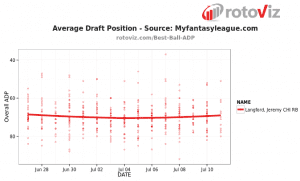 Putting Words to Numbers
Bears running backs compiled 424 carries and 70 receptions last season, behind a league average offensive line. Let's say Jeremy Langford gets just a 60% share of those touches at his 3.6 YPC rate of last year(he averaged more through the air, but for the sake of wiggle room we'll use 3.6 for that mark as well). If that low mark of 3.6 YPC is a red flag for you, let's remember Le'Veon Bell had a 3.5 YPC rate the year before he took the FF world by storm and ended up as the overall RB1(pointed out by @chrisraybon on twitter). 60% of 494 touches is 295.2. Multiply that by 3.6 and you get 1062.72 yards. That's 106.272 standard scoring fantasy points. He had 7 touchdowns last year, which I view as his floor for next season. Add the 42 fantasy points and you have 148.272 fantasy points which would have landed him at the RB 18 of last year. He is going as the 22nd RB off the board and that alone shows ADP(average draft position) value at his floor. I used extremely modest numbers to calculate these numbers and expect him to far exceed every single one of these marks. If he outperforms those numbers by even 10% he has 163.0992 fantasy points, which would have been the RB 13. If he exceeds the marks by 20%, which I believe is the most likely outcome, he would have 177.9264 fpts, landing at the fantasy RB 7 of yesteryear.
There it is. The issues holding down his ADP dislodged, the value, and the possibilities. Stop spending your draft preparation over worrying about your first pick and dig deeper to find buried league winners being overlooked by the populace. With a floor that lands above his ADP value and a ceiling that competes with backs being taken in the first 3 rounds, why not? Seeing things before they happen is difficult, but if you can take a glimpse into the future, you can see yourself carrying the fantasy trophy and pride on the back of Jeremy Langford.
Featured Image Credit: by Joon Han Contact: onejoon@hotmail.com (Own work) [CC BY-SA 3.0 or GFDL], via Wikimedia Commons