A packed day of baseball includes sixteen games thanks to a rainout on Monday night. The Mets and Pirates will start the day in the late afternoon, but check which of the two matchups are included in each daily fantasy website's slate. Conveniently, with either Steven Matz or Jacob deGrom ineligible for a given contest – due to the doubleheader – the list of pitchers to use grows shorter. For the second consecutive day, hitters gain the edge.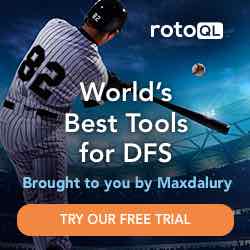 Currently, we are using xFIP and wOBA simply to compare one pitcher's performance against another – especially against opposite-handed hitters. We aren't using these numbers for calculation. To help with some calculations, we have assumed that each hitter and pitcher has played at least one game. Each pitcher was assigned an innings total relative to his average projection.
Check the starting lineups and weather reports prior to making any plays, as these change without notice.
Projected Low-Scoring Games
New York Mets at Pittsburgh Pirates – When the Mets and Pirates were scheduled to begin their series on Monday night, we had targeted the game as a potentially high-scoring contest. As fate would have it, rain moved the game into Tuesday afternoon, and, as the front-end of a doubleheader, runs should be more scarce than originally projected. Start either Steven Matz or Jon Niese with confidence, where Matz's personal numbers are excellent, but Niese has the advantage of facing New York's low-scoring, high-strikeout offense. Niese also has the 'storyline play' of pitching against his former team.
Targets: Steven Matz and Jonathan Niese
Colorado Rockies at Los Angeles Dodgers – Tuesday night's matchup between Eddie Butler and Julio Urias stands as the ultimate risk-reward play for anyone involved. Urias gets another chance to prove worthy of the hype that preceded his less-than-stellar debut, while Eddie Butler has the good fortune of pitching on the road. Despite each carrying ridiculously high ERAs, Butler and Urias should provide a relatively low-scoring game. Specifically, Butler gets torched in Colorado – a 9.37 ERA – but thrives away from his hitter-friendly ballpark – a 2.66 road ERA. Urias is simply trending too far below any projections to continue such a poor performance for much longer. Most importantly, he has still delivered decent strikeout totals – averaging just fewer than one-per-inning pitched – and has yet to pitch in front of his home crowd.
Targets: Eddie Butler and Julio Urias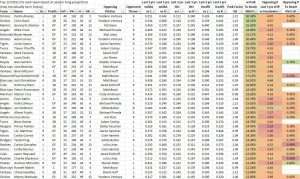 Projected High-Scoring Games
Washington Nationals at Chicago White Sox – Thankfully, it appears as if the facade that Mat Latos is suddenly a good pitcher has ended. After a 1.84 ERA in April, Latos delivered a more predictable 6.41 May ERA, and now sits at 4.02 for the season. The Nationals – idle on Monday – finally broke through against Cincinnati in the series finale on Sunday, and look to carry their success into the hitter-friendly ballpark of Chicago. Conversely, Washington's Joe Ross continues to surge, and now sports a 2.37 ERA, however, he has completely dominated the Phillies and Marlins, and his worst outing of the season came against the American League's Detroit Tigers.
Targets: Washington Nationals and Chicago White Sox Hitters
Miami Marlins at Minnesota Twins – It has become a recurring theme for Minnesota's offense to attempt a breakout, only to fail shortly after. Finally, it appears as if the arrow is moving in the right direction, as the Twins are averaging 4.45 runs-per-game over their last eleven contests – by comparison, the team's season average of runs-per-game sits at 3.73. Minnesota is still in the process of developing offensively, and it should only continue on Tuesday. Miami's bats draw the recommendation by facing Pat Dean after a series against the Mets in which Noah Syndergaard, Bartolo Colon, and Matt Harvey allowed a total of four earned runs.
Targets: Minnesota Twins Hitters, then Miami Marlins Hitters
Undervalued Plays
Aaron Sanchez – Quietly, Aaron Sanchez is in a nearly ideal situation on Monday night. Facing a team with a high strikeout rate that just scored eleven runs one night prior – making a regression incredibly likely – Sanchez will take his low ERA and high strikeout pace to a slight pitcher's ballpark. Toronto's starting pitcher also gains an edge in 'win potential,' as the Blue Jays were shut out on Monday night, and the power-laden-lineup will face left-handed Matt Boyd.
Houston Astros Hitters – It should not have been a surprise that the Astros and Rangers entered a slugfest on Monday night. The encore presents another buying opportunity for hitters, although the scale is tilted towards Houston. Cole Hamels is in the middle of another solid season, but is clearly affected by his home, hitter-friendly ballpark – his home ERA is more than double his road ERA. The top-of-the-order right-handed bats of Houston should take advantage.
featured image credit: By Arturo Pardavila III on Flickr [CC BY 2.0], via Wikimedia Commons