A new week begins with bats dominating the day, as runs appear to be plentiful on Monday night. The small slate mixed with the lack of top pitching options adds pressure to selecting the right hitters, but there are a handful of teams ready to explode.

Currently, we are using xFIP and wOBA simply to compare one pitcher's performance against another – especially against opposite-handed hitters. We aren't using these numbers for calculation. To help with some calculations, we have assumed that each hitter and pitcher has played at least one game. Each pitcher was assigned an innings total relative to his average projection.
Check the starting lineups and weather reports prior to making any plays, as these change without notice.

Projected Low-Scoring Games
Colorado Rockies at Los Angeles Dodgers – Typically sitting in the 'high-scoring category,' the Rockies shift into a potential pitcher's duel one night after a ten-run outburst. As noted prior to his last start, Tyler Chatwood has survived as a Rockies' pitcher enough to earn respect, and he draws a much more favorable matchup in Los Angeles. Chatwood still boasts a 2.99 ERA on the season, and might quietly be the best pitching option of the night. Mike Bolsinger gets the recommendation from the other side of the game thanks to back-to-back six-strikeout performances in his last two starts.
Targets: Tyler Chatwood and Mike Bolsinger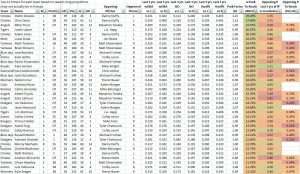 Projected High-Scoring Games
Los Angeles Angels at New York Yankees – While Masahiro Tanaka continues to build on a solid season, his risk for an off-day grows. Through six innings in his last start, the Yankees' 'ace' tallied only two strikeouts, and he has failed to strike out more than four batters in four of his last five starts. The Angels' bats have been heating up – an average of seven runs-per-game over their last three contests – and enter the hitter-friendly ballpark of New York. The Yankees draw Matt Shoemaker, whose 5.50 ERA on the season does little to tell the story of his recent hot stretch – a 1.59 ERA and 31 strikeouts in 20 innings over his last three starts. As Shoemaker regresses, the Yankees gain.
Targets: Los Angeles Angels and New York Yankees Hitters
Houston Astros at Texas Rangers – No strangers to high-scoring affairs, the Astros and Rangers are poised for another on Monday night. Mike Fiers' 4.84 ERA does not bode well for the hitter's park of Texas, while Colby Lewis – with a total of three strikeouts over his last two starts – faces a surging Houston offense that has carried to team to an 8-1 record over its last nine games.
Targets: Texas Rangers and Houston Astros Hitters
Toronto Blue Jays at Detroit Tigers – Tigers' rookie Michael Fulmer has been outstanding to start his career, but his back-to-back scoreless outings put him at risk for an implosion at any time. The power-laden Blue Jays lineup is the most likely catalyst for such a collapse. Similarly, J.A. Happ is pitching to an ERA of 3.06, one full run below his career mark of 4.06.
Targets: Toronto Blue Jays and Detroit Tigers Hitters
Undervalued Plays
Danny Duffy – Danny Duffy gained our attention during his transition from the bullpen into the starting rotation and it has only grown since then. Now, with longer outings under his belt, Duffy takes on a surprisingly strikeout-prone Orioles offense. Baltimore can score runs in bunches, but Duffy is a strikeout pitcher with high upside.
Philadelphia Phillies Hitters – While the Cubs generally get the benefit of the doubt for any given matchup, the Phillies are almost always overlooked. Jon Lester is more likely to limit Philadelphia than get blasted by its offense, but the Phillies' lineup should not get completely shut down, presenting a nice buying opportunity.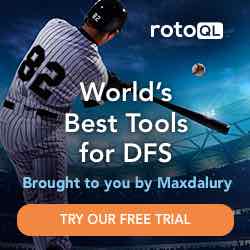 Photo Credit: Keith Allison/Flickr C.C.2.0