Another week of baseball concludes on Sunday, and there are actually quite a few matchups that tend to lean in one direction or another. In addition, we should see the return of Jacob deGrom to the mound, as well as the debut of Atlanta's Aaron Blair one day after the Rays unveiled Blake Snell.
Currently, we are using xFIP and wOBA simply to compare one pitcher's performance against another – especially against opposite-handed hitters. We aren't using these numbers for calculation. To help with some calculations, we have assumed that each hitter and pitcher has played at least one game. Each pitcher was assigned an innings total relative to his average projection.
Check the starting lineups and weather reports prior to making any plays, as these change without notice.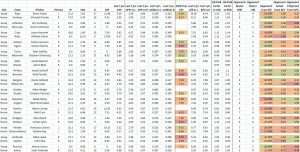 The obvious, no-doubt pitcher for Sunday is Stephen Strasburg, at home against the Twins. Strasburg has been phenomenal so far, and a dip in his strikeout rate or a rise of his ERA will hardly matter against the Twins. Therefore, his basement is high, and his ceiling is astronomical. The only concern is that Minnesota was dominated by Tanner Roark on Saturday, and might not get completely shut down two days in a row.
For as good a season as Strasburg is enjoying, Drew Smyly is right behind him. With a better strikeout rate but higher ERA, Smyly is developing in front of our eyes, and might be one of the best pitchers throwing on Sunday, regardless of matchup. His dominance of left-handed hitters is unfair, and it will take away the advantage of Yankee Stadium for New York's bats.
If Jacob deGrom could have chosen the perfect time for his return to action, it would be hard to find a better scene than Atlanta. The Braves' strikeout rates have fluctuated as a team, and they do tend to have games where they constantly put the ball in play, but they are also among the lowest-scoring offenses in the game. The concern is that deGrom will be returning from a long layoff – and early indications are that his pitch total will be capped – so he is somewhat of a wild card. Still, he is one of the most talented pitchers in the game when he's operating at 100 percent.
Jerad Eickhoff returns to the mound in another high risk-reward scenario, as he faces the Brewers in their hitter-friendly ballpark. Thankfully for Eickhoff, Milwaukee features the ideal combination – for a pitcher – of low run and high strikeout totals. The matchup provides enough upside to warrant the use of Eickhoff, but his shaky floor – mainly due to the ballpark – forces him to only be used in tournaments.
Yordano Ventura continues to operate exactly as expected. Simply put, he delivers strikeouts, but rarely goes deep into games and tends to give up a discouraging amount of runs. The risk is always present with Ventura, but when he draws an offense from a hitter's ballpark with decent strikeout rates, and places it into Kansas City – with the team's stellar defense – the scale tilts. The added benefit of higher win potential – as the Orioles will throw Mike Wright against the Royals' offense – gives Ventura the extra edge he needs to be one of the better plays on Sunday.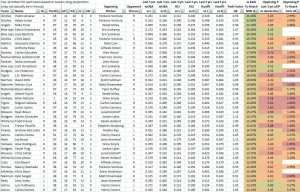 Toronto Blue Jays hitters – Eric Surkamp had been targeted in the past, but more for his surprisingly poor peripherals against left-handed batters – and usually, the discount the hitters are given. The tide shifts on Sunday, as Surkamp is walking into a buzzsaw in Toronto. The Blue Jays' offense finally came alive on Sunday, and they are in position to close out their series with the Athletics on a high note. Target all right-handed hitters on Sunday, with Edwin Encarnacion leading the way. If Russell Martin is starting, he is one of the better catcher plays of the day.
Anthony Rizzo/Giancarlo Stanton – Anthony Rizzo and Giancarlo Stanton are two carryover picks from Saturday's column, and their combined 0-for-7 performance slides them right back into a potential lineup for Sunday. Both have favorable matchups, yet again, and sit towards the top of the list for home run potential based on current rates.
Mike Trout – Mike Trout's relatively low home run total to date – by his standards and pace – continue to push him towards the top of the chart on a daily basis. Thankfully, Trout has continued to deliver fantasy points, even without home runs, usually making an investment in him worthwhile. Sunday offers another opportunity for Trout to increase his production, as he faces left-handed Wade Miley the day after besting Felix Hernandez – Trout doubled and hit a home run off of Hernandez on Saturday night. Regardless of how well Trout historically does against Hernandez, Miley is undoubtedly an easier pitcher to hit.
Kansas City Royals' Left-Handed Hitters/Salvador Perez – Royals hitters make their second consecutive appearance on the list of targets, even after Salvador Perez delivered a home run on Saturday. Specifically, the left-handed bats, again, are preferred when facing Mike Wright – after a three-run outing and loss, nonetheless – even though Perez is in another favorable position.
Ben Zobrist/Carlos Correa – Sunday's middle infielders are an interesting mix of salary ranges. Ben Zobrist is the runaway leader at second base – but at a somewhat inflated price for not necessarily providing enough home run potential – while Carlos Correa received an unfortunate spike in salary, even without delivering. Both are targets for Sunday, with a few more options sitting in the bargain bin below.
Bargains
Be sure to check the above chart for more of the expensive hitters – and the statistics of their matchups. Below, we focus on some of the best upside plays for their price.
Ezequiel Carrera/Ryan Goins – Ezequiel Carrera turned out to be the play of the day on Saturday, and his insanely low price was the icing on the cake. He draws a left-handed pitcher on Sunday, depressing his value slightly, but his opponent – Surkamp – is not particularly dominant against left-handed bats. If Carrera is leading off, he becomes another top target, although Ryan Goins is an absolute steal depending on his lineup position – the higher, the better, although he may be worth playing simply for the discount.
Brandon Crawford – He may be given a day of rest due to the matchup, but Brandon Crawford is actually in a good position on Sunday. Indeed, the left-handed hitter is facing a southpaw, but Adam Conley's peripheral numbers against left-handed bats are not impressive. For his salary, Crawford is a high upside play if he is in the lineup.
Khris Davis – Always intriguing due to his home run potential, Khris Davis is worth considering at his low price. He has only one long ball on the year, but Davis will be leaving the hitter's ballpark of Toronto behind after Sunday's game. Against Drew Hutchison, Davis can certainly break out.
Photo Credit: Keith Allison/Flickr C.C.2.0