As always, Saturday features all thirty teams in action, although the early read is that the matchups tend to favor the hitters, since many teams are approaching the back-end of their rotations. There are also a handful of relative unknowns throwing Saturday, including the debut of Blake Snell for the Tampa Bay Rays.
Currently, we are using xFIP and wOBA simply to compare one pitcher's performance against another – especially against opposite-handed hitters. We aren't using these numbers for calculation. To help with some calculations, we have assumed that each hitter and pitcher has played at least one game. Each pitcher was assigned an innings total relative to his average projection.
Check the starting lineups and weather reports prior to making any plays, as these change without notice.
After a fantastic start to the 2016 season, Carlos Rodon was promptly blasted by the Angels. A 'down day' was in Rodon's future, but the severity of his performance – five earned runs allowed while recording only one out – makes his third start an anomaly. While Rodon doesn't necessarily draw an easy matchup, he does get a favorable one, as the Rangers' lineup is full of left-handed hitters. The southpaw Rodon has exceptional strikeout rates – both in his brief career and so far, this season – and should rebound nicely on Saturday.
Simply put, it may occasionally be wise to avoid Jose Fernandez, but he must almost always be considered. His ERA – average by many standards, but high by his own – is evident of his somewhat pedestrian start to the year, but his insane strikeout rate is eye-popping. Unfortunately, the Giants are one of the stingiest teams in terms of striking out, but the pitcher-friendly ballpark mixed with Fernandez's talent makes his floor projections among the highest for Saturday.
Masahiro Tanaka continues to draw attention when he starts thanks to his consistency. Rarely over-extending nor under-performing, Tanaka provides solid output start after start. On Saturday, he faces one of the most strikeout-prone teams in the league, and will be directly opposed by a rookie making his first career start – in fairness, Blake Snell is widely considered one of the best pitching prospects of 2016. Like Fernandez, Tanaka's basement is high, and he is one of the safest pitchers to use on Saturday.
Corey Kluber has now entered the Matt Harvey territory of Friday. That is, the right-handed pitcher is failing to meet his expectations, yet deserves the benefit of the doubt for the foreseeable future. What separates Kluber from most pitchers is that, even when he struggles, he typically fights deep into the game – he is averaging six-and-a-third innings pitched per game. His strikeout totals are always high – his lowest of the season was five – and he may simply be going through a rough patch. It should surprise no one if Kluber spins a gem on Saturday.
With a full slate of games, it is somewhat odd to recommend the use of two pitchers going head-to-head, but Anibal Sanchez matches up with Corey Kluber and the Indians well enough to get the nod. Sanchez has always been a high-strikeout pitcher, and the Indians strike out at an alarming rate, which makes the setup ideal. Sanchez even gets the boost of going toe-to-toe with Kluber in what could quickly develop into a pitcher's duel.
Saturday's 'sleeper' comes in the form of J.A. Happ, a left-handed pitcher facing the Athletics the day after a loss. The Blue Jays' offense has not been as deadly as last year's version, and the team never truly gained momentum against Sonny Gray on Friday. Happ will lead the Blue Jays on Saturday with a high win potential, even if the strikeout totals may not be outstanding. For his price, Happ is a nice tournament option.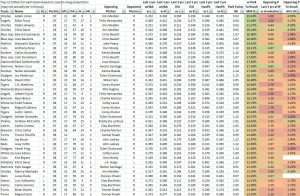 Chicago Cubs hitters – The Chicago Cubs, yet again, fall into a favorable matchup on Saturday. They remain at risk to regress, as a whole, but they continue to defy the odds. In fairness, Chicago's offense is flat-out excellent. Facing Dan Straily, nearly every Cubs hitter is a viable option, especially since one of Straily's four appearances in 2016 was a two-and-a-third, two-run outing in Chicago. When in doubt, use a Cub hitter on Saturday. Specifically, Miguel Montero is the catcher of the day.
Michael Conforto/Curtis Granderson – Conforto made the list of targets on Friday, but more for his salary than his expected performance. Both are aligned on Saturday, as Conforto is not only one of the best overall plays of the day, but is still ridiculously under-priced – especially since he has been batting third for the Mets. Granderson appears to finally be heating up after a slow start, and is in as favorable a matchup as Conforto.
Carlos Correa – Correa is trending in the perfect direction for use in daily fantasy baseball lineups. His home run drought is growing by the day, and his price is slowly deflating. Buy now, before he gets hot again.
Giancarlo Stanton – Like Correa, Stanton is watching his high salary creep downward – albeit, at a higher starting point. Hitless in his last eight at-bats with four strikeouts, Stanton is not only due for a rebound, but also has one of the best matchups of the day. In addition, the pitcher-friendly park is a non-factor for Stanton, who holds a .581 slugging percentage with five home runs in 22 games in San Francisco.
Mike Moustakas/Eric Hosmer/Alex Gordon/Salvador Perez – The Royals never change. They simply win games, yet refuse to see their players' prices rise. Moustakas has been one of the hottest hitters of the past week or so, and Gordon enters Saturday with a twelve-game hitting streak. All left-handed Royals' bats are on radar against Tyler Wilson, with the right-handed Perez being the exception – and second-best option at catcher for Saturday.
Bargains
Be sure to check the above chart for more of the expensive hitters – and the statistics of their matchups. Below, we focus on some of the best upside plays for their price.
Ezequiel Carrera – Already listed as Toronto's leadoff man for Saturday, Carrera is protected in the lineup by Josh Donaldson – and, indirectly, the rest of the Blue Jays' hitters – and should benefit from the expected bounceback performance of Toronto, as a team. For basically minimum wage, Carrera is an obvious choice to save some money.
Franklin Gutierrez – Gutierrez is typically a bargain due to his lower position in the batting order and comparatively low power, but he rises through the rankings quickly when facing left-handed pitchers. His biggest statistical bump comes in the form of hard hit percentage, where he crushes southpaws.
Pedro Alvarez – Alvarez remains without a home run on the season, and his price continues to plummet. Unfortunately, so has his position in the batting order. For his low salary, he is worth the risk, but he clearly has failed to deliver in 2016.
Featured Image Credit: By MBDChicago on Flickr [CC BY 2.0], via Wikimedia Commons