All thirty teams are in action on Friday night, providing a massive pool of players for any combination of slates. Unfortunately, there are some weather concerns, so the number of options might slowly shrink before the night is over.
Currently, we are using xFIP and wOBA simply to compare one pitcher's performance against another – especially against opposite-handed hitters. We aren't using these numbers for calculation. To help with some calculations, we have assumed that each hitter and pitcher has played at least one game. Each pitcher was assigned an innings total relative to his average projection.
Check the starting lineups and weather reports prior to making any plays, as these change without notice.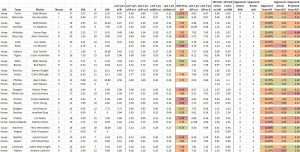 At this point, Matt Harvey is basically a must-start until he puts together a gem or is placed on the disabled list with some yet-to-be-announced ailment. Harvey continues to disappoint on a game-by-game basis, despite his perfect combination of talent and favorable matchups. Something has to give, and Harvey has flirted with a solid outing – his last start in Cleveland was excellent for a few innings – without actually delivering. Against the Braves in a pitcher's ballpark, Harvey deserves the nod, yet again.
Along the same lines as Harvey, Adam Wainwright is desperate for a rebound opportunity. The concerns for Wainwright are significantly higher than those for Harvey, but we might be approaching true panic territory if Wainwright doesn't pitch well on Friday night. He should be used with some level of caution, but Wainwright won't draw a better matchup than pitching in San Diego. If Wainwright is truly fine, he will prove it on Friday.
It is time to be honest about the Toronto Blue Jays. They are not the same powerhouse as last year. Their recent history strikes fear in the hearts of fantasy owners contemplating using a pitcher against Toronto's hitters, but it shouldn't. Of course, the team is laden with talent that can explode on a given day, but the Blue Jays have continued to strike out at an astronomical rate. Even if the run totals rise, strikeouts will remain abundant for the time being. With that, Sonny Gray is a top risk-reward pitcher at a high price for Friday.
Add Justin Verlander to the list of pitchers still looking for a complete outing in 2016. Closer to Wainwright than Harvey on the scale of 'declining to rising,' Verlander is a risk for the obvious floor that might collapse at any moment. If he isn't finished, however, a matchup against the strikeout-happy Indians is a perfect opportunity to prove it. Cleveland's offense is one of the worst in the league, making Verlander's ceiling exceptionally high, with the aforementioned basement comparatively low.
The Twins have been a gift for opposing pitchers since the start of the season, but a handful of games against the Brewers – including two two-game sets in right-handed hitters' ballparks – changed things slightly. Shifting from Minnesota and Milwaukee to Washington will lower the Twins' potential output dramatically, and Gio Gonzalez – off to a hot start – stands to benefit the most. In addition, his win potential is elevated after Washington posted two one-run outings in the past four games.
Towards the lower scale of the pitching targets for Friday sits Patrick Corbin, the Diamondbacks' southpaw. His numbers against left-handed hitters are obviously fantastic, but his matchup is what makes him most intriguing. The Pirates just exploded against the Padres after being somewhat contained for the better part of their series, and Pittsburgh is now likely to regress. In addition, the Pirates were completely shut down by Drew Pomeranz – another left-handed pitcher – and are certainly susceptible to struggle again.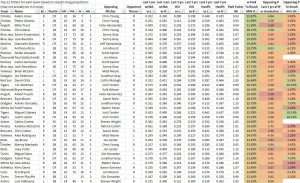 Chris Davis/Pedro Alvarez – Two usual favorites of the chart appear near the top, as left-handed hitters Chris Davis and Pedro Alvarez face Chris Young on Friday. The two sluggers are always home run threats, but Alvarez still has yet to put one over a fence. He was actually a 'bargain buy' on Thursday, but was not in the Orioles' starting lineup, adding to his potential on Friday.
Anthony Rizzo/Jason Heyward/Dexter Fowler – It is somewhat dangerous to buy hitters the day after their offense scored more than two touchdowns, but the left-handed bats of Anthony Rizzo, Jason Heyward, and Dexter Fowler are in a nice position against Jon Moscot. There should be some caution exercised, as a team-wide regression is likely, but the opportunity for success is obvious.
Paul Goldschmidt/Wellington Castillo – Apparently, first baseman will be enjoying Friday, as Paul Goldschmidt appears as a top target against Jon Niese in a hitter's ballpark. The slugger absolutely destroys left-handed pitching, and should be worth every penny of his high price. Wellington Castillo stands as the top play of the day at the catcher position.
Carlos Correa/Carlos Gomez/George Springer/Jose Altuve/Colby Rasmus – The Astros' offense woke up towards the latter stages of its game in Texas on Thursday, but Carlos Correa and Carlos Gomez have been non-factors, of late – Correa did open the season on a tear, but has slowed down tremendously. The potential is apparent again, as Houston welcomes Steven Wright to it's hitter-friendly ballpark. Wright does feature a knuckleball that might limit the home run potential of Astros' hitters, but his career track record suggests that a bad game is in the near future. Deploy the likes of Correa, Gomez, Springer, Altuve, and, of course, Colby Rasmus with confidence.
Neil Walker/Jean Segura – Neil Walker has come alive as a nice source of power at a premier position and decent price. His matchup works out well, again, as he faces Bud Norris – with poor peripherals against left-handed hitting. If stacking Diamondbacks, instead, Jean Segura fits for a decent salary.
Nolan Arenado/Todd Frazier/Luis Valbuena – Hitters are never cheap when playing in Colorado, and Nolan Arenado is no exception. He is, however, facing the left-handed Scott Kazmir and worth the investment on Friday. For only the slightest of savings, Todd Frazier appears to be heating up, and also faces a left-handed pitcher in a hitter's ballpark. Luis Valbuena is the target if a big discount is required.
Corey Seager/Trevor Story – Although he is slowly trickling in hits and a handful of fantasy points on a given night, Corey Seager is now eight games removed from his last extra-base hit. A trip to Colorado should change that, and he remains the best shortstop play for his price. Obviously, Trevor Story's return to his home ballpark puts him on watch, but his salary is arguably too high to justify. The aforementioned Correa is more desirable on Friday.
Giancarlo Stanton/Yasmany Tomas – While he isn't necessarily cheap, Giancarlo Stanton is absolutely affordable for his potential. Even playing in a severe pitcher's ballpark should not deter the use of Stanton, as his power is so immense that it shouldn't matter where he is hitting. Instead, the salary for his upside is worth the risk. Yasmany Tomas now has a seven-game hitting streak – with three home runs – and has not yet seen his price increase with his production.
Bargains
Be sure to check the above chart for more of the expensive hitters – and the statistics of their matchups. Below, we focus on some of the best upside plays for their price.
Matt Wieters – Matt Wieters was one of our top targets of Thursday, only to have his night cut short with an ejection. He remains an option for Friday, especially at his attractive price.
Preston Tucker – Like most Astros, Preston Tucker is in a position to succeed on Friday. His power potential is high, but he is somewhat hamstrung by his amount of plate appearances, as he is often removed late in games.
Michael Conforto – For the same price as Tucker, Michael Conforto continues to be under-valued. Now routinely batting in the upper portion of the lineup – he is listed as New York's number three hitter on Friday – Conforto is a relative steal.
Photo Credit: Flickr user slgckgc. C.C. 2.0