Thursday is commonly known as 'getaway day' throughout the league, as many teams are playing afternoon contests in anticipation of travel. Often, this presents some nice buying opportunities for pitchers, and the early slate contains no shortage of top arms.
Currently, we are using xFIP and wOBA simply to compare one pitcher's performance against another – especially against opposite-handed hitters. We aren't using these numbers for calculation. To help with some calculations, we have assumed that each hitter and pitcher has played at least one game. Each pitcher was assigned an innings total relative to his average projection.
Check the starting lineups and weather reports prior to making any plays, as these change without notice.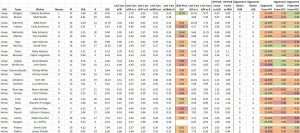 Why start anywhere but the best? Clayton Kershaw has been everything expected of him in the early portion of the season, and he is given an ideal matchup on Thursday afternoon. Facing the low-scoring, left-handed-heavy Braves in a pitcher's ballpark, Kershaw should shine, once again. Of course, he isn't cheap, but it's because his dominance is unquestioned.
Max Scherzer continues to flirt with versions of his former self without actually delivering his best work. His strikeout rate is high – although a tick below his career pace – but his ERA is closer to average than outstanding. Thankfully, he gets the opportunity to throw in the pitcher-friendly ballpark of Miami against a Marlins team that has performed exactly as expected based on preseason projections. Scherzer even gains an edge in the 'win potential' department based on the mismatch with Tom Koehler.
Like Scherzer, David Price is enjoying a high strikeout rate – it is actually the highest of any pitcher throwing on Thursday – but with an inflated ERA. As his numbers stabilize, he should see a welcomed improvement while still maintaining high strikeout totals. The Rays should aid in both categories, and throwing left-handed pitchers against Tampa Bay has provided excellent opportunities, so far. Price stands as one of the top options of the day, especially the morning slate.
Gerrit Cole is given the typical boost to projections that are inherent to pitching in San Diego. Between the ballpark, opponent, and strikeout rates, Cole is among the top options for Thursday. The Padres have been showing signs of life, lately, so Cole should not be immediately slotted into a lineup if better options exist, but he can be penciled in with relative confidence. More importantly, the success of the last two games by Padres' hitters – thirteen runs on 21 hits – should leave the team's offense over-extended and ready to slow down.
When do Ricky Nolasco and Taylor Jungmann both deserve a second look? When they have the benefit of pitching against two of the weakest offenses in baseball. In what could only be classified as a 'pitcher's pillow fight,' both Nolasco and Jungmann have high risk-reward potential in early slates – especially compared to the other names that will toe the rubber. The Twins and Brewers barely score, but strike out at high rates. The edge ultimately belongs to Jungmann, whose projected numbers are higher than Nolasco's, yet he has failed to deliver a solid game. That changes on Thursday.
Lost in the shuffle of big names throwing on Thursday is Luis Severino. The Athletics feature one of the league's lowest-scoring offenses, but the team's collective strikeout pace is on the lower end of the scale. This actually bodes well for Severino, who has yet to reach his projected strikeout rate. Any regression by the A's is a gain for Severino, making him one of the higher upside plays of the day.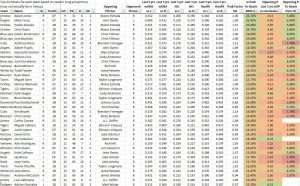 Mike Trout – While he is technically performing at a pace below his incredible career averages, Mike Trout is one of the easiest players to slot in a lineup on a given day. He has been targeted constantly by our chart, and delivered a three-hit performance on Wednesday – two of which were the only two hits allowed by Chris Sale. The beauty of Trout's setup on Thursday is that he faces another left-handed pitcher in a hitter's ballpark immediately after Sale. The transition to John Danks should work wonders for Trout – and Albert Pujols, one of the better first base options of the day – and, even at his high price, Trout must be owned.
Adrian Gonzalez/Joc Pederson/Chase Utley/Corey Seager – For the third consecutive day, left-handed Dodgers hitters are among the best options on Thursday. Matt Wisler may have a relatively small sample size of career numbers, but his numbers against left-handed bats are poor, as expected. Exercise some caution when stacking against Wisler – especially since the early game against Kershaw might give Wisler an extra boost – but deploy some combination of Adrian Gonzalez, Joc Pederson, Chase Utley, and Corey Seager. As an added bonus, those four players are currently listed in the first four slots of the Dodgers' lineup, with Pederson batting cleanup.
Colby Rasmus – An old friend of the chart makes his way back toward the top of the list, yet again. Colby Rasmus finally saw a spike in salary that correlated with his impressive power surge, but has leveled off over the past few days – only one hit in his last thirteen plate appearances. Now with back-to-back losses that includes a one-run outing on Wednesday, the Astros are ready to pop against A.J. Griffin. Colby Rasmus, Carlos Correa, George Springer, Luis Valbuena, and even Carlos Gomez should be targeted on Thursday. Jose Altuve is another somewhat obvious choice, and he is running wild on the basepaths, providing a boost in stolen base potential.
Mike Moustakas – Mike Moustakas is quietly putting together a nice daily fantasy campaign. His batting average is low, but he has seven extra-base hits on the season and eight hits in his last seven games. Moustakas also tends to bat towards the top of a deep Royals lineup, and he is opposed by Mike Pelfrey – not surprisingly, Pelfrey struggles against left-handed hitters while Moustakas gains an edge on right-handed pitchers. Alex Gordon – at an even more attractive price – should be targeted, as well.
Bargains
Be sure to check the above chart for more of the expensive hitters – and the statistics of their matchups. Below, we focus on some of the best upside plays for their price.
Jason Castro/Jake Marisnick/Matt Wieters/Jarrod Saltalamacchia – Considering how many Astros are on the radar, there is bound to be an inexpensive option buried in the lineup. If Jason Castro or Jake Marisnick are starting, they are both bargains on Thursday. For a slight increase in price elsewhere at the catcher position, Matt Wieters and Jarrod Saltalamacchia can be used.
Pedro Alvarez – Pedro Alvarez has finally dropped into the 'bargain bin.' With power potential on any given day – especially against a right-handed pitcher – Alvarez is always worth a flyer when his salary falls. Facing Marco Estrada in a left-handed hitter's park, Alvarez is in an ideal situation.
Brett Lawrie – Brett Lawrie is often overlooked in a White Sox lineup that features Jose Abreu and Todd Frazier – although Frazier has, so far, been a disappointment. Lawrie typically bats in the middle of the lineup and draws a great matchup against Jerad Weaver in a hitter's park on Thursday.
Featured Image Credit: By Arturo Pardavila III on Flickr [CC BY 2.0], via Wikimedia Commons