Tuesday brings a heavy slate of games in the evening, highlighted by the must-watch matchup between Jose Fernandez and Noah Syndergaard. Unfortunately for fantasy purposes, two of the three highest strikeout pitchers will be featured in the same game, but there are a number of options elsewhere. They just won't come at a discount.
Currently, we are using xFIP and wOBA simply to compare one pitcher's performance against another – especially against opposite-handed hitters. We aren't using these numbers for calculation. To help with some calculations, we have assumed that each hitter and pitcher has played at least one game. Each pitcher was assigned an innings total relative to his average projection.
Check the starting lineups and weather reports prior to making any plays, as these change without notice.
Get the latest MLB Odds on XN Sports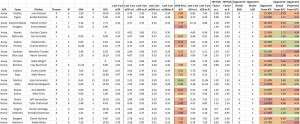 The absolute no-doubt target of the day is Jose Fernandez pitching in Citi Field. Basically every key statistic – strikeout potential, team strikeout rate, ballpark configurations, New York's lack of run scoring upside – tilts in Fernandez's favor except for the possible lack of a win – since his offense will face Noah Syndergaard. Naturally, his price his high, but Fernandez must be seriously considered – if not forced into a lineup – on Tuesday.
Corey Kluber is in almost the exact same position as Fernandez, only with a better pitcher's ballpark and a slightly easier opportunity to win – Matt Moore is good, but he is not Noah Syndergaard. The Rays fail to score runs, strike out at a decent rate, and will be a more reasonable opponent for Kluber to navigate than the Red Sox. Expect Kluber to rebound with an excellent outing.
In the ultimate game of tug-of-war, the talented Masahiro Tanaka faces the vaunted Blue Jays lineup on Tuesday. Toronto's high total of expected runs on a given night makes them dangerous, but its team strikeout rate is astoundingly high. Tanaka should be able to exploit this, especially on extended rest, as he was scheduled to pitch on Sunday night before the rainout and off-day on Monday.
For all the talk about Juan Nicasio's resurgence – perhaps more accurately, first surge – throughout Spring Training, he backed it up with a six inning, seven-strikeout performance in his first start of 2016. It is difficult to ignore the potential that Nicasio brings to the table, and he faces strikeout-happy Tigers team that is averaging 5.4 runs-per-game. As they regress, Nicasio should continue to thrive, especially with the amount of right-handed batters the Tigers generally feature. Unfortunately, some websites won't include the early games in a playable slate.
For whatever reason, Hector Santiago is often cast aside in fantasy baseball circles. Granted, his career numbers are anything but impressive. His matchups, however, warrant a second look. Opposed by the equally erratic Kendall Graveman, Santiago is on the better end of a battle that includes a strikeout-prone Athletics team and two power hitting left-handed bats – Josh Reddick and Stephen Vogt. In addition, Santiago is a threat to all hitters, as his strikeout rates are actually better against right-handed batters than lefties.
While Kluber stands as one of the best pitching options of the day, Matt Moore should be included as the all-or-nothing tournament play. At a fraction of the price of his counterpart, Moore touts a fantastic strikeout prowess and faces an Indians team that ranks third among teams playing on Tuesday in strikeout rates. As noted earlier, Moore's win potential is thwarted by Kluber on the opposite end of the scale, but he is a perfect contrarian option if swinging for the fences.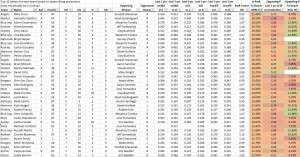 Edwin Encarnacion – With Mike Trout's towering home run on Monday night, Edwin Encarnacion is left as the only power hitter in the top-ten options for Tuesday without a long ball on the season. Extending the list to seventeen hitters, Albert Pujols is included, as well. Both players have remained on our target list for days, and their respective prices are now perfect for their potential. Encarnacion is facing the better pitcher – in fact, we are considering Tanaka as one of the pitchers for Tuesday – but one of Tanaka's weaknesses is allowing home runs. Encarnacion should be used on Tuesday, with Pujols as the option for the latest slate of games.
Carlos Gonzalez/Charlie Blackmon – Jeff Samardzija may have been thrilled to join the Giants for the benefits of his home ballpark, but he has yet to toe the rubber in San Francisco. Instead, he goes from hitter-friendly Milwaukee to pitcher-killing Colorado. At fairly reasonable prices – for the ballpark – Carlos Gonzalez and Charlie Blackmon are great options for Tuesday. Nolan Arenado looks viable at first glance, but Samardzija actually limits the hard hit percentage of right-handed batters enough that Arenado will not be worth his high price tag.
Maikel Franco/Adrian Beltre – Maikel Franco makes the list of hitters to target, yet again, with his matchup against the left-handed Robbie Erlin and his attractive price for a third baseman. Perhaps more importantly, the Phillies' hitters enjoyed a decent eight-hit performance on Monday, but tallied only three runs. More should be in the works for Tuesday night. Adrian Beltre will cost a little more than Franco, but faces southpaw Wade Miley and gains a natural boost against left-handed pitching.
Ian Desmond/Troy Tulowitzki – Like Beltre, Ian Desmond should thrive against the lefty Miley, although the shortstop-turned-outfielder has a mere four hits in 34 plate appearances. A safer option for a slight price upgrade is Troy Tulowitzki. Along the same lines of Encarnacion, Tulowitzki has home run potential against Tanaka, but faces an uphill battle, regardless.
DJ LeMahieu – Between the ballpark, price, and current output, DJ LeMahieu is the target at second base on Tuesday. Unfortunately, the power that Samardzija allows to left-handed hitters does not carry over to right-handed bats, so LeMahieu's upside is rather limited.
Buster Posey/Brian McCann – It is difficult to ignore Buster Posey hitting in Colorado, but his price is so insanely high that he can only be used if salary space is a non-issue. At a comparable discount, Brian McCann faces Aaron Sanchez, although the right-handed pitcher is excellent in limiting hard contact from left-handed batters.
Bargains
Be sure to check the above chart for more of the expensive hitters – and the statistics of their matchups. Below, we focus on some of the best upside plays for their price.
Danny Espinosa – Switch-hitting Danny Espinosa draws Jhoulys Chacin on Tuesday, who struggles in the peripheral statistics when facing left-handed batters. Espinosa gains an edge in hard hit percentage when batting left-handed, and he is a great upside play for a ridiculously low price at a thin position.
Cameron Rupp – Considering the price of Posey and the risk of using McCann against Sanchez, Cameron Rupp is a steal behind the plate on Tuesday. Like Franco, Rupp will face the left-handed Erlin, and gains an undeniable edge against southpaws.
Mallex Smith/Nomar Mazara – We have yet to mention their names in any of the previous articles, but recent call-ups Mallex Smith and Nomar Mazara are basically freebies for their given prices. Smith is an incredible stolen base threat, while Mazara is complete hitter that has, so far, been batting towards the top of the Rangers' lineup. Use either if savings are required.
Featured Image Credit: By Keith Allison on Flickr (Original version)UCinternational (Crop) [CC BY-SA 2.0], via Wikimedia Commons