Another set of rainouts wreaked havoc on Sunday's slate – most notably the final game of the week between the Yankees and Tigers – but we finally have a foundation of statistics to use for each team. With a slightly smaller slate on Monday and a new set of matchups, we begin the second week of the Major League Baseball season.
Currently, we are using xFIP and wOBA simply to compare one pitcher's performance against another – especially against opposite-handed hitters. We aren't using these numbers for calculation. To help with some calculations, we have assumed that each hitter and pitcher has played at least one game. Each pitcher was assigned an innings total relative to his average projection.
Check the starting lineups and weather reports prior to making any plays, as these change without notice.

His price is high, but Max Scherzer is in the perfect position for Monday. Facing a low-scoring Braves offense – that strikes out at a relatively high rate – and being opposed by Bud Norris, Scherzer is poised for the win. Norris pitched seven innings of three-run ball against these same Nationals five days earlier, and his performance exceeded all expectations. The second time around will provide a much tougher task for Norris – to that point, Nationals' hitters will be targeted as well. Don't hesitate to pair Scherzer with Nationals' bats on Monday.
Read More: MLB DFS Game Theory For 4/11
In terms of high basement projections, Scherzer is rivaled only by David Price on Monday. Facing the Orioles that shift from hitter-friendly Baltimore to Boston, Price's opponent actually has not run up the scoreboard in the early portion of the season – despite a perfect record. Boston's offense should give Price enough run support for a win, and Baltimore's relatively low strikeout rate has nowhere to go but up. If that happens, everything will click for Price to be the pitcher of the day on Monday.
Aaron Nola slides into a solid matchup against the Padres and Andrew Cashner, especially since San Diego will be traveling to Philadelphia after enjoying a scoring spree in Colorado. Nola did not disappoint in his season opener, and the Phillies suddenly have some momentum. Maybe he won't strike out eight batters for the second consecutive game, but Nola should be good for use on Monday.
Rarely will we pin one pitcher against another on a day that includes more than ten games, but the shift from Nola to Cashner should only occur on early-slate tournaments. Cashner's insanely high ERA is bound to shrink, and his decent strikeout rate could rise further against the Phillies. As noted in Nola's write-up, Philadelphia is coming off back-to-back wins against the Mets and could easily slide back into the depths of the National League before our eyes.
For his second consecutive start, Brandon Finnegan makes our list of pitchers to target. His matchup with the Cubs puts him at risk to be crushed, but Chicago's offense is too over-extended to keep up its torrid pace. More importantly, the left-handed Finnegan should limit the threats of Anthony Rizzo and Jason Heyward. Monday night is Chicago's home opener – and, coming off a playoff appearance, the crowd should play a factor – so use Finnegan in all-or-nothing tournaments.
Even before factoring in his price, Michael Wacha is the 'sleeper' pick of the day. Coming off a poor performance against the solid Pirates, Wacha is poised to rebound at home against the Brewers. As a team, Milwaukee strikes out at an incredibly high rate and is hardly a threat to score more than a few runs. In addition, Wacha is opposed by Taylor Jungmann, who managed only one earned run in five innings in his first start. He also only struck out one batter, suggesting that he was somewhat fortunate to survive the Giants. It won't happen again in St. Louis. Start Wacha at his fairly reasonable price.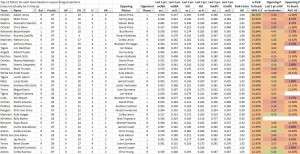 Miguel Sano – Of all the power hitters still without a home run, Miguel Sano jumps off the chart for his low price and shift to Minnesota. In a hitter-friendly park and sitting in the middle of a lineup that has, so far, been an absolute disaster, Sano is ready to breakout. On the mount, Quintana is not a major liability against right-handed bats, but Sano's hard hit percentage against southpaws is outstanding. Sano is a must-play at third base on Monday.
Justin Upton – Like Sano, Justin Upton is now one week into the season without a home run – albeit with two fewer games played. Upton's matchup against the left-handed Jon Niese is better than Sano's, but the ballpark and Upton's overall numbers put the two hitters at the same level. Regardless, Upton should be used on Monday.
Kyle Seager – While the first look at the Mariners' lineup will likely suggest the use of Cano, Kyle Seager's splits against right-handed pitching make him the key target. Not surprisingly, Colby Lewis is a liability against left-handed hitters.
Brian Dozier/Robinson Cano – Brian Dozier was a target on Saturday, but continued to disappoint before finally hitting a home run on Sunday. He remains at the top of the list among second basemen, and he follows the theory that Minnesota is about to put up runs. If salary allows, Cano is the obvious choice facing the aforementioned right-handed Colby Lewis.
Freddy Galvis/Ryan Howard/Carlos Correa/Xander Bogaerts – As noted in the pitchers' write-up section, Andrew Cashner is a high risk-reward option on the mound. Receiving the benefit of the 'risk' side are Phillies hitters. Ryan Howard is a relative steal at first base, while Freddy Galvis is dirt cheap at shortstop. In addition, the switch-hitting Galvis has better numbers against right-handed pitching. If money is no object, Carlos Correa is the obvious choice, although Xander Bogaerts stands to benefit from the expected Red Sox output on Monday.
Salvador Perez/Stephen Vogt – Collin McHugh cannot possibly be as bad on Monday as he was in his first start of the year. Still, Salvador Perez and the Royals are moving to the hitter-friendly ballpark of Houston. Perez is the target at catcher with Stephen Vogt following closely behind.
Bryce Harper/Nelson Cruz/J.D. Martinez – Bryce Harper gets the nod again in a great matchup against Bud Norris – and at a slight discount from his previous prices. Nelson Cruz fits as another Mariner to pile onto Colby Lewis, but J.D. Martinez – a previous target of ours – is still waiting for his first home run. He should be a top performer on Monday.
David Ortiz – For the storyline play, how can David Ortiz not be a target on his final home opener of his career? Although his price is way too high to justify, he cannot be overlooked on Monday.
Bargains
Be sure to check the above chart for more of the expensive hitters – and the statistics of their matchups. Below, we focus on some of the best upside plays for their price.
Colby Rasmus – Surprise, surprise. Colby Rasmus makes the list again. As always, the cheap source of power is too good to be ignored, and he typically bats in the middle of a dangerous lineup. The best part of Monday's matchup comes from the ballpark, which is small enough to limit the impact of the Royals' outfielders.
Luis Valbuena – Luis Valbuena receives the same projections as Rasmus, and his splits against right-handed pitching are even more extreme. His position eligibility also allows some roster freedom.
Odubel Herrera – The final of the Phillies' cheap options comes from Odubel Herrera. He has yet to attempt a stolen base and typically bats towards the top of the lineup – occasionally third. If Philadelphia scores, it is hard to imagine that Herrera won't be part of the equation.
Jonathan Schoop – Although he is facing one of our pitching targets of the day, Schoop is a steal at second base for his power potential at Fenway Park. His matchup against David Price is not ideal, but his flyball rate is high and his price is insanely low.
Featured Image Credit: By Eric Fischer from Ames, Iowa, United States (Wacha Takes Over) [CC BY-SA 2.0], via Wikimedia Commons