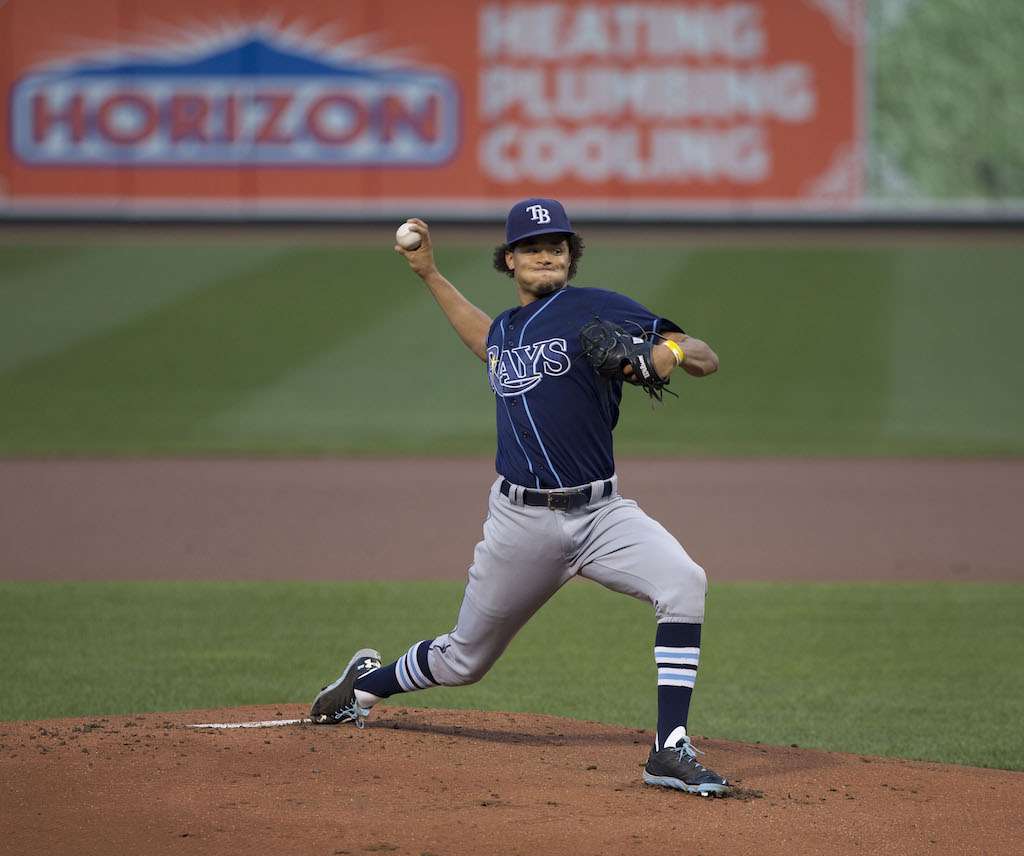 Latest posts by Mario Mergola
(see all)

The first Friday of the 2016 season brings the biggest selection to date, as all but two teams are scheduled to play. In addition, some of the "aces" of their respective pitching staffs return to the mound for their second start. Oddly enough, the amount of overall options only yields a few can't-miss pitchers, which bumps up their value for Friday even further.
Currently, we are using xFIP and wOBA simply to compare one pitcher's performance against another – especially against opposite-handed hitters. We aren't using these numbers for calculation. We are also pulling some statistics – such as team strikeout rate – from last season's totals until a better foundation is built in 2016. To help with some calculations, we have assumed that each hitter and pitcher has played at least one game. Each pitcher was assigned an innings total relative to his average projection.
Check the starting lineups and weather reports prior to making any plays, as these change without notice.
In the ultimate risk-reward pitcher of the day, Jacob deGrom stands alone as the single-best option. He has everything going in his favor – except price – and should be used in any lineup for which he is eligible. Why is he is a risk? His wife is due with their first child, and he is 'on-call.' deGrom should be monitored as closely as he is monitoring the impending birth of his child. In addition, there is the immeasurable weight of his family life that cannot be overlooked for Friday's start. Regardless, he must be used if he is good to do, and there even exists the possibility that another Mets pitcher takes his start and slides into a perfect scenario.
On Thursday, Danny Salazar was one of the few pitchers to consider, although his matchup against the Red Sox was not ideal. Rain eventually postponed the game, and Salazar suddenly finds himself in a better situation one day later. The change in ballparks from Cleveland to Chicago doesn't do him any favors, but the offense he will face does. Salazar is now in the mix for pitchers to use on Friday.
Making his second start of the year, Chris Archer will try to follow up his twelve strikeout performance with another gem against the Orioles. Thankfully for Archer, the Orioles' bats, while powerful, are not equal to that of the Blue Jays, and they are far more likely to strike out. Unfortunately, Archer's win potential might be thwarted by Chris Tillman, who looked downright unhittable in his first start before rain delayed and ultimately ended his game.
Like Archer, Francisco Liriano is attempting to piggy-back off his stellar Opening Day performance, although he has both the ballpark and the weight of a shutout to combat. Thankfully, two of Cincinnati's most dangerous hitters – Votto and Bruce – are left-handed, and Liriano will face an overall weaker lineup than he did against the Cardinals. Furthermore, Liriano is opposed by Alfredo Simon, which should work wonders for Pirates' hitters and Liriano's run support.
With such a star-studded pitching roster, the quiet gem of the day might be St. Louis' Jaime Garcia. Facing the Braves in pitcher-friendly Atlanta, Garcia will also be opposed by one of the weaker lineups in the league that just-so-happens to be filled with left-handed hitters. Atlanta doesn't typically strike out as much as their low run totals might suggest, but they drew a bad straw for Friday's matchup. In addition, the now 0-3 Cardinals were just swept by Pittsburgh, and are in serious need of a bounceback win. Garcia stands to benefit the most.
In the ultimate tournament play, left-handed pitcher Robbie Ray will face the formerly strikeout-happy Cubs on Friday. Perhaps Ray's best asset is that his throwing hand limits the potential for Anthony Rizzo – although Rizzo did hit a home run off left-handed Andrew Heaney on Tuesday – but he also sports an impressive strikeout rate against right-handed batters, as well. Use Ray in the ultimate all-or-nothing strategy.
San Diego Padres – Imagine there exists a team that still has not scored a single run in 2016, plays in a pitcher's ballpark, but is traveling to thin air of Denver, Colorado to attempt a breakout. Between the law of averages, natural regression to the mean, and the undeniable boost hitters get from playing in Colorado – especially compared to San Diego – how could the Padres' hitters not be the target of the day?
Unfortunately, Matt Kemp's price bumps him into a territory where it is safer to allocate the money elsewhere, but Wil Myers – also comparatively high-priced – actually hits right-handed pitching slightly better than lefties – making his potential performance more balanced throughout the course of the game. Derek Norris is the play at catcher thanks to the expected output of the Padres' lineup as a whole and Norris' typical position towards the top. Finally, if salary restrictions at the end of lineup construction warrant some tough decisions, use any of the cheaper Padres' hitters on Friday.
Nolan Arenado – Despite sitting near the top of the price list for Friday, Arenado is the main target. Facing a pitcher with under-whelming numbers across the board, in Colorado, and coming off back-to-back 0-for-4 performances, Arenado is in an ideal position. Unfortunately, he will likely not be affordable if using one of the higher-priced pitchers of the day. Carlos Gonzalez presents a nice opposite-handed opportunity, although Rea's peripheral statistics against right-handed batters are worse than against lefties.
Lucas Duda – For his price, Lucas Duda is a must-play on Friday. A left-handed slugger who crushes right-handed pitching, Duda also receives a boost going from Kansas City to New York. Not surprisingly, the right-handed Jerad Eickhoff sees a noticeable drop in his numbers when facing left-handed batters.
Robinson Cano – Although the sample size is small, left-handed pitcher Eric Surkamp has actually allowed a higher slugging percentage to left-handed batters than righties. With that, the hot-hitting Robinson Cano is a phenomenal play for his price – which is more than likely deflated due to the handedness of his matchup. Cano may not put one over the fence again, but he should not be bothered by Surkamp at all.
Troy Tulowitzki/Brad Miller/Trevor Story/Starlin Castro – At the time of this writing, Josh Donaldson is not a guarantee to play on Friday. Despite the depth of the Blue Jays' lineup, the loss of Donaldson shortens the danger territory for opposing pitchers. If Tulowitzki slides into a more prime position – preferably, hitting ahead of Bautista or Encarnacion – he is the target at shortstop. At a much better price, Brad Miller draws right-handed Chris Tillman in Baltimore. Finally, the scorching duo of Trevor Story and Starlin Castro cannot be forgotten, and – although more expensive than we would like – and are two of the more obvious options for Friday.
Bargains
Be sure to check the above chart for more of the expensive hitters – and the statistics of their matchups. Below, we focus on some of the best upside plays for their price.
Chris Iannetta – As noted, Surkamp, himself, has a propensity to allow extra-base hits to left-handed batters. But, on the other side of the matchup, Chris Iannetta absolutely torches left-handed pitching. If Iannetta is starting on Friday, he is an absolute steal.
Addison Russell – Because of his position in the lineup – generally at the bottom – Addison Russell will almost always be under-priced. This is the case on Friday, as he faces the left-handed Robbie Ray. After Friday's outburst, don't expect back-to-back double-digit performances by the Cubs, but Russell is always a high upside player at too low of a price.
Michael Conforto – If Lucas Duda is a must-play for his price, Michael Conforto should receive the same treatment. This is the same Conforto that opened the season with a 2-for-2 performance, followed it up with an 0-for-4 outing, but suddenly has his price dip. Buy now.
Cheap San Diego Padres – Don't miss the memo.
Photo Credit: Keith Allison/Flickr C.C. 2.0