Break out the bats. With a lighter schedule of games and most of the 'aces' of each staff already behind us, Thursday's matchups heavily favor the hitters. Simply put, teams that tend to strike out a lot – at least, they did in 2015 – are facing relative 'contact pitchers' while the pitcher throwing Thursday with the best strikeout potential – Danny Salazar – faces the Red Sox and their deep offense.
Currently, we are using xFIP and wOBA simply to compare one pitcher's performance against another – especially against opposite-handed hitters. We aren't using these numbers for calculation. We are also pulling some statistics – such as team strikeout rate – from last season's totals until a better foundation is built in 2016. To help with some calculations, we have assumed that each hitter and pitcher has played at least one game. Each pitcher was assigned an innings total relative to his average projection.
Check the starting lineups and weather reports prior to making any plays, as these change without notice.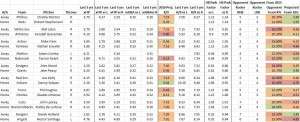 At the time of this writing, neither DraftKings nor FanDuel has slates that include the early game between the Reds and Phillies. If this changes, Robert Stephenson is a target for a strikeout potential – Stephenson struck out 8.2 batters per nine innings in AAA in 2015, 10.2 batters per nine innings in AA. Most likely, we will have to move on to other options.
The splits for right-handed Mike Fiers make him one of the better high upside plays of the day – especially compared to the other options. While Fiers' strikeout rate is naturally better against right-handed hitters than lefties, the rest of his statistics are less severe. More importantly, his success against left-handed batters should help in Yankee Stadium while he is enjoying a nice strikeout total against right-handed hitters.
If played on a different day, Alex Wood's matchup against the Giants would look rather pedestrian. Instead, he will face San Francisco in a pitcher's ballpark after the Giants just played a three-game set in Milwaukee. Wood's numbers against left-handed batters are fantastic – neutralizing Joe Panik, Brandon Belt, Denard Span, and Brandon Crawford – and AT&T Park should help with anything the Giants put in play. The circumstances are ripe for a great outing from Alex Wood.
The final pitcher worth considering on Thursday is the aforementioned . As noted, the Red Sox feature an offense that makes Salazar far less appealing, but his phenomenal strikeout rate bumps him onto the list. Salazar largely follows the same parameters as our recommendation of Noah Syndergaard on Tuesday – that is, the basement is fairly reasonable, but the upside is undeniable.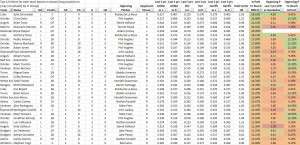 Kyle Schwarber/Anthony Rizzo – To date, Schwarber has been a non-factor, mainly because the Cubs have played a total of two games, with one against a left-handed pitcher. He gets his change to shine on Thursday, as he sits atop the list of hitter matchups for the day. His price is high compared to his position, but he is one of the safer players to deliver. Rizzo is in the exact same position as Schwarber, right down to the high price. If salary allows, Rizzo is an obvious choice on Thursday, but he will likely be too expensive to use.
Mike Trout/Albert Pujols – The combined 0-15 start of the season for Trout and Pujols jumps off the screen not for their short-term struggles, but for the likelihood that a great performance is on the horizon. With the savings that could be found from pitchers, Trout is a must-play on Thursday. Pujols is in the mix for first-base options.
Pedro Alvarez/Manny Machado/Adam Jones – The trio of Orioles hitters rank near the top of the list due to their favorable matchup against Phil Hughes in Baltimore. Of the three, Pedro Alvarez's price is easily the most appealing, but surprisingly, Hughes actually performs slightly better against left-handed hitters in the peripheral areas. In a striking comparison to Donaldson on Tuesday – who did end up hitting a home run – Machado is the best play of the three, although his price is astoundingly high.
Colby Rasmus – A mainstay on the list of 'Cheap Power Potential,' Rasmus faces Nathan Eovaldi in Yankee Stadium. Every piece of the matchup works in Rasmus' favor – especially his price – and, after Tuesday's outburst of runs by his teammates, Rasmus will likely get the best set of pitches to hit. He is a must-play on Thursday.
Jonathan Schoop – As Alvarez, Machado, and Jones make the list for their home run potential against Hughes, so does the lower-priced, second baseman in Jonathan Schoop. An all-or-nothing hitter who has made attempts to limit his strikeout rate, Schoop presents a nice buying opportunity at a thin position.
Corey Seager – In a rare move based on position scarcity, Seager is recommended not as a shortstop, but as a third baseman on Thursday. With the likes of Machado – the best third baseman play of the day, but will be expensive for some lineups – Bryant, Sano, and Frazier sitting in the upper $4,000's on DraftKings, Seager is actually one of the better options for his price. After failing to join the hit parade on Wednesday night – Seager singled, but virtually every other Dodgers hitter had a better night – Seager has an immediate, albeit small, bounceback opportunity.
Ian Desmond – Ian Desmond squaring off with Hector Santiago is downright unfair. Desmond's peripheral numbers against left-handed pitchers are excellent, and Santiago, not surprisingly, takes a big hit against right-handed batters. With a decent price and perfect matchup, Desmond stands out among shortstops-eligible. Ironically, he is now an outfielder for the Rangers.
Stephen Vogt – The ballpark hurts some of his value, but Latos gets smoked by left-handed hitters, while Vogt thrives against right-handed pitchers. If Schwarber is too expensive, Vogt is the play at catcher on Thursday.
Bargains
Be sure to check the above chart for more of the expensive hitters – and the statistics of their matchups. Below, we focus on some of the best upside plays for their price.
J.J. Hardy – At this point, it's clear that our projections do not love Phil Hughes on Thursday. Utilizing any inexpensive Orioles hitter is worth the risk.
Robinson Chirinos – With an off-day on Wednesday, Chirinos should be in the lineup against the left-handed Hector Santiago. Chirinos gets the edge in every statistical comparison, and might be worth starting in the latest slate – as long as Schwarber is slotted as an outfielder.
C.J. Cron – Like most Angels hitters, Cron has done little in the first two games of the season. The entire Angels offense should benefit from facing Derek Holland after Jake Arrieta and Jon Lester, and Cron is an inexpensive way to stack Angels.
Featured Image Credit: By Erik Drost on Flickr [CC BY 2.0], via Wikimedia Commons