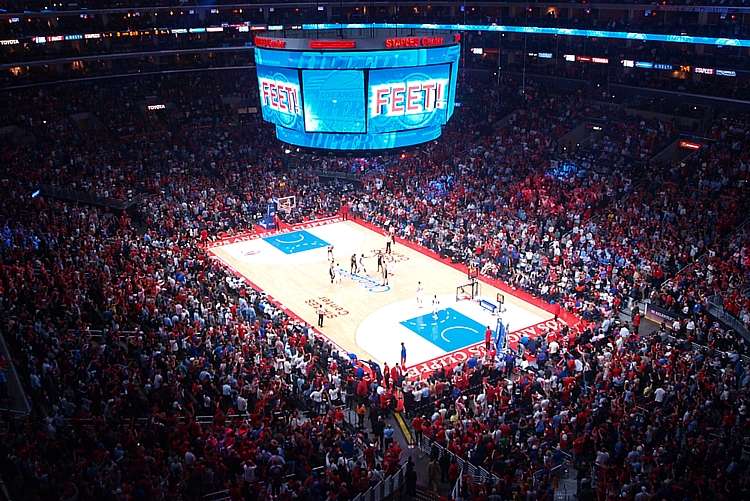 Latest posts by Matt Dulcan
(see all)

When I construct my fantasy lineups, throughout the DFS sports, two common things end up being my baseline for the path my roster takes. The top value plays and the highest ceiling superstar studs. In this article, I will attempt to attack these two prevalent fantasy focus points in NBA DFS.
I like to see how the match up went last time and try to delve a little deeper and figure out what has changed since then and the effects on the game script. I will attempt to provide thoughts on the most convoluted situations, particularly those with moving pieces.
Note: Superior value may arise later in the day with injury news, as well as shifting the best high end options, as it commonly does, but as of being written, these are my favorite plays.
We are nearing the end, but if you pay attention to news and can react quickly and correctly, there is a huge edge.
AWAY @ HOME – Over/Under | Line

TOR @ ATL – 199.5 | ATL -7

Ceiling:
($8.5K)Paul Millsap
This Season vs Opp. Avg.: 3 games, 28 Fpts in 30.8 Mins
Millsap has not fared amazingly in this matchup, but can explode in any spot, putting him squarely in play for GPPs.
PHO @ HOU – 213.5 | HOU -12
Ceiling:
($10.9K)James Harden
This Season vs Opp. Avg.: 2 games, 46.2 Fpts in 34.8 Mins
Harden is gassed. There is no doubting that. He is certainly fadeable, but carries a ton of upside today.
($6.9K)Devin Booker
This Season vs Opp. Avg.: 2 games, 18.6 Fpts in 36 Mins
The boost Devin Booker receives from Knight being out is incredible. He is a top GPP play, but can easily bust in this spot.
Value:
($5.7K)Alex Len
This Season vs Opp. Avg.: 1 game 36.6 Fpts in 27 Mins
Len has fared well when not in foul trouble, and draws the best PF matchup going. His rice has dropped and is a great play in all formats.
($5.4K)Tyson Chandler
This Season vs Opp. Avg.: 2 games, 11.6 Fpts in 14.4 Mins
I have been nailing the value picks lately, and Mr. Chandler has been one of my top dogs. I will keep rostering him at this price, especially if Jon Leuer is ruled out again.
($5.2K)Patrick Beverley
This Season vs Opp. Avg.: 2 games, 30.1 Fpts in 26.9 Mins
For a peak behind the curtain, I will likely play Beverley and/or Ariza and fade Harden in GPPs. I don't think Harden will meet value tonight.
($5.6K)Trevor Ariza
This Season vs Opp. Avg.: 2 games, 38.7 Fpts in 34.7 Mins
Patrick Beverley and Trevor Ariza have both fared well in this matchup
CHI @ MIA – 203.5 | MIA -5.5
Ceiling:
($8.5K)Jimmy Butler
This Season vs Opp. Avg.: 1 game, 24.2 Fpts in 40.1 Mins
GPP only.
($6.7K)Goran Dragic
This Season vs Opp. Avg.: 2 games, 42.7 Fpts in 32.5 Mins
Goran Dragic will be in every lineup I have tonight as long as Dwayne Wade plays. Butler's tough defense on Wade funnels fantasy points to Dragic, who draws the weak defense of Derrick Rose.
MIN @ SAC – 221.5 | SAC -4.5
Ceiling:
($10.7K)DeMarcus Cousins
This Season vs Opp. Avg.: 1 game, 49.4 Fpts in 36.9 Mins
He needs about 53 fantasy points to pay off his price tag, which is certainly in his range of outcomes, but I think I may play a ton of mid range guys with upside, as opposed to stars and scrubs.
SA @ GS – 209 | GS -7
I don't see any player from either team hitting their ceiling in this game, but Stephen Curry, Klay Thompson, Draymond Green, Kawhi Leonard, and LaMarcus Aldridge are always in play for GPPs. I likely will leave this game alone if possible.
Just Give Me the Damn Plays
Top Ceiling:
DeMarcus Cousins
James Harden
Top Value:
Tyson Chandler
Alex Len
Featured Image Credit: By Amin Eshaiker (Own work) [CC BY-SA 3.0 or GFDL], via Wikimedia Commons