Much better.
I wrote about it. I talked about it. And now we can see the results of it.
After a horribly losing week, the only way to proceed is to continue along the same path as if nothing happened. Because it is the small weekly wins that will outweigh the losses, even if the losses are large. Consistency is profitable. Trying to catch the swing is not.
What makes last week amazing is that it followed a few key trends, but did so in wild form. Kansas City – the team I continue to use as the barometer for certain numbers – failed to cover its spread, but still won by double-digits. New England not only missed out on covering, but lost by 24 points. And Nick Mullens did not win back-to-back Primetime games to start his career.
If we wanted some proof that the games adhered to numbers in any sense, we can look at the landscape of spreads from the weekend. Out of thirteen matchups, depending on the source you use for your spreads, anywhere from six to eight of them were seven points or higher. Roughly half. But, even these numbers weren't enough. Ten games were decided by more than seven points.
Naturally, Week 11 displays the opposite set of numbers. Only two of the thirteen games have spreads of seven points or higher.
This two-week stretch aligns with the schedule, as well. When projecting ahead, Week 11 was the one that held one great matchup after another and, by comparison, Week 10 was dull. Now, here we are. And, not only do we have some incredible head-to-head pairings, but we also have significantly fewer 'popular' teams to wreak havoc on the numbers. New England is on a bye. The Rams and Chiefs are playing against each other.
And we have plenty of games in which we can find value that others will likely ignore.
Listen to Episode 6 of our free podcast here:
Below are predictions for each game against the spread. Spreads have been taken from various websites and are subject to change. The spread in parenthesis denotes the selected team. An asterisk denotes a confidence pick.
*Confidence Picks – 2018 Season: 36-27-3 (Last Week: 2-5)
(2017 Season: 53-48-4) (2016 Season: 53-67-3) (2015 Season: 69-45-2) (2014 Season: 61-46-2) (4-Year Total: 236-206-11)
All Picks Against Spread – 2018 Season: 77-63-8 (Last Week: 8-6)
(2017 Season: 137-119-11) (2016 Season: 123-136-8) (2015 Season: 143-117-7) (2014 Season: 149-114-4) (4-Year Total: 552-486-30)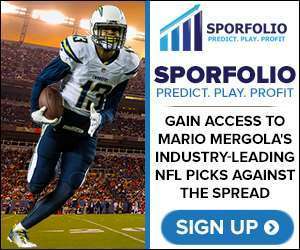 Oakland Raiders at Arizona Cardinals
I refuse to accept that the Oakland Raiders have already quit on this season, but I am not naive to the fact that they have no real interest in winning games. These may sound like conflicting thoughts, but they aren't. "Quitting" is what we saw in a single game when the 49ers tore apart the Raiders. "Quitting" is what we saw from the Jets when the Bills came into town and steamrolled them. "Quitting" is what happens either toward the end of a game or the end of a season. It is, therefore, too early.
This does not mean the Raiders are trying to win. The players on the field are putting forth a real effort – see last week's defensive performance – they just aren't talented enough to survive in the National Football League. Ironically enough, what they need is a team like the Chargers, who were already counting the victory before the game started and were more prone to falling asleep. Indeed, Los Angeles still won, but it was not as smooth as it should have been.
Enter the Arizona Cardinals.
At 2-7 and with only wins against the hapless 49ers, the Cardinals have the complete opposite approach to a game as the Chargers did. Arizona needs to squeeze every ounce of production out of its players, and it needs to do so in winnable games. Because there aren't many.
After playing in Kansas City – and somewhat admirably, at that – Arizona will host Oakland on Sunday. Afterwards, it will travel to Los Angeles to play the Chargers and then to Green Bay. With a four-game stretch of the Chiefs, Raiders, Chargers, and Packers, we have an easy answer to the question, "Which of these teams is not like the other?"
On the field, the Cardinals have a quietly respectable defense. The numbers aren't astounding because of a giant misstep against the Broncos a few weeks ago and a bludgeoning at the hands of the Rams early in the season, but Arizona has allowed 27 points or fewer in seven games. One of those seven was last week in Kansas City against a Chiefs offense that previously averaged more than 36 points-per-game. It was Kansas City's lowest offensive output of the season. Oakland has scored the third-fewest points-per-game – and 20 points-or-fewer seven times.
Statistically, it is likely that the Raiders string together a few scoring drives in Week 11 against the Cardinals, but it won't be enough for an Arizona team that is building for the near future. The Cardinals win by ten points and cover the spread.
Prediction: Arizona Cardinals (-4)
Philadelphia Eagles at New Orleans Saints
Finally.
I often refer to teams in terms of value. Like an asset. In doing so, I either attack an under-priced commodity or I wait. Eventually, most – though, not all – enter a buying range.
The Philadelphia Eagles have finally entered a buying range.
It's one of the easiest assumptions to make. A team wins a championship and will automatically be good the following year. It's also one of the laziest assumptions to make.
Indeed, the Eagles were great in 2017, but this fact, alone, does not mean they will be great again. Still, for more than half the season, despite never having a record better than two games above .500, the Eagles continued to be overvalued. Such as a seven-point spread against a division rival on Primetime. Philadelphia lost outright.
We are now halfway through November and the Eagles are one loss shy of doubling their season total from last year. And, according to the odds, said loss will happen before Thanksgiving, as Philadelphia travels to New Orleans as heavy underdogs. It took this long for the football-watching world to finally accept the differences between the seasons. And it took this long for us to be in a position to buy back into the Eagles.
Philadelphia just lost a division game on national television. At 4-5, this might not be rock bottom for the team, but it is rock bottom for the perception. And, going against one of the league's best offenses and a team with an 8-1 record is the perfect storm for the spread to unnaturally balloon.
The New Orleans Saints have now won eight consecutive games. Each of the last four featured higher point totals than the last. Most recently, the Saints exploded for 51 points. They have now scored 96 points over the last two weeks and 126 over the last three.
It's time for New Orleans to slow down its torrid pace.
Philadelphia's offense has been below-average in scoring, but moves the ball relatively well. With a spread as large as we have on Sunday, this is all that's needed. As the Saints take a step back, the Eagles move to the forefront. At least, to the point of a competitive game.
New Orleans wins by four points, but the Eagles beat the spread.
Confidence Pick: Philadelphia Eagles (+8.5)
Click here to sign up for Sporfolio to see the rest of Mario Mergola's NFL picks against the point spread. Mergola finished with the highest total of correct NFL picks against the spread for 2015 and 2016 – tracked by NFLPickwatch, and finished 2015 with an accuracy of 60.53% for his confidence picks. His 4-year record for all NFL games against the spread is 552-486-30!
Photo Credit: By Kelly Bailey [CC BY 2.0], via Wikimedia Commons