We have to be thoroughly pleased with what we've seen from the National Football League, this year. There have been excellent matchups that have not disappointed – think New England and Kansas City in Primetime a few weeks ago and the Packers and Rams, last week – and drama in the storylines – such as Green Bay trading away Ty Montgomery following his costly fumble or the Browns firing Hue Jackson. Most importantly, the spreads have been incredibly kind to us, and we should be grateful that this season has not disappointed.
One week after the popular teams of the Rams, Chiefs, and Patriots all won and covered their games, two-of-the-three failed to do so in the encore. Even the third was at risk for missing its mark, only to be bailed out by a late defensive touchdown. 'Traps' continue to hit on a frequent basis, and most stories that the numbers have told were relatively true.
Look at last week as an example. Compared to some of our better weeks, the 8-6 record and 3-3 mark in confidence picks appears to be mediocre. But it isn't. In fact, it's the goal. I always explain that a slightly better-than-average winning percentage is all we need to be at or near the top of any standings and, when we have that average, we simply need to avoid a massive fallout.
After a 22-9-2 stretch in confidence picks, it is statistically more likely that we would have losing weeks to creep toward a more reasonable average. We didn't. Our natural regression was a mere pullback, and we should be pleased that it was so slight, at that. After all, the entire week produced a positive record.
The point is that it was extremely difficult to accept the losing when we were in the middle of a 'down year,' but this is what it looks like when the numbers act as they should. So, enjoy it. Because we have been treated to quite a year, so far. And we're only halfway there.
Listen to Episode 5 of our free podcast here:
Below are predictions for each game against the spread. Spreads have been taken from various websites and are subject to change. The spread in parenthesis denotes the selected team. An asterisk denotes a confidence pick.
*Confidence Picks – 2018 Season: 32-18-3 (Last Week: 3-3)
(2017 Season: 53-48-4) (2016 Season: 53-67-3) (2015 Season: 69-45-2) (2014 Season: 61-46-2) (4-Year Total: 236-206-11)
All Picks Against Spread – 2018 Season: 66-47-8 (Last Week: 8-6)
(2017 Season: 137-119-11) (2016 Season: 123-136-8) (2015 Season: 143-117-7) (2014 Season: 149-114-4) (4-Year Total: 552-486-30)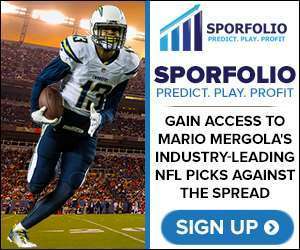 Los Angeles Chargers at Seattle Seahawks
It's almost a running joke on my Twitter account that I constantly pick the Seattle Seahawks against-the-spread because of Russell Wilson. Almost. Because I do constantly pick the Seattle Seahawks against-the-spread because of Russell Wilson.
Wilson is consistent and, in the world of moving numbers, consistency is critical. We can reasonably approximate what we will get from Wilson and his team and act accordingly. Which is why I often cite that every single year of Wilson's career has resulted in a winning record. For Sunday's matchup against the visiting Chargers, I can also add in another statistic that is equally as impressive. Russell Wilson's Seahawks have never lost at home to an AFC opponent. They are a perfect 12-0.
As reliable as the Seahawks have been both under Wilson and against AFC teams, the Los Angeles Chargers have been just as inconsistent. In fact, it is one of the calling cards of the franchise that I cite, regardless of the head coach. The organization had been a powerhouse from 2004 through 2009, then was stuck in mediocrity through 2014, only to plummet further in '15 and '16. Last year saw a return to winning, and the Chargers entered 2018 as one of the 'hot teams' to pick as a division winner.
The problem is that Los Angeles has been in a similar position with similar players and rarely meets expectations. If we need proof of this, look back to the last time the Chargers took the field, when they failed to cover the spread as a large favorite in London and were a two-point conversion away from losing. Or go back even further to Opening Day, when Los Angeles lost by double-digits despite being a field goal favorite in the game.
The Chargers might not be in a position of strength in the spread – as of this writing, the game is 'even' – but they are regaining any lost support now thanks to a four-game winning streak. This is where it ends.
Seattle wins by a field goal and covers the spread.
Prediction: Seattle Seahawks (PK)
Houston Texans at Denver Broncos
The first place I look is always the spread.
When the numbers were first released, I found it curious that the Denver Broncos were favored by a field goal against the Houston Texans. I do not hide my feelings on how overrated I believe the Texans are on a regular basis, but I also know that I am in the minority in that camp. I could only assume that Denver was gaining support from the football-watching world as a result of playing well against the Chiefs, last week. Since I always argue that playing well in a division game is a meaningless conclusion, something else had to be amiss.
I never got my answer. The good news is that I don't need one.
The Denver Broncos are now slight favorites – and, by the time the game begins, they may not be favorites at all. What happened?
News happened. Specifically, wide receiver Demaryius Thomas was traded away for a draft pick. Which leads people to draw the logical conclusion that Denver is throwing away the season.
Not so fast.
Perhaps the organization is reading between-the-lines and seeing that it will be nearly impossible to catch a 7-1 Chiefs team – that already finished the season sweep – and the 5-2 Chargers, but there is still an entire half of the season to go. The players certainly won't be throwing in the towel. Nor will the coaching staff.
What also should not be overlooked is that Demaryius Thomas is far from a game-changing presence for the Broncos. His absence will hardly be felt. And, as I vehemently insisted on my podcast episode about swapping picks, only the elite quarterbacks can result in such a drastic shift of the numbers. Yet, we have a move of, currently, almost three points.
Despite my inability to pinpoint exactly why the spread was tilted in Denver's direction, it no longer matters. The Broncos are now a victim of a perception move that has shifted the number too far. And we can point to two impressive defensive performances at home against the Chiefs and Rams in which Denver handed each of these teams their worst offensive outputs of the year.
The Broncos win by four points and cover the spread.
Confidence Pick: Denver Broncos (-0.5)
Click here to sign up for Sporfolio to see the rest of Mario Mergola's NFL picks against the point spread. Mergola finished with the highest total of correct NFL picks against the spread for 2015 and 2016 – tracked by NFLPickwatch, and finished 2015 with an accuracy of 60.53% for his confidence picks. His 4-year record for all NFL games against the spread is 552-486-30!
Photo Credit: By Larry Maurer [CC BY 2.0], via Wikimedia Commons